Today, Cory Monteith would have been 32 years old. The Glee actor's tragic death last July left the fandom in mourning, but since then, a busy fifth season for the show has been hard at work injecting love wherever it can—first with the storybook wedding of Blaine and Kurt last fall, and most recently with Rachel's poignant Broadway debut, which saw her struggling to cope with Finn's death.
But one development in Glee fandom is as unexpected as it is happy-making—the revival of the interracial relationship between Sam and Mercedes. 
Now, as fans gear up for this week's season finale, all eyes are on Samcedes, and—wait, Sam, is that a box in your hand?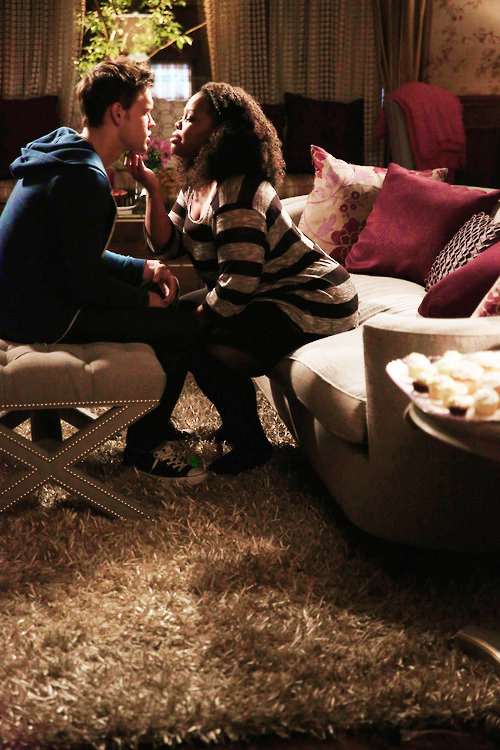 Photo via lovesamcedes/Tumblr
Since Glee dropped this tantalizing still from next week's season 6 finale, the fandom has been driving themselves crazy trying to figure out if that's a box—possibly a ring box—in Sam's hand.
I can't with this box vs. no box thing y'all have officially lost your minds. 

— mottsapplesauce
The Mercedes/Sam shippers have been analyzing the photo above from every possible angle and photo edit to see whether Sam is actually getting ready to pop the question to Mercede. "I want this to lead to so much more than a kiss," wrote sweet1986 on Tumblr as she posted one of hundreds of attempts to edit the photo on behalf of what's rapidly become known as "Team Box."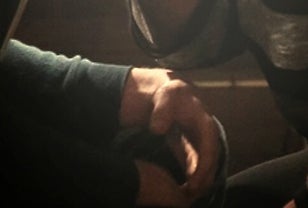 Photo via sweet1986
Despite Mercedes' actor Amber Riley being an intermittent appearances on the show this year thanks to her contest-winning turn on Dancing With the Stars, her character managed to rekindle her old romance with Sam, played by actor Chord Overstreet. As for Sam, this would basically be the third time he's proposed to a girl on the show—but the first two times were mostly practice runs, and we all know the third time's the charm.
Tthe normally tempestuous Glee fandom has had a relatively quiet season, perhaps settled a bit by the mutual experience of the low of Monteith's death and the high of the Klaine wedding. Still, there's plenty of excitement for Glee fans. As teamsamcedes put it yesterday:
I still can't believe it! After two years of having nothing we are here again, and they are loving each other. 
And while it's undoubtedly been a rough year for anyone who ships Sam/Kurt, a pairing the show briefly teased early on, it's nice to see a pairing that is both racially diverse and unconventional getting so much love from fans.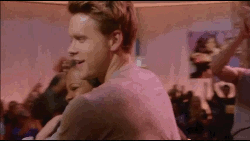 Gif via klainemakesmefeelyoung
Meanwhile, it seems fitting that the week of the Glee season finale is also the week of Monteith's birthday, as Season 5 will forever be overshadowed and inextricably tied to the actor's death. At press time, #HappyBirthdayCoryMonteith has been a steady worldwide Twitter trend for most of the morning. 
We miss you so much Cory. You'll live on through our hearts forever. #HappyBirthdayCoryMonteith pic.twitter.com/mVpWosZh9n

— Nicole (@ibeIieveinjdb) May 11, 2014
The Glee fandom has rallied hard behind its show this and its actors in the ten months since Monteith's death. And while there's no guarantee, especially given Riley's non-regular status on the show, that Sam and Mercedes will end up together after Tuesday's season finale, it's a sweet moment in a fandom that deserves all the happiness it can get.
Photo via roojieq/Tumblr