Warning: This post includes minor spoilers for Marvel's Poe Dameron #26
After wrapping up a lengthy prequel arc to The Force Awakens, Marvel's Poe Dameron comic is going to explore more adventures with Poe's X-Wing squadron. On the way, it just shared our first look at Finn, Poe, and Rey after The Last Jedi.
Issue #26 begins in the aftermath of the Battle of Crait, with the trio hanging out in the Millennium Falcon. It's Rey and Poe's first real conversation, and while they're clearly going to be friends, there's some friction between their piloting styles. "So, you're the best pilot in the galaxy, and you crash all the time?" asks Rey—who kind of has a point.
"There were extenuating circumstances!" Poe replies. According to him, there were extenuating circumstances every single time.

As we've said before, Poe Dameron is one of the most consistently high-quality Star Wars comics. Along with expanding Poe's role as a daredevil hero, writer Charles Soule is good at navigating the gaps within canon—an especially difficult task when dealing with the sequel trilogy. We want to see more of these characters, but the tie-in comics can't encroach on the timeline of future movies. So, this issue explains what Poe did after he crash-landed on Jakku during The Force Awakens. Apparently, he immediately got hit on by some alien dude on a sand-speeder, shortly followed by a death-defying chase sequence.
Poe Dameron is, as ever, extremely Poe Dameron.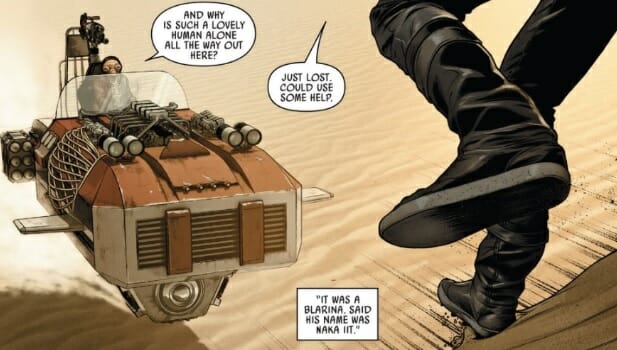 Of course, by the time he made it to Niima Outpost on Jakku, Rey and Finn were long gone with BB-8 on the Millennium Falcon. In retrospect, Poe characterizes the loss of BB-8 and Lor San Tekka as his first real failure for the Resistance—showing a more self-reflective side after the events of The Last Jedi.
If you're keen to see more of Finn, Rey and Poe together (who isn't?), it looks like next month's issue will continue in a similar vein, with the three heroes hanging out in the Falcon while Poe recounts what he and Black Squadron were doing during the unseen moments of The Force Awakens.