Drop everything, Lizzie and Darcy fans: Your favorite lovebirds from the Lizzie Bennet Diaries are back—one year, a successful Kickstarter, and an Emmy award later—to talk about their relationship.
And by "talk" we mean charm us with body language. We'll pause while you swoon: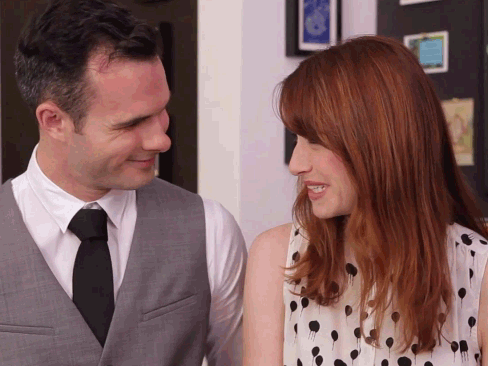 The happy couple popped up unexpectedly two weeks ago to do a quick "where are they now" update on some of the large ensemble cast of the popular webseries. But they held off discussing what we all really wanted to know: How is their relationship one year later?
Of course, as we all know from Jane Austen's Pride and Prejudice, Elizabeth and Darcy live happily ever after. But it's nice to use the magic of the Internet to peek in on the ultimate romance and see what their day-to-day lives are like. From all appearances, things are going swimmingly for the duo. We even got hints of some of the extras we can look forward to in the upcoming The Secret Diary of Lizzie Bennet, which arrives in bookstores (and our greedy little hands) in two weeks.
The only downside to this latest video? It most likely means that our time with Lizzie and Darcy, adorably played by Ashley Clements and Daniel Vincent Gordh, is at an end. But what a fun ride it was.
So what do you think? Are Lizzie and Darcy the OTP of YouTube? We think so.
If you've somehow managed to miss the story so far, start here and enjoy.
Screengrab via YouTube