Inspired by a letter from a seven year old girl, Lego is going to start producing more female scientist figurines.
"All the girls did was sit at home, go to the beach, and shop, and had no jobs," wrote seven year old Charlotte Benjamin, pointing out that the male figurines "went on adventures, worked, saved people, and had jobs."
"Make more Lego girl people and let them go on adventures and have fun OK!?!" she added.
After this letter went viral online, Swedish geochemist Dr Ellen Koojman decided to pitch the idea of female scientist figurines to the Lego Ideas site, where fans can contribute and vote on new Lego concepts.
Koojman's idea included mock-ups of new Lego figures for a female astronomer, a chemist, and a paleontologist working on a dinosaur skeleton. She wrote on her blog, "As a female scientist I had noticed two things about the available Lego sets: a skewed male/female minifigure ratio and a rather stereotypical representation of the available female figures." Needless to say, her own Lego designs do not feature a great deal of the lurid pink that seems to plague most toys aimed at young girls.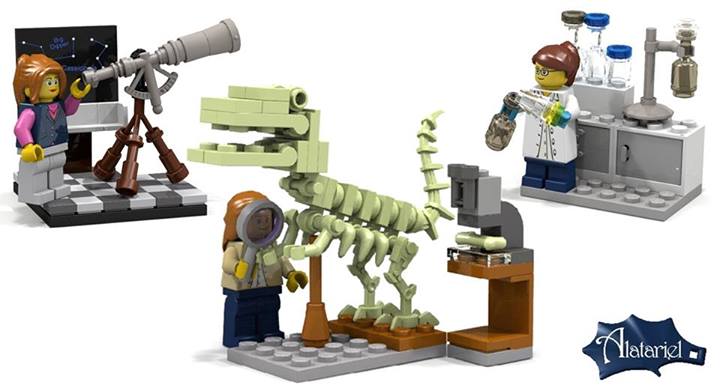 Photo via amightygirl/Facebook
The female scientist figurines received the 10,000 votes required to be officially considered by Lego, and this week it was announced that they will be produced in a new set called "Research Institute."
This new Lego set is another small victory in an ongoing campaign against the unnecessary gender roles encouraged by many children's toys. Lego was originally launched as a completely unisex product, but in recent years the brand has come under fire for launching pink, feminine construction kits aimed at girls, while leaving the traditional Lego toys to the boys.
Recent Lego sets such as Lego Communities and Koojman's proposal for female scientist figurines have been praised for their inclusivity, featuring a diverse range of new characters and professions.
Photo via bobsfever/Flickr