Six hours in a locked, dark room with no way out. All the while, an army of giant animatronic toys that are probably stuffed with the bodies of dead children is slowly, slowly advancing on you…
Can you survive Five Nights at Freddy's? 
Featuring a simple classic horror movie setup—you're trapped in a room and scary things are happening—this new indie game by creator Scott Cawthon has gone viral over the last month. It has spawned its own fandom and scores of Let's Play videos on YouTube, where even the most hardened gamers react to the game's various jump scares.
And by "jump scares," we mean being suddenly confronted with this guy: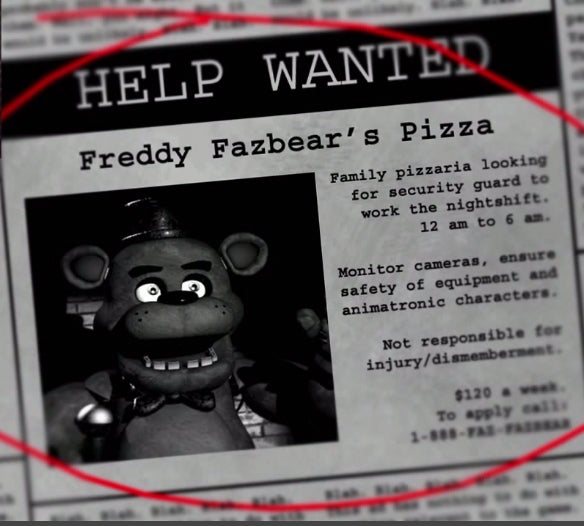 Yep. That's Freddy.
Freddy's was an instant success when it was released in August. Popular YouTuber Yamimash played it shortly after its release on Desura, declaring it "an amazing horror game." It promptly became a bestseller and was greenlit for a Steam release just two weeks later, where it racked up overwhelmingly positive reviews. But Freddy really took off when YouTube's markiplier dubbed it the "scariest game in years." As his comic playthrough of the game went viral, racking up 9 million views, so did the game. More YouTubers piled on, from Pewdiepie to Rooster Teeth.
The titular Freddy's is a pizzaria at which you are the newest night watchman. (Perhaps it's best we don't know what happened to the previous night watchman). The goal is simple: Survive five nights in a row, from 12 am to 6 am, while the game's signature terrifying creatures move about. The other characters are just as much fun as Freddie.
There's Foxy…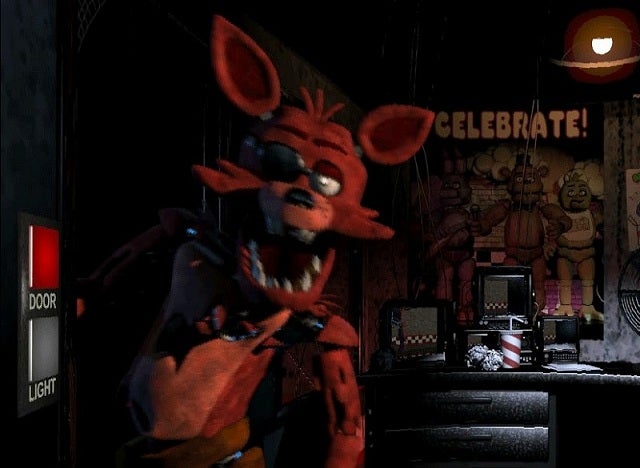 There's Bonnie…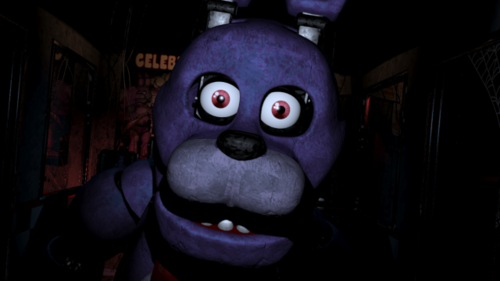 …and Chica the duck.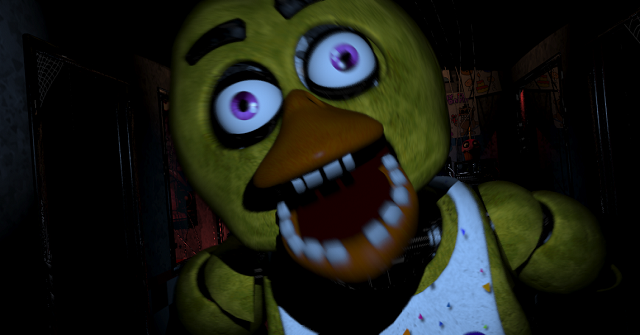 The game is a simple point-and-click that anyone can play. The trick is that the player has to pace themselves so they don't run out of power or lose track of any of the animals before daylight. Things usually get hariest just before dawn.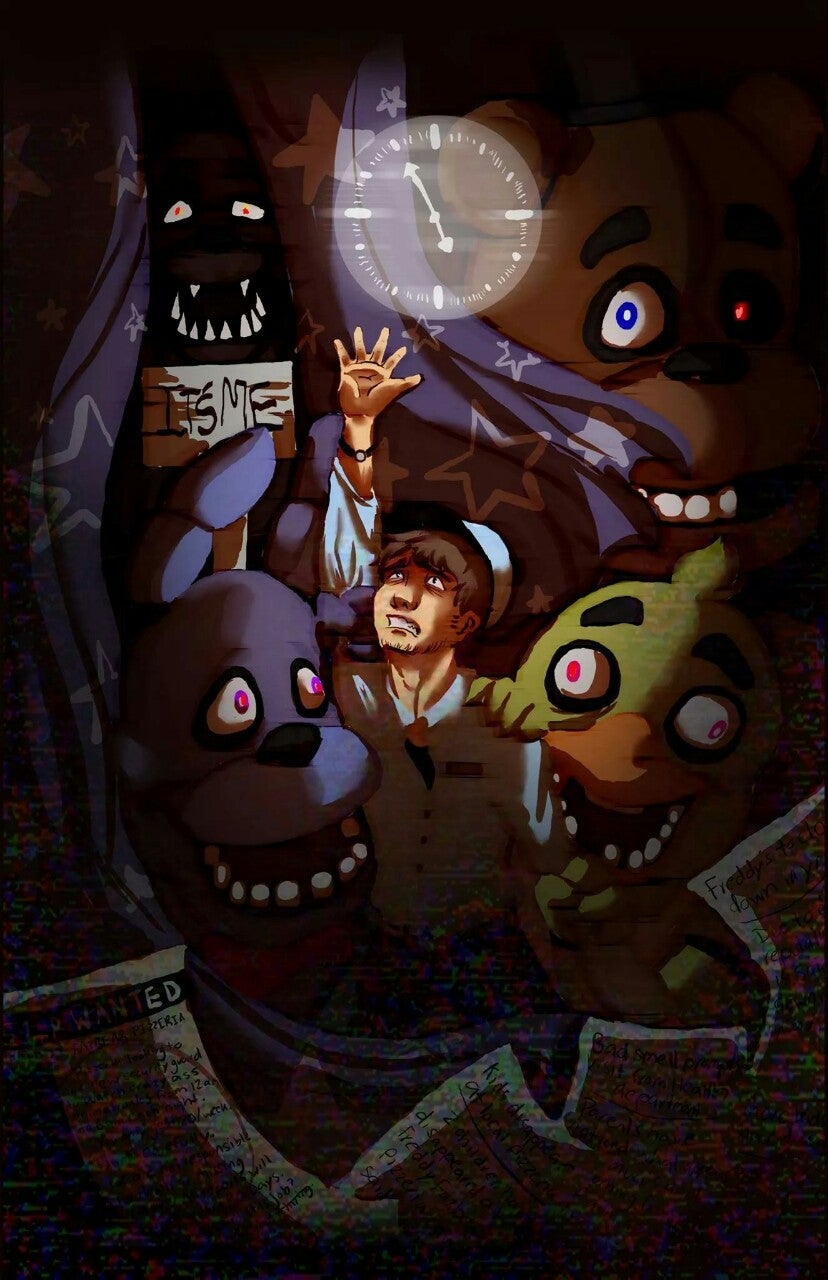 Illustration by dasiadoodles/Tumblr
Saturday Markiplier released a short animated adaptation of his longer gameplay experience. It's as good an intro as any to the game's nerve-wracking charms.
Fans have embraced the game, making creepy add-ons, creepier cosplay, and one unexpectedly soothing fan animation where Foxy plays the violin.
The fandom really loves Foxy, possibly because he's completely unhinged and lives in something terrifying called Pirate Cove, a throwback to your worst creepypasta nightmares. (Whatever you do, always check Pirate's Cove.) In general the fandom is obsessed with turning Freddy's security cameras around and showing things from the perspective of the killer toys in Freddy's hellish funhouse—painting them as alternately sympathetic, terrified themselves, or, you know, sociopathic and evil. They've also produced loads of awesomely terrifying fanart, much of it potentially siezure-inducing: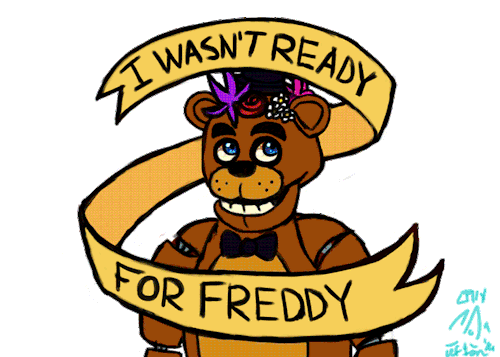 Illustration by spitblaze/Tumblr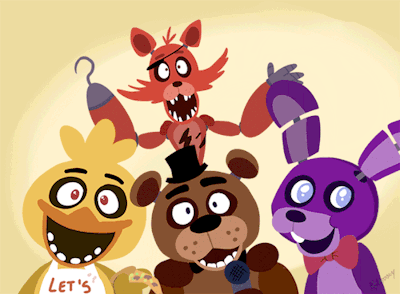 Illustration by sgt-keroro-platoony/Tumblr
With Halloween fast approaching, Freddy's popularity is well-timed. Creator Cawthon has already announced a sequel for 2015. We're assuming it will be even scarier and hopefully contain even more ridiculously scary creatures. Maybe even this guy: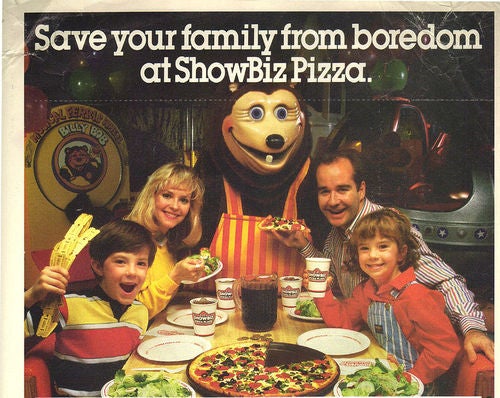 Actually, nevermind. We're pretty sure Freddy will never top the utter bone-chilling horror of real-life childhood pizza outings.
But it's made a very good start.
Screengrabs by Aja Romano