Ever wonder what Hogwarts would look like with "happy trees"?
Artist Mike Marrocco recreated the wizard school in the style of Bob Ross, the public TV icon known worldwide for his program, The Joy of Painting, which aired between 1983 and 1994. Ross was known for his laid-back personality and used simple colors and techniques to teach viewers how to paint like him. Marrocco was clearly paying attention.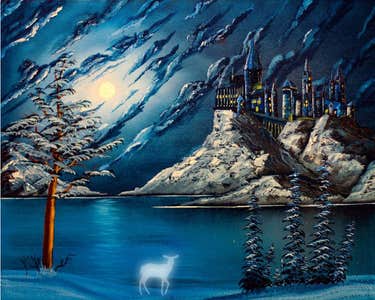 The magic of Hogwarts comes to life in his lovely oil painting. Marrocco, an artist on Instagram, painted the beautiful picture using a combination of oil paint and digital tweaking. The addition of Severus Snape's ethereal patronus at the edge of the lake really makes the whole thing magical, particularly for lovers of the complicated Potions master.
READ MORE: 
In the painting, the quiet lake stretches into the background with the steadfast light from the castle windows shining above. There are a few happy little trees in the foreground, just enough to really bring that Bob Ross feel home.
Marrocco is on Etsy, and though this particular painting is not for sale just yet, he has several up for grabs at a reasonable price. His five-star rating and comments from buyers should encourage anyone looking to purchase one of his creations.