There's a reason why fanfic site Archive of Our Own was on Time's 50 Best Websites of 2013. AO3 is popular, it's easy to use, and it was created by people who know about fanfic.
And so, as Tumblr user destinationtoast realized, its meticulous tagging system provides enough information to compile a kind of unofficial fanfic census. 
To make the archive more easily searchable, all writers are encouraged to tag and categorize their fanfic. The most obvious categories are the pairing options: M/M for male/male relationships, F/M for hetero pairings, "Gen" (general) for romance-free stories, and so on. Then there are more detailed content tags (which the authors can create themselves, like on Tumblr), word counts, specific character pairings such as Sterek, content warnings, and so on.
AO3 is generally thought to be pretty "adult," partly because it has almost no content restrictions (unlike fanfiction.net, which regularly removes stories for sexual content) and partly because you can only join with an invite code. This meant that the earliest AO3 accounts belonged to older and more experienced fanfic writers, although now there are hundreds of thousands of fics on the site. AO3 has a good reputation for hosting high-quality writing, but it turns out that it's not nearly as adult-rated as we thought.
Explicit stories only make up 18.1% of the total, with G-rated fic being the second most popular rating. So it's definitely not all 50 Shades of Grey out there. In fact, if you created a fanfic from all the most popular characteristics on AO3, you'd end up with a single-chapter male/male story (M/M takes up a whopping 45.5% of all AO3 content), rated Teen and Up, between one and five thousands words long. 
One of the most interesting things we learn from destinationtoast's AO3 graphs is linked with fandom's ability to self-police. Although readers don't necessarily pay much attention to age-based warnings such as R or PG-13 (people are more likely to joke about feeling cheated when an R rating turns out to be for violence or "language" rather than porn), fandom loves trigger warnings.
When you go to see a movie, the most information you're likely to get beforehand is an MPAA rating and a trailer, but fanfic is way more user-friendly. Tags help you find what you're looking for (a story where all the Avengers are turned into kittens? Done.), while archive warnings help you block out what you want to avoid.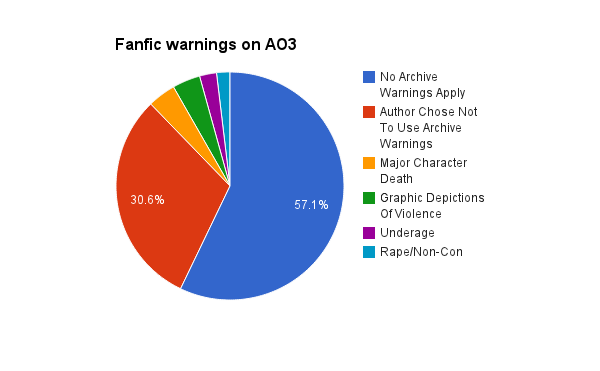 For example, the most popular warnings on AO3 are for character death, violence, and underage content (which generally refers to high-school-aged characters, e.g., Teen Wolf). On AO3, you have to consider this issue when you post a story, even if you end up labeling your fic with "no warnings apply" or "author chose not to use warnings" (which is selected by only 30% of writers). One of the more surprising revelations is that "noncon" warnings (non-consensual sex, or rape) only make up around 15% of the total, even though it's the example that fanfic writers often give when they're arguing in favor of warnings. 
Unfortunately, as destinationtoast points out, a hell of a lot of people don't seem to understand how the warning system works. In fact, many people select "no archive warnings apply" and then immediately go on to … select one of the warnings.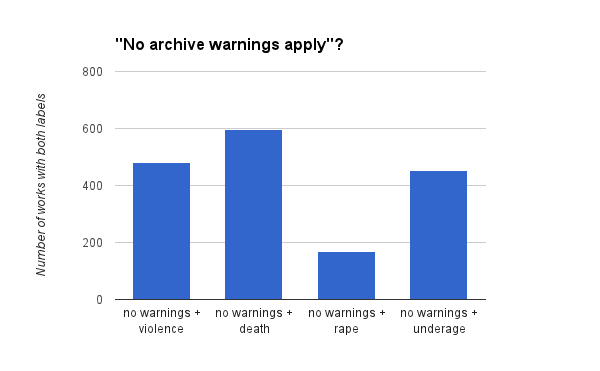 The most encouraging outcome of all this number-crunching is that thanks to past AO3 stats, we can (kind of) predict the future of fanfic. And it's mostly good news.
First of all, the number of projected fanfics is way up. By the end of 2013, over 375,000 new fics will have been posted to AO3, almost double last year's count. And if you're reading a multi-chapter work in progress, there's an 80% chance that it'll get finished … eventually. It just seems like it's taking forever to update.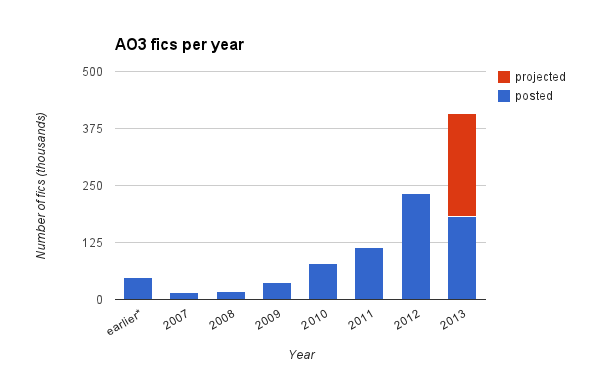 If you're planning on contributing to this year's 375,000, we recommend writing something long. Shorter fics may be more numerous, but according to hit counts, a fanfic's length directly correlates to its popularity. Basically, the average 1,000 word story is likely to get less than 150 hits, while a novel-length fic will get 10 times that—even if it's posted in one single chapter.
Destinationtoast goes on to analyze fanfic stats in plenty more detail, particularly in Sherlock fandom. Did you know that two-thirds of Sherlock fanfic on AO3 is Johnlock slash, while on Fanfiction.net it's only one third? (Actually, yeah, that sounds about right.) So if you want to know more, we recommend heading over to Tumblr to see the full breakdown. 
All graphs via destinationtoast/Tumblr | Lead art via Slashapalooza/deviantART