This was the year of the fandom comeback. If you were a die-hard fan of a long-time favorite, 2013 had something for you. 
Fans of Beyoncé started out the year with a Destiny's Child Super Bowl reunion and ended it with their khaleesi dropping an album out of the blue, outselling every other major female artist in a single day. 
Harry Potter fans got not one but two surprises as J.K. Rowling turned out to have written a new detective novel, The Cuckoo's Calling, under an alias, then announced a few months later that she was penning a screenplay expansion of the Harry Potter universe. 
Television favorites from Arrested Development to Boy Meets World made triumphant returns after years off the air, while gaming franchises Grand Theft Auto and Call of Duty raked in the biggest sales records in industry history, each garnering over $1 billion in sales for the latest editions in their respective series. The Blackhawks brought the Stanley Cup back to a euphoric Chicago. And we all know what happened with Veronica Mars. 
2013 was also about waiting: Homestuck fans waited for their epic hiatus to end and bring with it the conclusion of the series. Sherlock fans waited… and waited… and finally made it to the end of their endless two-year wait for series 3 of their beloved Cumbershow. Star Wars fans settled in for the long road to three new films; A Song of Ice and Fire fans kept waiting for anything from Game of Thrones author George R. R. Martin. But at least they had highlights from the HBO series to alleviate the agony—oh, wait.
All the while, new favorites like Free!, a.k.a. "the swimming anime," and Hannibal gained massive fanbases on Tumblr and beyond. Joss Whedon, J.J. Abrams, and Steven Moffat continued to rule fandom hearts, albeit often controversially, and fans continued to embrace new shows that gave them strong female characters (Orphan Black) and diverse casts (Scandal, Sleepy Hollow, Welcome to Night Vale).
Hundreds of fandoms left their mark on 2013. But at the end of the year, we've found that these 10, more than any other, had the attention of the world for good reason. As fandom becomes more mainstream, fans have more and more power over their discourse with creators, and that shows in this list. But beyond the evolution of fandom, 2013 let us celebrate the longevity of fandoms who've managed to garner loyal fanbases for years (and sometimes even centuries).
If fandom's watershed moment in 2012 was the phenomenon of Fifty Shades of Grey, then in 2013, it was the Kickstarter heard round the world. Veronica Mars' cancellation in 2007, three seasons into the adventures of Neptune, Calif.'s favorite plucky amateur detective, broke the hearts of loyal fans, who praised the show for its strong writing, complex female lead, diverse cast, and heartwrenching depictions of family relationships, grief and lost friendships, gang violence, and teen romance. 
Creator Rob Thomas had long discussed the possibility of doing a film wrap-up for the prematurely ended series, but getting the funding was always a longshot. So when he put the film's fate directly in the hands of his fans, it had the potential to be another bitter disappointment. 
Instead, Thomas' crowdfunding effort broke multiple Kickstarter records: for fastest Kickstarter in history to reach $1 million (in five hours), then $2 million (in 10 hours), with the largest number of supporters in history. When the final bell sounded, Veronica and her marshmallows had raised $5.7 million, making Thomas' film the most successful film project and third-most-successful Kickstarter of all time.
The backlash, which came from both inside and outside the industry, was immediate. Critics questioned why fans should be asked to give over creative control to an investment that they weren't actually investing in; but fans weren't worried about how the Veronica Kickstarter was transforming creative business models—they were too busy celebrating. Everyone from Hank Green to Joss Whedon shared in the joy, while fans spoke passionately about what the show meant to them. When the sneak preview trailer dropped at Comic-Con in July, it truly felt like a victory for all of fandom.
If, at the beginning of 2013, you had told us that the year's most revelatory fandom would be a podcast, we'd have asked you, once we were done laughing, if you perhaps meant Cabin Pressure, the BBC radio comedy that won a loyal fan following from Sherlock fans looking for more media starring Benedict Cumberbatch. But in the age of massive social media campaigns and stars that virtually guarantee a project's success simply by showing up, the most extraordinary thing happened: Welcome to Night Vale appeared, and solely through word of mouth became one of the most popular fandoms on Tumblr and the hottest podcast of the year.
What's even more remarkable than Night Vale's grassroots rise to fame is just how far it has spread. With sold-out tours on the East and West coasts, guest appearances from celebrities like Jasika Nicole, and a new book deal, Night Vale has truly conquered, unseating staple This American Life from the no. 1 spot on iTunes' podcast chart and stretching the boundaries of what makes a dynamic, thriving fandom.
Part of Welcome to Night Vale's appeal with fans lies in its format. Main voice actor Cecil Baldwin told us in October that they wanted Night Vale's impact to rely on the listener's imagination. But the surprise side-effect is that thousands of talented fanartists have flocked to the fandom, filling out every aspect of the show's 37 episodes with gorgeous visualizations and endless creativity. Is Baldwin's character, Cecil Gershwin Palmer, the same race and appearance as his voice actor? Does he have a third eye? Perhaps he has tentacles, or elaborate runic tattoos. Perhaps those tattoos actually move. And what of Cecil's crush, Carlos the scientist? Is the rest of him as perfect as his hair?
The other unexpected area wherein Night Vale has surpassed all expectations is its commitment to diversity. After allowing Cecil's crush on Carlos to develop as the show progressed, and making it clear that they had no problem at all with a gay male protagonist who was in love with a Hispanic scientist, the creative team went a step further, releasing Carlos' voice actor so that they could hire someone who actually was a person of color. Both on and off the air, Night Vale has been an outspoken voice for the importance of progressive media representation. 
In a weird way, it makes sense. After all, where else but a town where black helicopters routinely fly overhead, children (and interns) routinely go missing, and alternate side parking is roughly equivalent to the apocalypse could a racist hipster who dubs himself the "Apache Tracker" draw more scorn from citizens than the gay relationship between a mysterious radio DJ and a radical POC scientist?
Well. Certainly not in Desert Bluffs.
What kind of fandom could unite fans across the world in singing in German, messing with photography perspective, and, uh, taping over their genitals?
A really, really intense one, as it turns out. Because of its violence, dark themes, and sheer strangeness, Shingeki no Kyojin (Attack on Titan) is probably the last anime you'd expect to become Tumblr's favorite anime—especially in competition with the year's other breakout debut, Free!, a.k.a. "the swimming anime," which delivers shounen sports tropes, homoerotic camaraderie, and hot boys with their shirts off. 
But it's Attack on Titan that won fandom's hearts in 2013, with Free! coming in second, according to Tumblr's year-end statistics. What does an adults-only historic nightmare tale have that shounen sports tropes don't? 
This, for one thing.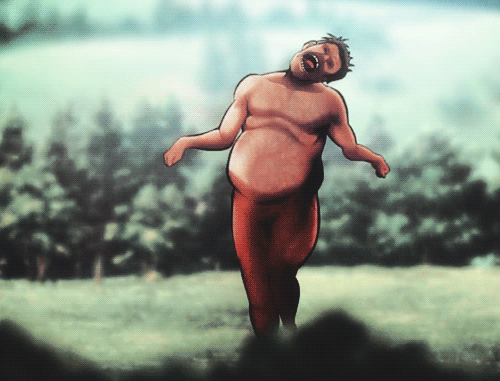 GIF via attackonsocialliffe
Hajime Isayama's epic manga-turned-anime is weird. Its Goya-inspired monsters, the titans, are notorious for their bulbous, naked bodies and oblong proportions—and that's just on the outside. Its 19th-century air defense corps fights for their civilization using a completely non-aerodynamic mechanized system of pulleys and levers that come with box-like flying gear that attaches to their sides. In the first episode a small child watches their parent get eaten, and that's actually one of the happier episodes. 
Yet for all its strangeness, Attack on Titan is gorgeous, aesthetically interesting, and addictive. Its fandom has become a sort of new Homestuck fandom, characterized by obsessive devotion, weird in-jokes, and an awe-inspiring level of creativity.
Sure, it may be a bloody, confusing saga of drama, loss, and unrelenting pain, but let's face it—Attack on Titan fans are having a wonderful time.
4) Beyoncé
What a year for Queen Bey—and for Yoncé fans. First she kicked off the year singing for the president, NBD. Then she gave us one of the best Super Bowl halftime shows in recent memory and did that thing we all thought would never happen, a.k.a. getting the gang back together. The members of Destiny's Child (v. 2.0) not only reunited for the halftime show but released a new Pharrell Williams-produced single at the beginning of the year—the group's first in nine years. In June the Destiny's Child reunited again for Kelly Rowland's "You Changed."
But she didn't stop there. Beyoncé set off on a world tour that grossed over $100 million and enraged (mostly white) feminists who felt she was setting a bad influence by deeming herself Mrs. Carter after her husband, Jay Z. Meanwhile the rest of us were falling in love with the couple all over again thanks to Life is But a Dream, the documentary she directed herself that came across as a giant love letter to her family and her fans. 
And all the while, in the middle of a major tour and constant public scrutiny, she was quietly putting together the album of the year, gathering together a host of A-listers for the biggest coup of the year—and no one leaked it because such is the power of Beyoncé. A surprise December iTunes release, in just over a week, Beyoncé: a Visual Album has shattered the record for fastest-selling iTunes album in history, become the best-selling female album of the year, and made history, with Beyoncé becoming the first woman in history whose first five albums debuted at no. 1. All, it bears repeating, without any marketing, viral campaigns, or buzz of any kind.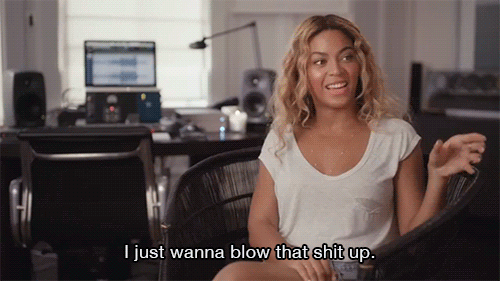 GIF via smelf/Tumblr
We'll let fanufactured speak for us about how all this makes us feel as responsible adults:
"Beyoncé has been on a 123-show tour since March. She kicked off 2013 singing the National Anthem at the inauguration and then performed at the Super Bowl. And in between taking care of her small child and Instagramming her every bowel movement she somehow found time to secretly record an entire album PLUS 14 music videos and NO ONE leaked any of it to the world? Meanwhile I have a shelf from ikea that's been sitting unfinished in a corner since May."
And we'll let Kevin Hart speak for the inner Beyoncé fangirl in all of us:
Photo via Instagram
5) Doctor Who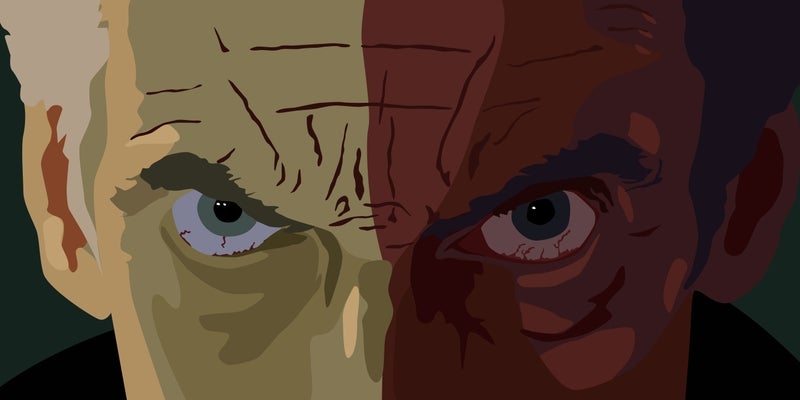 Illustration by Jason Reed
It was the best of times, it was the worst of times, depending on what kind of Whovian you were during the 50th anniversary year of the Doctor. Above all, it was the time for veneration of boys who grew up loving Doctor Who. As the new star of Doctor Who, Peter Capaldi's role as the Thirteenth Doctor and the leading light of British sci-fi has only just begun. But despite the fact that he's only appeared in the show for a couple of seconds so far, he's come to represent the old guard of science fiction: middle-aged, white, and male. 
Although Capaldi is a critically acclaimed actor, his casting was a bitter disappointment for many Whovians. After 50 years and 11 Doctors, it seemed like it might finally be time for a woman or a non-white actor to take on the role. But as it turned out, 2013 was a year when two of the biggest sci-fi franchises in the world, Doctor Who and Star Trek, apparently took a step back from their earlier ideals of innovation and inclusivity. 
So while most Whovians have no personal dislike for Capaldi, he's certainly indicative of this conservative trend. Thankfully for everyone, the Whovians united around the 50th anniversary special—but as rumors fly that controversial showrunner Steven Moffat may not be at the helm for long, it's possible the real milestone moment for this perennial favorite may be what happens for the Doctor and his companions in 2014.
Whether you rooted for the Starks or the Lannisters, no one was getting out of this year's installment of Game of Thrones unscathed—except, perhaps, for the die-hard George R. R. Martin loyalists who'd literally waited 13 years for their Red Wedding. 
Even if you didn't know anything about Martin's fantasy series, A Song of Ice and Fire, before 2013, by the time the penultimate sdeason 3 episode aired in June, you probably knew that the Red Wedding, whatever it was, was coming. The episode's actual title, "The Rains of Castamere," gave nothing away, but the tension between long-time readers and unspoiled, uninitiated viewers was so thick in the days approaching the episode that whatever was coming, you knew it was going to be big.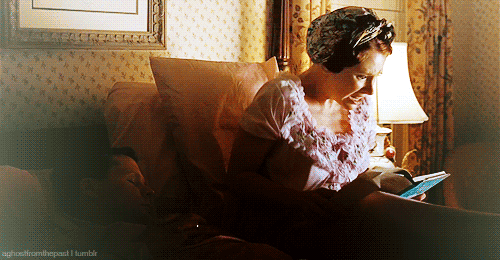 GIF via mimecapsule
The result was that season 3, episode 9 of Game of Thrones became the most-blogged-about, most "social" episode in HBO history. More than 6 million people tuned in, which in cable ratings is what they call making a killing. (We'll stop right there.)
Perhaps the most important thing about the Red Wedding, though, was what it signified about the readers of Martin's notoriously dense books. Martin loyalists have seen themselves gradually shift over time from being on the outskirts of pop culture to being right in the middle of the geektastic Internet. When fans first experienced the Red Wedding in print, it was the year 2000, prior to the landmark mainstream success of The Lord of the Rings film adaptations and prior to the long wait for the fourth Harry Potter book. This hiatus, and the word-of-mouth buzz generated from fans, was ironically the turning point that ensured the popularity of Martin's books, all while ensuring that his fans would have an even more agonizingly long wait between novels.
But in the 13 years since the Starks first met at the castle of Lord Frey for the wedding feast, fantasy has become de rigueur, and Game of Thrones has become one of the most-lauded and popular HBO series to date. Once these fans were Wildlings. Game of Thrones and the gradual mainstreaming of geek culture has brought them over the wall and in from the cold. In 2013, they could not only talk about the fantasy series they loved, but have the expectation that a large number of people would be listening. 
What's significant about the Red Wedding as a social-networking victory is not just that people were talking about it. It's that fans were talking, and the mainstream was finally listening.
7) Breaking Bad
2013 was the moment of truth for Breaking Bad fans. If you've ever read a 'best-of' list in the last five years, you know that the stakes were high for a show that has long been ranked as one of the greatest of all time. But as other competitors for this title (Sopranos and Mad Men) flagged in their later seasons and Breaking Bad's critical comparisons to The Wire grew more and more frequent, the pressure was on for its final season to deliver. 
And deliver it did, in a hypnotic cataclysm of taut episodes that felt not unlike a narrative form of withdrawal, all culminating in "Felina," an anagram for "Finale" that is also a reference to a legendary cowboy song—in case you forgot that Walter White, at heart, was an outlaw of the West. 
Breaking Bad fandom was everywhere and nowhere online: It inhabited few traditional fandom spaces and only clocked in at no. 17 on Tumblr's year-end list of most-talked-about TV shows. But on Reddit and countless Internet forums it was virtually enshrined, and as the show's following grew, fans pushed the last episode to ratings above 10 million, placing it in the top three cable finales of all time. Meanwhile, the best of the fandom was on YouTube, with some of the best offerings getting way more views than early seasons of this show. (Thank god Americans realized what they were missing.)
Whether you watched for exploding turtle-head bombs or for the Shakespearean catharsis of a larger-than-life figure brought down by hubris, this fandom had something for everyone. At some point before Walter White cooked his last crystal, we all broke bad.
If Sleepy Hollow's only major accomplishment in 2013 was giving us a better acquaintance with the one-man fanclub that is Orlando Jones, it would still have made this list. But luckily for us, 2013's most popular fall debut TV show is giving us so much more.
2012 was the year that Scandal gave the finger to Hollywood's Exclusion Myth, the lie that certain audience demographics (white dudes, we're looking at you) won't be able to "relate" to characters not in their privileged identity group. 2013 was the year Sleepy Hollow drove all the nails into that coffin, at least as far as television programming is concerned. In its first episode, it axed the older, veteran white cop who usually gets his own TV show in favor of propelling the young novice black female cop into the lead role, thus subverting all our expectations and setting us up for a season of awesome.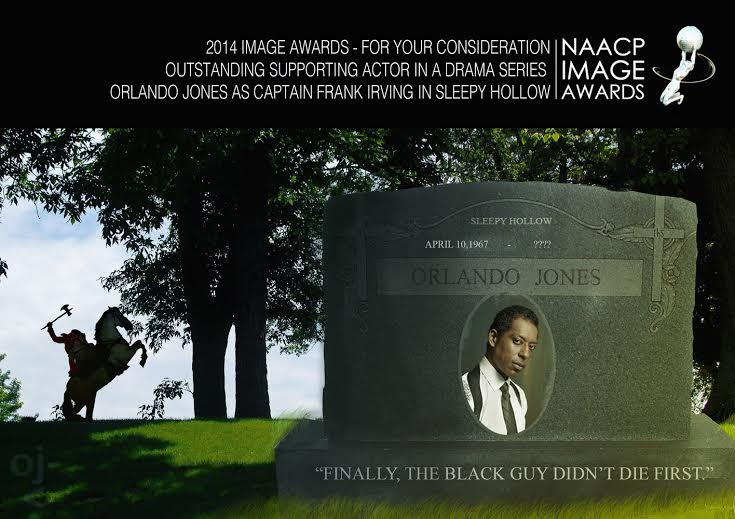 Photo via theorlandojones/Tumblr
Sleepy Hollow was the live-action show many parts of fandom have been waiting on for years: one with an unapologetically diverse cast that embraced its own ridiculousness from the very beginning. Featuring a Rip van Winkle-ish man out of time who steps into an over-the-top urban fantasy, Sleepy Hollow had a much-hyped premiere that snagged over 10 million viewers. It was the first show of the year to grab a renewal, much to the delight of its immediate fanbase.
Almost as fabulous for denizens of fandom is the way that Sleepy Hollow's entire creative team has embraced their fandom community. Orlando Jones ships everything, basically, and can't stop turning himself into hilarious fandom memes. Meanwhile, the production team has a room full of fanart on their walls and encourages fanfic, shipping, and other fannish pastimes previously relegated to the other side of fandom's fourth wall.
Sleepy Hollow is by no means the only emerging media property with a thorough understanding of how to interact with fan culture. Hannibal, Teen Wolf, Night Vale, and the Harry Potter franchise all spring to mind. 
But at the moment, it's our favorite, and the one we hope other shows will look to as an example of how to win the hearts of fans and tell fresh and engaging stories, while embracing what makes fandom special.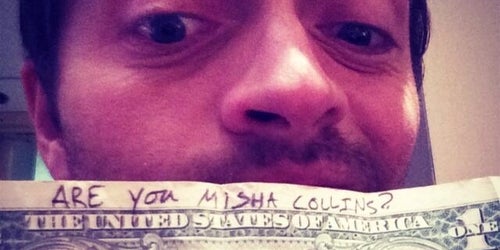 Photo via MishaCollins/Twitter
The term "cult of personality" was probably invented just to explain the fandom of Misha Collins, who with over a million Tumblr followers is by far the most social media-savvy actor at the center of Supernatural, officially the most popular TV show on Tumblr. Collins' fanbase single-handedly created a traffic jam on Tumblr earlier this year, when all of Supernatural fandom decided to spam their dashboards with a no-holds-barred April Fool's day celebration of the actor and his SPN character Castiel. They called it the "Mishapocalypse." 
But that wasn't the only highlight of the year for Misha's minions. In what was an otherwise tumultuous year for the Supernatural fandom, fans continued to break records in Collins' enormous annual scavenger hunt GISHWHES and raise millions for his charity Random Acts. Oh, and then there was that time he pulled a John Green and found the thing. After fans spent a year writing his name on dollar bills, one of them eventually worked its way into his hands—because Misha Collins apparently defies statistical probability. Through it all, he continued to be one of the nicest celebrities we know.
But clearly the best night of 2013 to be a Misha fan was the night he accidentally(?) posted his own phone number on Twitter, then amusedly proceeded to talk to every single person who called him. We're pretty sure he threw the phone away after that fateful night, but we can't blame him. When you're Misha Collins, you probably can't spend literally every second of your life on the phone with your fans, as much as we'd all like you to.
10) Jane Austen
Apparently, turning 200 is a blast if you're Elizabeth Bennet. You get to marry Colin Firth, watch your story turn into a beloved classic, pop up on every 'greatest books ever written' list ever written, and watch your namesake win an Emmy for basically being really awesome at updating one of the greatest love stories ever told.
It's hard not to wonder if Jane Austen, for all her famed self-awareness, had any idea that the novels she began writing for friends and family would make history, or that two centuries on people would not only still be celebrating the rich Regency universes of her stories, but would have produced an inestimable number of new versions, modernizations, and sequels, both professional and amateur. This year, the 200th anniversary of the publication of Pride and Prejudice saw a milestone for the Austen fandom: the Lizzie Bennet Diaries, which began as an experimental transmedia project, ballooned into a hardy fandom that rewarded its creative team for their efforts by kickstartiing nearly $500,000 after the YouTube series' impressive 100-episode run.
Although the Lizzie Bennet Diaries is a modernized, YouTube-savvy version of Austen, her more "traditional" fandom is still going strong. In her 2013 book Among the Janeites, a comprehensive and broad look at the Austen fandom, author Deborah Yaffe spoke of the "remarkable endurance of Austen's stories, the unusual zeal that their author inspires, and the striking cross-section of lives she has touched."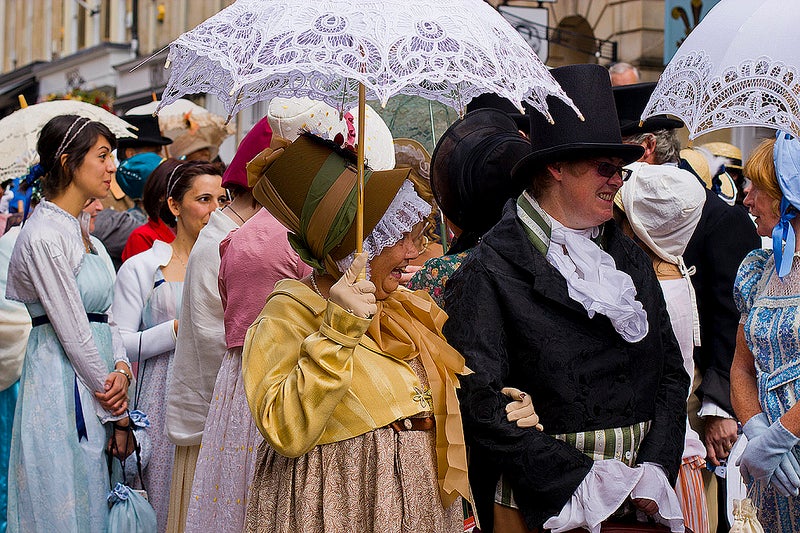 Photo via dazsmith/Flickr
Austen fandom is proof that while stories get updated, and media types and formats change, the communities we form around the stories we love remain remarkably the same. We have a feeling that in 400 years' time, the Janeites will still be gathering together to recreate, rewrite, and bond over Mr. Darcy's fateful meeting with Miss Bennet and her fine eyes at the Meryton Assembly Room.
Photo by Jason Reed