When BBC America debuted its new sleeper hit Orphan Black in March, a show starring exactly no one you've ever heard of, they could have rolled out a massive marketing campaign. Instead, they took an unprecedented yet very direct route to their fanbase: They premiered the show at this spring's WonderCon in a back-to-back slot with Doctor Who. 
Using a megalithic sci-fi hit as the opener for your Canadian no-name act? It was a gamble, but it paid off: Orphan Black's audience has grown exponentially over the last three months, and shows no sign of stopping. The show easily won a second season in May. And with the first season coming out on DVD this week, and a major appearance at San Diego Comic-Con this weekend, Orphan Black may just be the surprise summer fandom.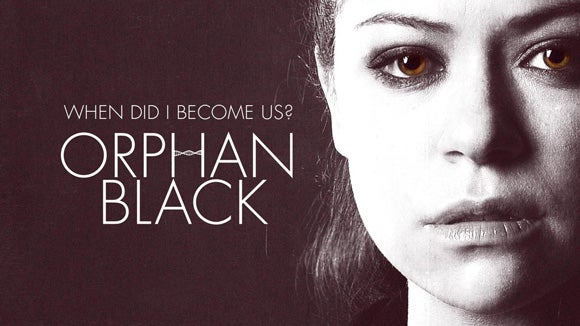 Photo via aboleyn24
Orphan Black is one of those shows where fans inevitably give up describing the plot and urge you to "just watch it" instead. "You're not watching Orphan Black?" reads one popular Tumblr post promoting the show. "You don't know what it's about? It'll be an even better surprise." 
And indeed, part of the thrill of Orphan Black seems to be figuring out what's going on, along with the characters themselves. At one point in the chaotic first episode, the protagonist, former foster kid and street-smart Sarah Manning, runs into her very confused boyfriend. "The Clash rock," she says awkwardly when he asks her why she's traded straitlaced business suits for vintage T-shirts.
"Yeah," he blinks. "But you don't."
It's one of many moments of cheeky situational humor that Orphan Black milks for all it's worth, even as it's spinning a tale of lost and forsaken human identity that borders on heartbreaking. Because of course, he's right: His girlfriend isn't Sarah at all, but rather the recently deceased woman whose life Sarah is trying unsuccessfully to step into—a woman who seems to be Sarah's identical twin. There's just one problem. Okay, there are several.
While you may have seen this premise a dozen times, you haven't seen it done quite like this. A stylish, well-acted mix of science fiction and detective story, Orphan Black is the precocious younger sibling of Alias and Fringe, but it also has elements of everything from Desperate Housewives to Dollhouse. On top of the fact that the life she's trying to steal may be far worse than the one she's running from, Sarah's faced with an additional shocker: She isn't a twin; she's a clone.
Illustration via orphanblack/Tumblr
Sarah encounters other members of the "Clone Club," all of whom are trying to handle their own lives and figure out the secret behind their existence. From there, the plot is a constant dizzying rush, half-mystery, half frenetic sci-fi, mixing secret conspiracies with mistaken identities galore and a tangled web of confusion. At times, the high tension turns farcical—a much-needed distraction from the show's underlying existential weariness.
Still, the show has more hope than dread, especially when the women of the Clone Club get together.
Orphan Black is a rare show, in that it has an abundance of female characters being badass. While the ensemble cast is mostly male, Tatiana Maslany has the daunting task of portraying seven very different women, often multiple characters in a single scene.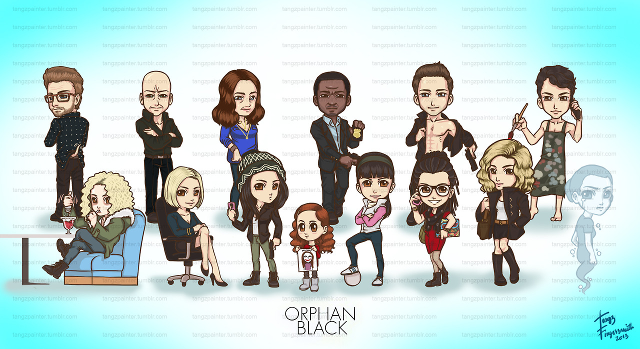 Illustration by tangzpainter/Tumblr
For her stellar acting efforts, Maslany received the Critics Circle award for Best Actress, in a surprise win that shocked many and propelled her into serious contention for an Emmy nomination. 
Get to know some of the fierce characters from onscreen and off- with our Orphan Black primer.
The Clones
Illustration by city-dreams/deviantART
Sarah: She's street-smart, wary, and prone to flight. Before joining the Clone Club, her only loyalties were to her estranged young daughter, Kira, and her childhood foster brother and gay best friend, Felix.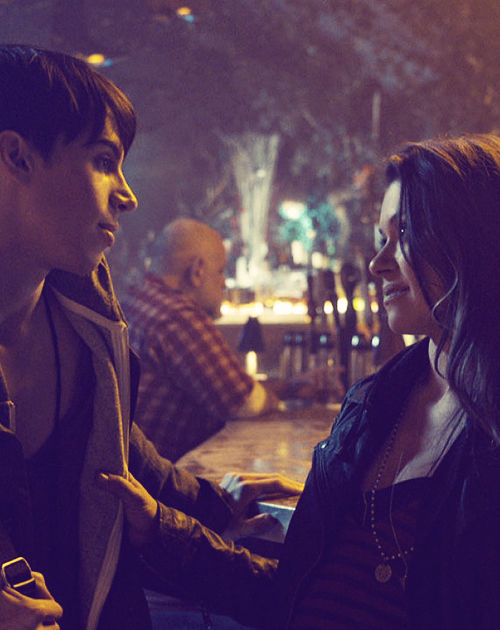 Photo via megpryorr
She's made mistakes, and she knows it, but that doesn't mean she'll stand for you insulting her taste in vintage punk rock fashion.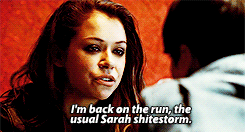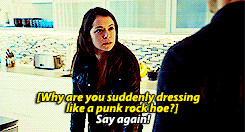 GIFs via yolandawinstons
Out of necessity, she gets fairly good at impersonating other people—sometimes.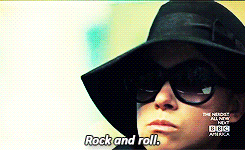 GIF via roseisreturning
Beth: A troubled cop driven to hopelessness by what she learns about the cloning project, Beth appears only for the briefest of moments.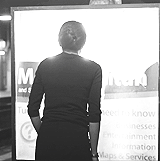 GIF via crisistemporal
But her presence looms large over the entire series, especially since Sarah promptly tries to become her—with dubious results.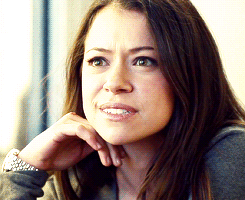 GIF via eliteways
Allison: A suburban housewife and soccer mom to two kids, Allison is the complete opposite of Sarah, except when it comes to fighting. She can often be found wearing pink and wielding home furnishings as weapons.
Helena: A deranged killer who suffers religious delusions, Helena believes she is the human from which the other clones are replicated. Despite her murderous proclivities, she's a huge fan favorite, perhaps because of moments like this: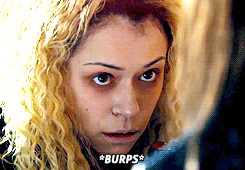 GIF via bloodydifficult
Cosima: A geeky scientist and grad student, Cosima is another major fan favorite, in part because of her plucky attitude towards being a human clone—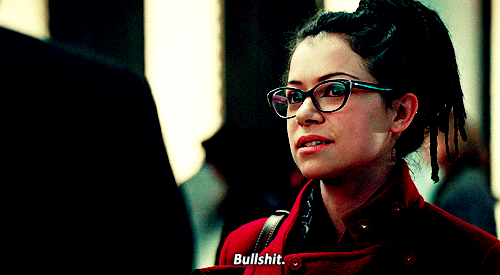 GIF via jowlih
—and in part because of her relationship with Delphine, a fellow grad student. "Cophine," as it's known, is far and away the most popular ship in the Orphan Black fandom—and a lucky thing, too, because it's canon: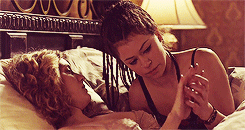 GIFs via mbthecool
The Fandom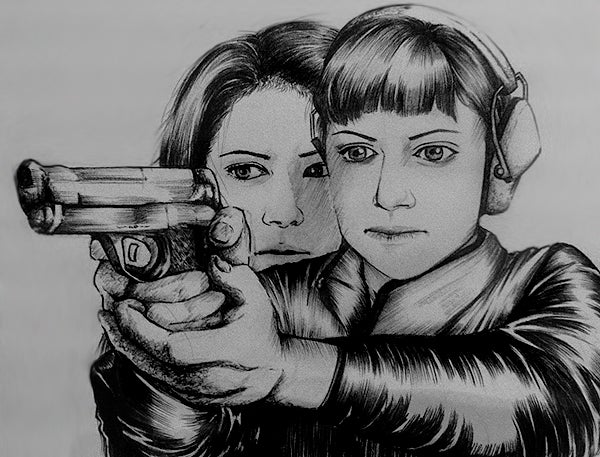 Illustration by spintheworlds
For the most part, the small but growing fandom for Orphan Black consists primarily of people alternately wondering what the heck is going on in the plot, churning out fan media and lots of discussion about the show, and trying to get everyone they know to watch it. As one fan put it:
Orphan Black's my new happy place in general – it's still young, it's still innocent, nothing's gone horrifically wrong yet and there's no vocal 'dark side' of the fandom making even liking the show exhausting 
Orphan Black fanfic is a teensy but thriving affair; the show's writers egg them on by tossing out things like this fake storyboard for Season 2, which includes plots such as "Clones host SNL" and "Everybody dies." (Never far from a possibility.)
The show's second season won't be out until sometime in 2014, but fans have already contentedly settled in for the long haul. In the meantime, you can catch up on episodes by getting your hands on a copy of Season 1, out on DVD this week.
Lead art via orphan-black/LiveJournal