It's no secret that the Supernatural fandom is huge on Tumblr.
After all, there's a reason that the homespun, frequently homoerotic remix of mythology, religion, folklore, and Americana is now in its 8th season and ruling the WB as well as fandom. Or should we say, there are three reasons: stars Jensen Ackles, Jared Padalecki, and Misha Collins.
And one of these reasons just exploded all over your Tumblr dash in an April Fools' Day Tumblrpocalypse. Make that, the Mishapocalypse.
As an actor, Misha Collins is unassuming in stature, and most of his role playing the angel Castiel on Supernatural has been spent huddled in a bulky, ill-fitting trenchcoat—hardly the treatment that normally builds a huge fanbase, unlike his co-stars, ex-model Ackles and former Gilmore Girls boy-next-door Padalecki.
Yet by fully embracing fan culture—much of which involves fans shipping his character, Castiel, with Ackles's Dean Winchester—Collins has grown a fanbase that has culminated in the annual running of the world's largest scavenger hunt, GISHWHES (the Greatest International Scavenger Hunt the World Has Ever Seen). 
Collins' antics and openness when doing interviews and con appearances are well known to SPN fans, who apparently decided there was no better day than April 1 to declare their love by, apparently, taking over the Internet. Or at least most of Tumblr.
What does a Mishapocalypse look like? Fans have been changing their normal Tumblr avatars to use icons of Misha–most using the same image. One post, that simply says, "reblog if your icon is a sex god from the high heavens," which could be a reference to Misha's angelic status on the show, has gotten almost 250,000 reblogs.
Fans have also shopped Misha's face onto everything:
Mount Rushmore: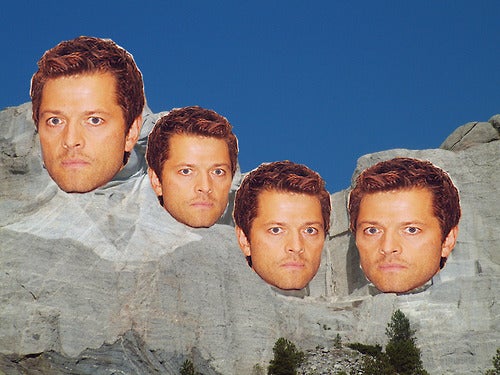 Photo via samwindchesterlover22/Tumblr
The weeping angels from Doctor Who (because he plays an angel, get it?):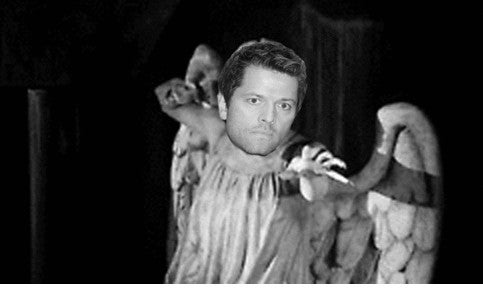 And other heavenly sex gods:
Photo via sookylee/Tumblr
Tumblr users who normally have Misha Collins added to Tumblr Savior, a popular browser extension which allows you to block unwanted tags or subjects from your Tumblr dashboard, may have a little more trouble than usual sorting through the overwhelming amount of Misha in the world today. "This is literally my whole dash," said one Tumblr user, screencapping an entire page of blocked posts about Misha.
Elsewhere, Tumblr users maxed out the daily posting limit right and left. "IT WAS A PRIVILEGE BLOGGING THE SAME FUCKING PICTURE OF MISHA WITH YOU OVER AND OVER AGAIN!" said Tumblr user bluesteaktacos shortly before hitting the limit of 250 posts in a 24-hour period.
The Mishapocalypse  even took over the randomized chat site Omegle, as well as audio hosting service Soundcloud. And, of course, it has its own (hilarious) Facebook page. 
"WE RULE THE WORLD WITH MISHA AS OUR FACE," it reads. 
So far, there's been no official comment from Collins' popular Twitter on Mishapocalypse, but the actor has tacitly changed his Twitter icon—to someone who is emphatically not Misha.
Photo via Facebook