Emma may not be quite as advice-savvy as she thinks, but when it comes to fundraising, we can't help but approve of her methods.
Pemberley Digital, the media group that brought you the Emmy-award-winning Lizzie Bennet Diaries, is using its sizeable fanbase to fund a charity through the narrative of their latest webseries, Emma Approved. The online adaptation of Jane Austen's Emma has a current arc that involves a human rights campaign. So what better way to flex Pemberley Digital's hefty transmedia muscles than by overlapping Emma's storyline with a real-life charity drive?
Even if you don't know what transmedia storytelling is, there's a chance you've experienced it, through interactive and overlapping media formats that bring a story to life on multiple platforms, online and offline. For Lizzie Bennet, producers Bernie Su and Hank Green gave their characters various social media accounts to help tell their story. Now, in the universe of Emma Approved, the characters are turning to crowdfunding. Lifestyle coach and event planner Emma Woodhouse is currently hosting an audacious, high-profile bachelor/bachelorette auction to support human rights. Three of the other members of the cast—Alex Knightley, Jane Fairfax and Frank Churchill—all are pitching in to raise money for the real-world anti-human trafficking organization 27 Million. And they're using the real-world crowdfunding website Everyday Hero to supplement the charity auction.
That means that Emma's audience members have the opportunity to pitch in through the crowdfunding site even though, obviously, they can't go to the fictional auction—an ironic attempt to fundraise for a charity against human trafficking by, er, auctioning people. We can't see this going well in Emma's fictional universe, but in real-world terms, it has gone well. After setting a modest goal of $1,000, the webseries quickly met it and has since upped the goal to $2500. And by encouraging audience members to donate on behalf of their favorite character, the series has also allowed for some fun audience and character interactions: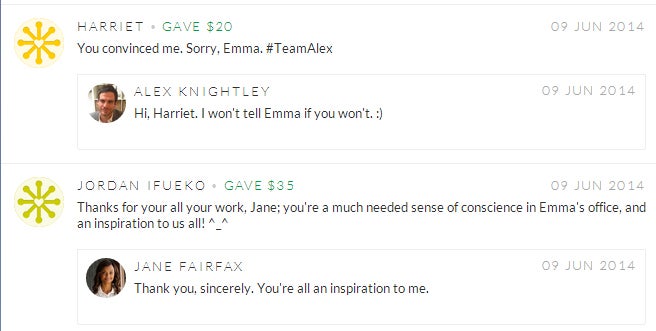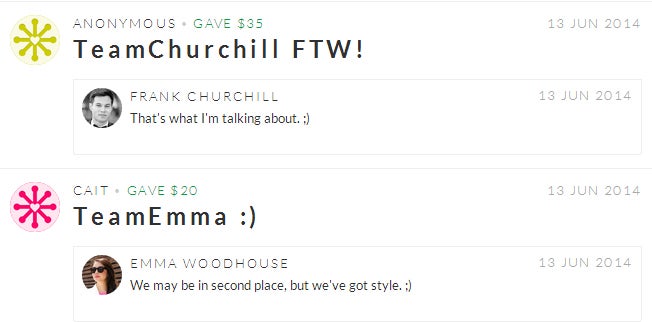 Though the context of the story is fun, the real-world implications are profound: after all, the name of the non-profit, 27 Million, comes from the state department's staggering estimated number of human slaves around the world.
"We are thrilled to combine the power of an interactive story with the passion of our dedicated fans to help raise funds and awareness for an important cause," executive producer Bernie Su stated in a press release. "The opportunity to use a classic fictional tale to have a positive impact on a real global issue is exciting to us, both as storytellers and people who care about bettering the world—just like Emma."
You can contribute to the campaign between now and the end of June, so pick your favorite character and donate in their name. 
Emma would most definitely approve.
Screenshot via Pemberley Digital/YouTube