Everybody loves Chris Pratt. So much so that Pratt early adopters are beginning to proclaim a hipsterish kind of I-was-there-first attitude. 
So, you thought he was cute in Guardians of the Galaxy? Well, some people have been crushing on him since Everwood in the early 2000s. Suddenly charmed by his sense of humor? He's been on Parks and Rec for five years, you guys.
But seriously, don't sweat it. There's still enough Pratt for everyone, even now that he's lost all that weight for his action-movie roles.
Pratt is one of those actors who has been waiting in the wings of major Hollywood stardom for a while. Up until now he was mostly known as the puppyish Andy Dwyer in Parks and Rec, but 2014 gave him starring roles in The Lego Movie and Guardians of the Galaxy, with Jurassic World on the way next year.
Guardians of the Galaxy is now the highest-grossing film of 2014, and while Groot may possibly be the film's breakout character, Pratt has definitely come out on top. That's partly due to Marvel Studios' unerring ability to market their actors as real-world offshoots of the Marvel brand.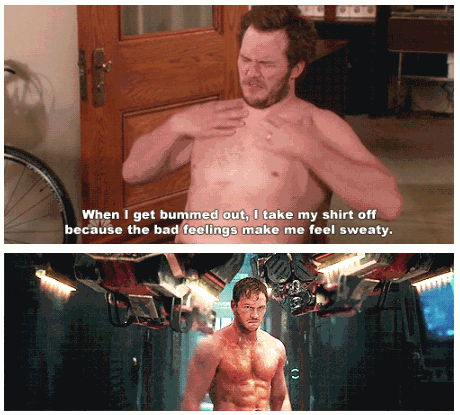 GIFs via liamdryden/Tumblr
Publicity work has always been a big part of a Hollywood acting career, but nowadays that means more than just talk show appearances and celebrity gossip. Big-budget sci-fi/fantasy franchises now tend to focus their energy on fandom, social media, and geek culture appearances like Comic-Con.
The basic goal is for an actor to be likeable (or GIF-able) enough that their fans end up publicizing the movie for free. Jennifer Lawrence has been hugely successful as this kind of human meme-generator, and it looks like Pratt may be on the cusp of doing the same thing.
This is almost certainly part of the reason why Marvel cast him in the first place, because while Pratt is obviously funny and charming as Peter Quill, half the job of playing that role was to publicize the movie. After all, this time last year, hardly anyone knew or cared what GotG even was. Now, everyone is swooning over Pratt visiting a children's hospital in costume, or sharing GIFs of him goofing off during the film's never-ending publicity tour.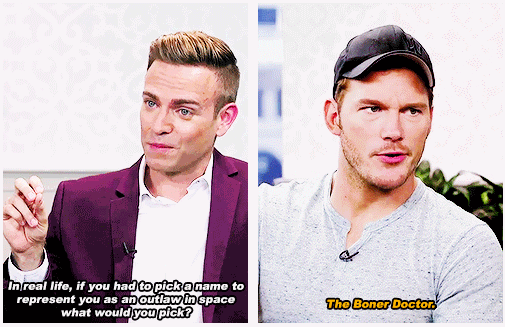 GIFs via  tan-the-man/Tumblr
Marvel Studios has always been careful to cast actors who either seem like their characters in real life, or have personalities that compliment the role. Robert Downey Jr. has embraced the character of Tony Stark to the point of 24/7 roleplay, while Sebastian Stan's nine-movie Marvel contract is making him seem more and more like the real-world counterpart of the Winter Soldier, defrosted every few months to follow orders from his masters.
Pratt, who used to live in a van on the beach in Maui, and who was briefly a "low-rent stripper" (his words), was perfect for Guardians of the Galaxy, and for the role of Peter Quill. Like the movie and the character, he was mostly unknown to wider audiences, but charmed everyone with his slightly douchey sense of humor and bizarre backstory. His early life sounds vaguely disreputable, but he also comes across as a total sweetheart who supports various charities and knows how to braid your hair. For a character who combines the space pirate rakishness of Han Solo with a kind of Scooby Doo-esque idiocy—and who, in the end, is also an emotionally vulnerable hero, just like Tony Stark—Pratt was an ideal choice.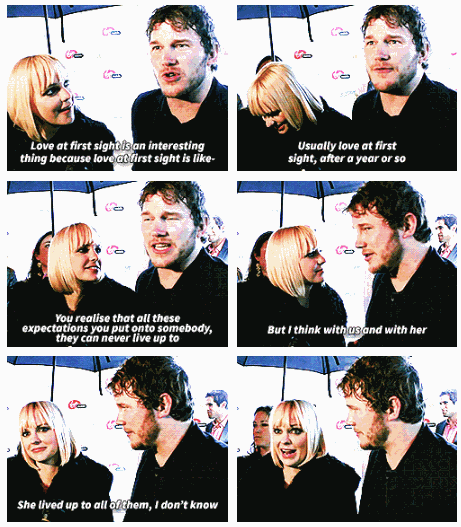 GIFs via chrisprattings/Tumblr
At this point, the relative quality of the new Jurassic Park movie does not matter much to Pratt's career. Even if it turns out to be seriously terrible (which is unlikely), Pratt will still have a GotG sequel to look forward to. Plus, he has the support of his newfound fanbase, who seem torn between lovingly documenting his relationship with his wife, Anna Faris, and making as many GotG/Parks and Rec crossover memes as possible.
Incidentally, Pratt is the fourth muscular, blondish Chris to head up a major sci-fi franchise in the past few years, joining Chris Hemsworth (Thor), Chris Evans (Captain America) and Chris Pine, who actually beat him for the role of James Kirk in the Star Trek reboot. We humbly suggest that at San Diego Comic-Con next year, someone organizes an all-Chris movie panel. Although if the rumors about GotG and Avengers3 crossover are true, then Marvel will be doing this anyway in a few years. 
Photo via Marvel/Screenrant