A while back, we found out about Bear Simulator, a game that described itself as "like a mini Skyrim, but you're a bear." We assumed this would fill the niche for bear-related video game Kickstarters, but no. We were wrong. We were so wrong. Because now there's a Kickstarter for a game called Bear Senpai, a bear-centric dating sim.
If you're not yet familiar with the genre, dating sims are a type of choose-your-own-adventure game about relationships and, in the case of adult dating sims, sex. In other words, Bear Senpai is a romantic dating simulator where your love interest is a bear. A literal bear, not a husky guy with a lot of body hair and a neatly trimmed beard.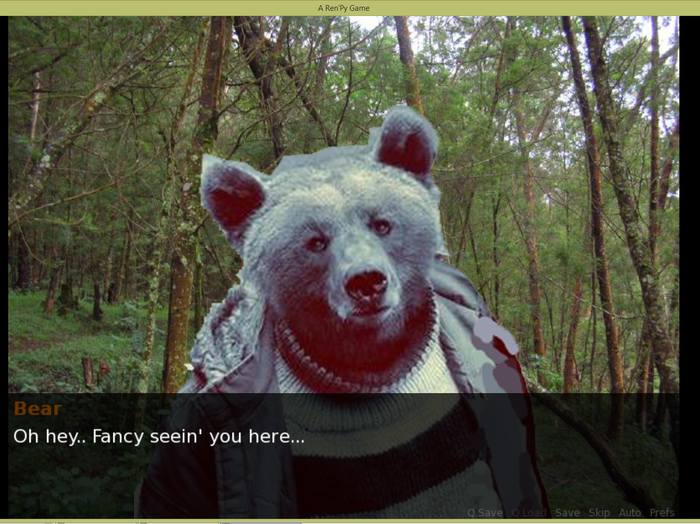 Photo via Bear Senpai/Kickstarter
Bear Senpai carries on in the tradition of Hatoful Boyfriend, the surreal pigeon dating sim that attracted a cult audience in Japan before releasing an English-language version earlier this year. Hatoful Boyfriend basically began as a joke, but has since evolved into a must-have game for fans of Japanese dating-sim ephemera. It combines a bizarre concept (a high school dating sim where the characters are giant pigeons) and surprisingly complex and interesting storyline options. This cleared the path for other non-human dating sims and visual novels, such as Jurassic Heart (where your date is a T-rex) and, hopefully, Bear Senpai.
"Are you tired of limited dating options in games?" asks Toni Rocca, the creator of the Bear Senpai Kickstarter. "While games pretend to offer a variety of dating options, most of them are really just the same character over and over. Bipedal, house-dwelling, eats-with-silverware humanoids."
This is undeniably true. Most dating sims, as far as we know, tend to focus on humans or near-human characters. Thanks to the heroic efforts of games like Bear Simulator, this discrepancy may one day be corrected. Now all this dating sim needs is another $9,000, and all your PG-rated bear-romance dreams can come true.
Photo via Carl Chapman/Wikimedia Commons (CC BY 2.0)