One of the most intoxicating elements of Ubisoft's massively successful Assassin's Creed game series is its escapism. The game lets users travel back in time and live as a stealth assassin, scaling buildings and leaping from rooftop to rooftop undetected.
But one apparent fan of the series in Germany wasn't content to merely live out this fantasy in a game. He or she has decided to actually don the monk-like assassin's robes from the series and scurry through the streets in his or her hometown, much to the chagrin of local parents and police.
In the German town of Rottweil, Baden-Württemberg, an unknown individual dressed as the main character from the Assassin's Creed games has been stalking the streets and putting a scare into residents.
German media outlets report multiple sightings of the (hopefully) pretend assassin over the past ten days. They've even been spotted in the vicinity of a local school, reportedly causing children to have nightmares and putting their parents on edge. They've nicknamed this extreme cosplayer Kampfmönch, which is German for "warrior monk."
In a town with a population of just 25,000 residents, this prankster has caused quite a stir. The local newspaper addressed the Kampfmönch in a decidedly negative editorial.
"You are spreading fear about going to school among primary school and older pupils," wrote the publisher of the Neue Rottweiler Zeitung in an open letter urging the "assassin" to turn himself or herself in to police. "You have also alarmed a small town. You are all people talk about all day and many parents are busy at night too because their children cannot sleep."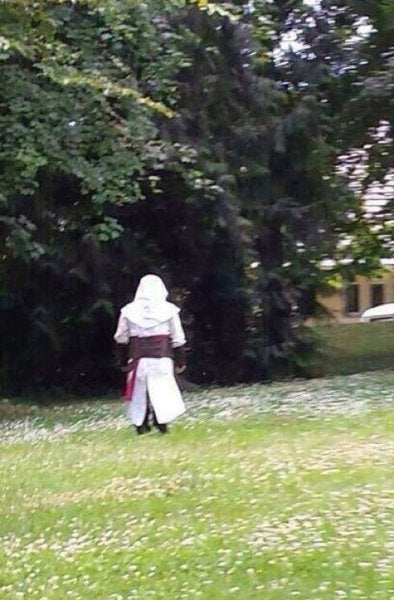 Image via Der Spiegel 
The nervousness felt by community members is palpable, particularly among those who are unfamiliar with the video game series. Rumors have spread that the imitator is carrying a blood-stained knife. However, local police have been quick to dismiss this claim as unsubstantiated urban legend.
"There is no indication that this unidentified person presents any danger," police Chief Michael Schlüssler said.
Aside from a few fleeting photos, not much is known about the identity of the fake assassin—not even the individual's gender. Though one can assume that, if Ubisoft has anything to do with it, the prankster is not a woman.
H/T Der Spiegel | Photo by Bago Games/Flickr (CC BY 2.0)