The rising cost of living has made way for services that allow people to rent out their property for extra cash to become the norm, but it can all too frequently come with extra hassle, as well.
A TikToker recently shared details about "the worst customer" he encountered on Turo, a popular peer-to-peer car-sharing service that allows people to actually rent out cars from strangers as opposed to just getting a lift with Uber.
User @kroysplace posted screenshots of a string of notifications he got on his phone warning him that his car was coming close to hitting 80 miles per hour in a location he said had a speed limit of 60 miles per hour, along with warnings that "multiple doors have been left open."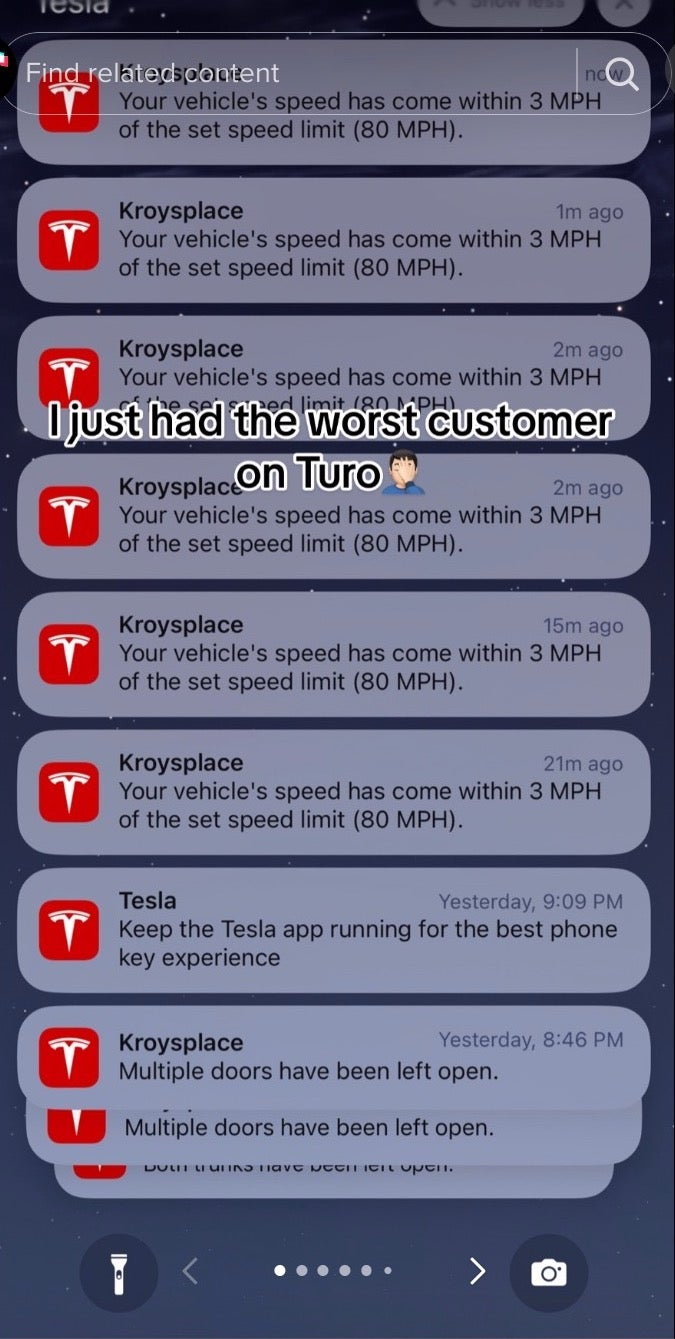 He also showed the Tesla's battery being run down to 0%, alleging that the customer then "drove another 15 minutes with a vehicle at 0% at 5:00 AM."
"I don't even know how she made it to a supercharger," he wrote. "I can see her just going in circles on the Tesla app."
According to Tesla's website, running the battery all the way down can result in damage to vehicle components—and the TikToker says he's now having a hard time getting the car to charge after this particular rental.
@kroysplace

Replying to @user9343104 this is not a plastic hubcap. It's a 21 inch rim that cost a lot of money not only that but each tire is $600. And also the vehicle is taking forever to charge itself because she ran the battery down to 0% at 5am in Seattle circling the supercharger.

♬ original sound – Kroysplace
But the issues didn't stop there. The video above, as well as additional screenshots shared to @kroysplace's page, show extensive damage done to both of the passenger side rims. He also said the woman who rented the vehicle from him wasn't driving when he picked it back up, despite being the only authorized driver for the rental.
Although he says the customer deleted most of the footage from the Tesla's cameras before he got the car back, he shared some that remained and showed a man getting in and out of the driver's side of the car, insinuating he had been the one behind the wheel.
"She also [admitted] it when I messaged her there's someone else driving the vehicle, and she said yes," he wrote.
The series of TikToks made viewers think twice about renting their car out to strangers on Turo or similar services.
"That's Turo for you," wrote one commenter. "I have guests like this all the time."
"Don't put a vehicle on Turo if you actually care about it and want to keep it nice," one user warned, while another viewer claimed he once received his Lamborghini Urus back with $17,000 in damages after renting it out through the app.
Frustrations were shared from a customer perspective as well, with one viewer saying he had rented through Turo and wound up driving a car in poor condition. Several others expressed discomfort with the idea of a car owner tracking their location and speed and checking the footage after the fact.
It ultimately sounds like a situation where there are disadvantages to both sides, although other renters praised Turo's customer service and suggested @kroysplace shouldn't have any trouble getting the damages covered after filing all the information he has about what happened with the company.
"I don't drive my Tesla do I don't really care," he added, referring to concerns about keeping the vehicle looking sharp. "It's just to make money."
The Daily Dot has reached out to @kroysplace via TikTok comment and Turo via email.
Update 1:31pm CT May 30: In an email to the Daily Dot, a Turo representative shared the following: "Generally speaking, if a guest violates Turo's terms of service we would restrict their account/ability to book future trips and void their protection package," they told the Daily Dot. "Additionally, we work closely with hosts to resolve damage claims as quickly as possible."


We crawl the web so you don't have to.
Sign up for the Daily Dot newsletter to get the best and worst of the internet in your inbox every day.