Veterans of the wars in Iraq and Afghanistan are split on NFL players kneeling during the national anthem and President Donald Trump's response to the situation, according to a new poll.
Iraq and Afghanistan Veterans of America (IAVA), a post-9/11 veterans advocacy group, polled more than 8,000 members and found that 39 percent of surveyed veterans and service members disagreed with the protests and would not watch NFL games because of them. That's 13 points above the 26 percent who said they will continue watching the games and supported the players right to protest.
Meanwhile, 14 percent of those polled said they would continue watching the games but disagreed with the protests.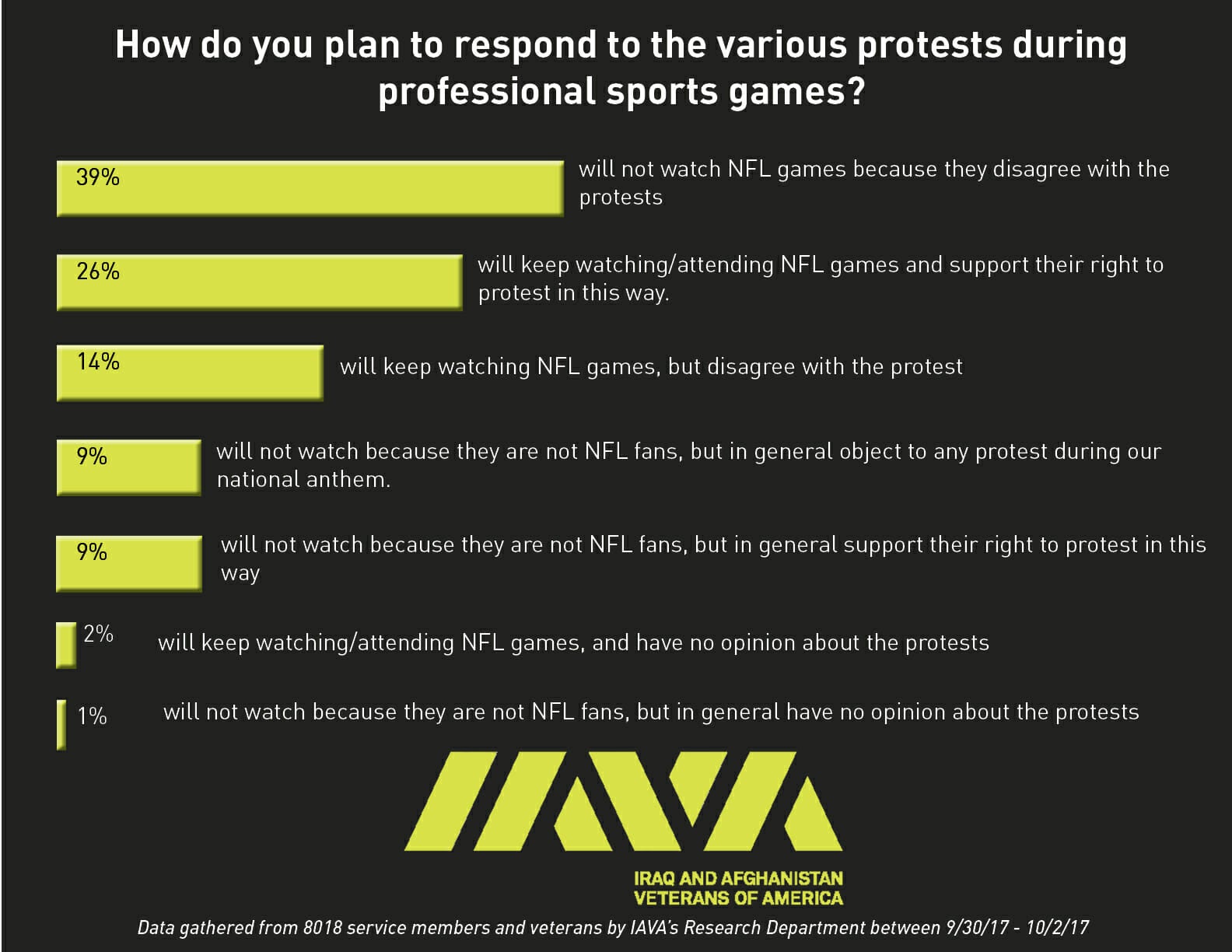 Overall, 98 percent of IAVA's members said the Constitution protects the right to peacefully protest, and 62 percent said professional athletes have the right to protest during games.
However, almost half of the members polled (48 percent) said they disagreed with Trump's response to the protests, which include calling former quarterback Colin Kaepernick a "son of a bitch," calling for the NFL to "fire or suspend" players who protest, and praising the "great anger" from fans in response to them. Meanwhile, 43 percent of veterans IAVA polled said they agreed with Trump's response and 9 percent said they were unsure.
On Sunday, Vice President Mike Pence left a Colts vs. 49ers game in Indiana after seeing players kneel during the anthem. Trump called Pence's trip "long planned," apparently pushing back that it was a waste of taxpayer money. CNN estimated on Monday that Pence's trip cost approximately $200,000 above that of his previous plan to travel from Nevada to California.
When IAVA asked those polled which issues the White House and Congress should address, the NFL protests did not crack the top five, which included: hurricane disaster response, threats from North Korea, veteran suicides, the war against the so-called Islamic State, and reforming Veterans Affairs healthcare.
IAVA sent emails to more than 8,000 veterans and service members from Sept. 30 to Oct. 2. The margin of error was 1.1 percent.
You can read more about IAVA's poll here.