The White House announced that President Donald Trump will embark on a 17-day "working vacation" to his golf resort in Bedminster, New Jersey. The getaway starts on Friday and coincides with major renovation work taking place in the White House, where workers will repair the heating and cooling systems, the Associated Press reports.
The conversation around Trump's vacation soon pivoted to the president's hypocrisy. When former President Barack Obama was in office, you see, Trump repeatedly criticized him for leaving Washington on personal breaks. For example:
Pres. Obama is about to embark on a 17 day vacation in his 'native' Hawaii, putting Secret Service away from families on Christmas. Aloha!

— Donald J. Trump (@realDonaldTrump) December 19, 2013
When will Obama next go on vacation if he wins the election? The day after.

— Donald J. Trump (@realDonaldTrump) September 12, 2012
"Don't take vacations. What's the point? If you're not enjoying your work, you're in the wrong job." — Think Like A Billionaire

— Donald J. Trump (@realDonaldTrump) November 19, 2012
Can you believe that,with all of the problems and difficulties facing the U.S., President Obama spent the day playing golf.Worse than Carter

— Donald J. Trump (@realDonaldTrump) October 14, 2014
Of course, Trump's waffling stance on vacations has come up repeatedly during his first six months in office. Prior to Friday's break, Trump had taken at least eight vacations (depending on your definition) encompassing a total of 24 days at an estimated cost of more than $20 million. (Obama, by contrast, spent 217 days on vacation during his eight years in office, at a cost of approximately $100 million. Former President George W. Bush spent over 1,000 days of his eight years in office on vacation.)
Despite these fleeting criticisms, it's no surprise that Trump's critics (and those of every other sitting president) balk anytime the commander-in-chief takes a break. That's just politics in America. What is perhaps more substantial is how little the laws of the United States do for American workers who need some much-needed down time.
Of the top 21 developed nations, the United States is the only one that does not guarantee paid vacation for workers, reports the Week. As such, Americans' access to paid time off varies widely depending on occupation and experience. The Bureau of Labor Statistics (BLS) found that, as of March 2016, 27 percent of American workers have zero paid days off. Among the 73 percent of those who do have paid time off, the number of days ranges from as few as five to 24 or more.
Workers with between one and nine years of service at a firm have 10 to 14 days of paid time off, on average, according to BLS. That jumps to 15 to 19 days of paid vacation for workers with at least 10 years working for a company and 20 to 24 for workers with tenures over 20 years.
Although most office jobs and those in "installation, maintenance, and repair" sectors offer employees access to paid vacation, according to BLS, just 55 percent of workers in the service industry enjoy this luxury.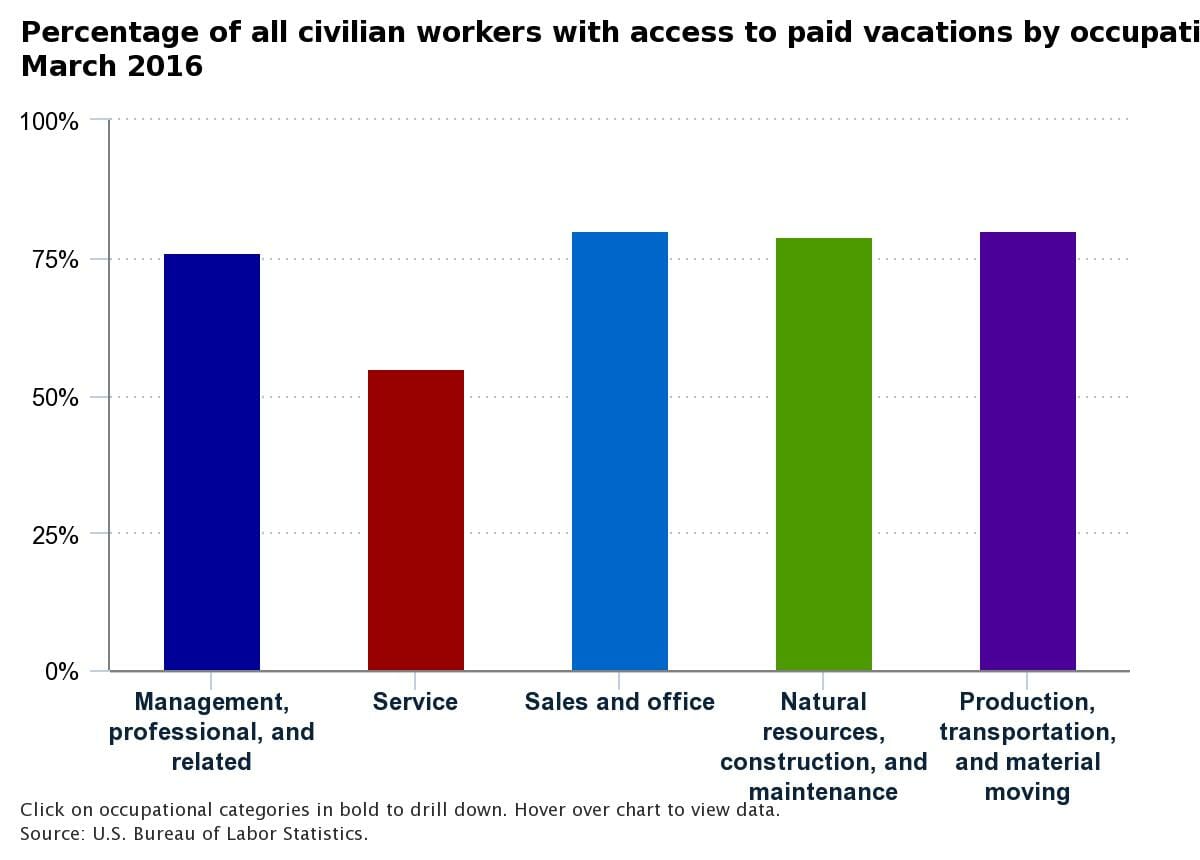 Although the majority of Americans do have access to some paid vacation, the U.S. largely requires employees to spend more days of the year working than other developed nations. A survey conducted by travel company Expedia last year found that (perhaps unsurprisingly) longer vacations are far more commonplace in Europe than in North America. (Canada and Mexico have about the same vacation rates as the U.S., the study found.)
"Across Europe, paid vacation days are very much a right. The study found that Spanish workers are given 30 days off and take all 30," writes Expedia. "The same is true of the Finnish and French. Italian and German workers are given 30 days of vacation and take 25 and 28 of those days, respectively."
On average, Expedia's study found, Americans have access to 15 days of vacation but only take 12.
In the end, criticizing Trump and other presidents for jaunting away on holiday may be less about legitimate concerns of their governing and more about the fact that we're stuck sitting behind a desk or standing behind a counter rather than soaking in the sun.