Not everyone loves vegetables, but even the most ardent (or hungry) veggie enthusiast would find it hard to choke down the offerings at one of President Donald Trump's golf clubs.
On Monday, the official Twitter account of Trump National Golf Club in Hudson Valley blasted a photo of a pitiful gathering of food. The image appeared to show a fistful of microgreens wrapped in rice paper, slivers of cherry tomatoes, a dollop of unidentifiable goop and a scattering of corn. It's unclear what's sticking out of the wrap (maybe a cry for help?).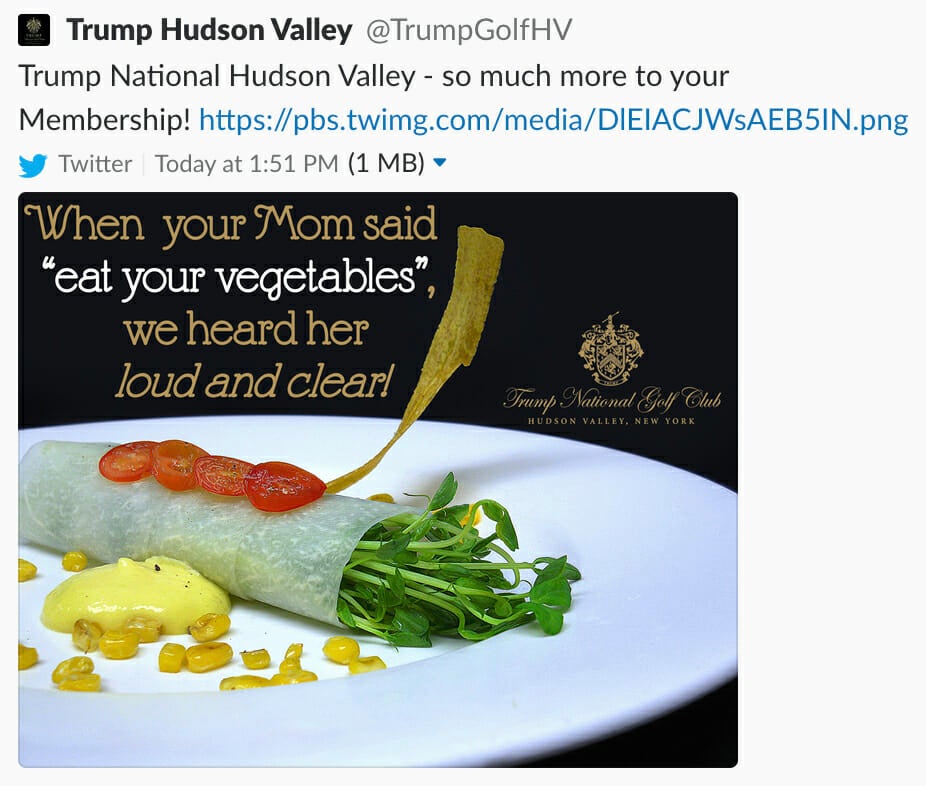 The golf club did not immediately respond to the Daily Dot's request for comment on what the heck the meal is supposed to be, and the tweet itself was deleted in less than an hour. But the wannabe food was still rightfully roasted on Twitter.
https://twitter.com/c_r_evans/status/1031635840450142208
https://twitter.com/BC_Sonoma/status/1031636304964988929
Can't wait to visit and spend $40 on some grass wrapped in a used coffee filter

— C-II Medication Appraiser (@DanRKB) August 20, 2018
I'm vegetarian and have had some very half-assed meals at fancy nouvelle restaurants, but this is next level. You have to work hard to make something this ridiculous and unappetizing.

— Metra Eclectic (@OldFirenza) August 20, 2018
Applying for a job as chef. Included is a shot of my vegetarian dish. pic.twitter.com/O4HxO2D7Ms

— FlutterCliff (@Cliff_M85) August 20, 2018
What is this? What is it supposed to be? Some pea shoots wrapped in what, celery root, with not even a full sliced cherry tomato, plopped onto a puddle of mayonnaise and then topped with a couple kernels of canned corn? Not even the most desperate vegetarian would eat this. pic.twitter.com/fIFTHlsSDF

— Heather Hughson (@HNHughson) August 20, 2018
People also went after the design of the image. In an insult to moms, the photo was captioned, "When your Mom said 'eat your vegetables,' we heard her loud and clear."
I mean just look at the tagline, even. Kerning on the first line, comma goes inside quotes, not out, italics emphasize squat, and the whole thing is misaligned. Knowing how you idiots do business, someone got paid $100K to slap this together, didn't they? Be honest, was it Jared?

— Rex Mundane (@RexMundane) August 20, 2018
https://twitter.com/garylarsonesque/status/1031637055099613186
There's really only one thing to say about the photo—veggies, font, and all.
https://twitter.com/nickwiger/status/1031622073414705152