Tech

Tech

The gadgets, platforms, and software that make your digital life possible. If it bleeps, clicks or blinks, you'll find it here.

Internet Culture

Internet Culture

There's a community for everyone online.

Streaming

Streaming

News, reviews, and guides for the world of online entertainment.
Hey girl, get to know Paul Ryan
Wisconsin Representative and potential vice-presidential candidate Paul Ryan receives a national introduction via a new meme. 
Rep. Paul Ryan and actor Ryan Gosling have another thing in common aside from the droopy eyes. Both have received the "hey girl" meme treatment.
A Republican representative from Wisconsin, Ryan now stars in "Hey Girl, It's Paul Ryan." The new Tumblr is exactly what it sounds like: blocky white letters that usually begin with the variation of "hey girl" and end with how Ryan is economically conservative.
As chairman of the House Budget Committee, Ryan's star power has increased as the economic issues have been pushed to the forefront of both parties' agendas. He is also considered a potential vice-presidential pick for Mitt Romney.
So, if you're into economic-themed memes, this blog does the trick. One entry reads "Girl, economics is the ONLY thing I'm laissez-faire about," a nod to Ryan's hands-off approach in economic policies. Another meme pokes fun at President Barack Obama's new "Forward" slogan and how Ryan wants to cut costs.
But if this all economic talk is boring and hard to think about, how about cuddling up with Ryan and "work up some sexy infographics."
At least that's something both parties can agree on.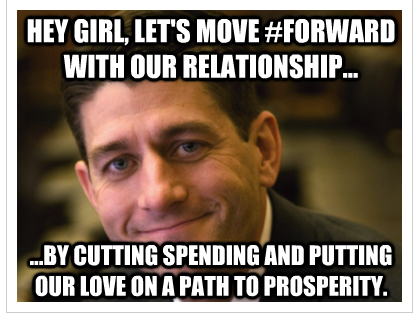 Photo via Tumblr
A former editorial operations specialist and staff writer for the Daily Dot, Jordan Valinsky is a tech reporter and web culture commentator. His work has been published by the Week, Digiday, CNNMoney, Popular Mechanics, Vice, Mic, and Betabeat.
© The Daily Dot, all rights reserved.
Represented by Complex Media, Inc. for advertising sales.