A satirical flyer is going viral for asking people not to dump trash on the properties of white supremacists.
"People have been dumping trash on the properties of well-known white nationalists Sam Dickson and Evan Anderson," the flyer reads, adding that it's causing them "financial hardship." "It has been too costly for them to hire security at each of these properties, and it is not possible for police to watch them at all times," it continues, with a stamp that reads "Resurgens Atlanta, GA."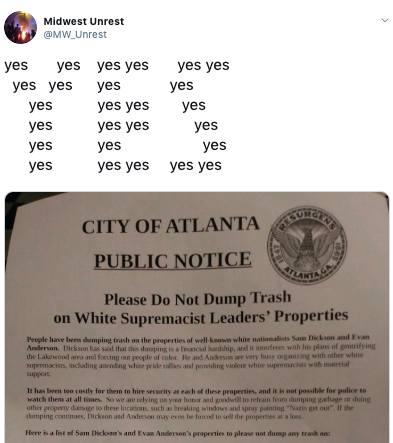 The flyer, which is clearly a joke, goes on to list certain properties owned by Dickson and Anderson. It was posted by a Twitter user Midwest Unrest on Monday and has since gained thousands of retweets. 
While the city-approved part may be fake, the white supremacists mentioned in the flyer are real. According to the Southern Poverty Law Center, Dickson is a former Ku Klux Klan attorney who was involved with numerous white supremacist groups that targeted poor African Americans in Atlanta to make money in his real estate business.
Anderson has been identified by Atlanta Antifa as one of the leaders of white supremacist group Identity Evropa, and as an active member in the 2017 Charlottesville protests. Atlanta Antifa also identified Dickson as being present at the Charlottesville rally. 
The mentions of where to dump trash are a reference to an ongoing dispute. In February, Dickson was interviewed by CBS46 over his complaints about having too much trash in the Lakewood Heights neighborhood, which had been dumped over three months. Following previous coverage of the issue, people had reportedly helped him clean up but weren't able to clear all of it.
"They don't enforce the dumping laws because they don't get money from someone who dumps this kind of stuff they get money out of property owners and the city has no interest in enforcing the dumping laws," Dickson told CBS46.
Despite it being a satirical poster, people are on board with the underlying message that reveals the addresses of properties where "not" to dump trash.
"This caused me so much dissonance between my environmentalist persona and my Nazi eating persona. They are at a war," wrote one user.
"Please do not dump trash on these properties, especially during the set times of day when officers are not around to identify you," wrote another.
Midwest Unrest did not immediately respond to the Daily Dot's request for comments.
READ MORE: