Those who really like to go outside and do things but cannot possibly fathom experiencing such things with or without certain types of people or products—like bacon, margaritas, and, um, noodles—rejoice! Thanks to Yelp, there's now a way to better parse out what's going on where and who's actually there doing it.
Yesterday, Yelp, the online social reviews website currently experiencing a pseudo-rash of fake reviews, introduced to its many users the Wordmap, a heat map-styled visual overlay that shows, through a series of red blobs where you can find the objects or entities of certain keywords that tend to show up regularly in Yelp's excess of 39 million reviews. The feature is currently hooked up to 14 cities—Austin, Boston, Chicago, London, Los Angeles, New York, Paris, Philadelphia, Portland, San Diego, San Francisco, Seattle, Toronto, and Washington DC—and offers individualized entities for each one.
For example, in Austin, where I live, Yelpers can now easily figure out where to find the best tortillas, frat scenes, bacon, or food trucks. In London, where Prince William lives, Yelpers can seek out posh locales, romantic destinations, tourist traps, and hipster dives, among other spots.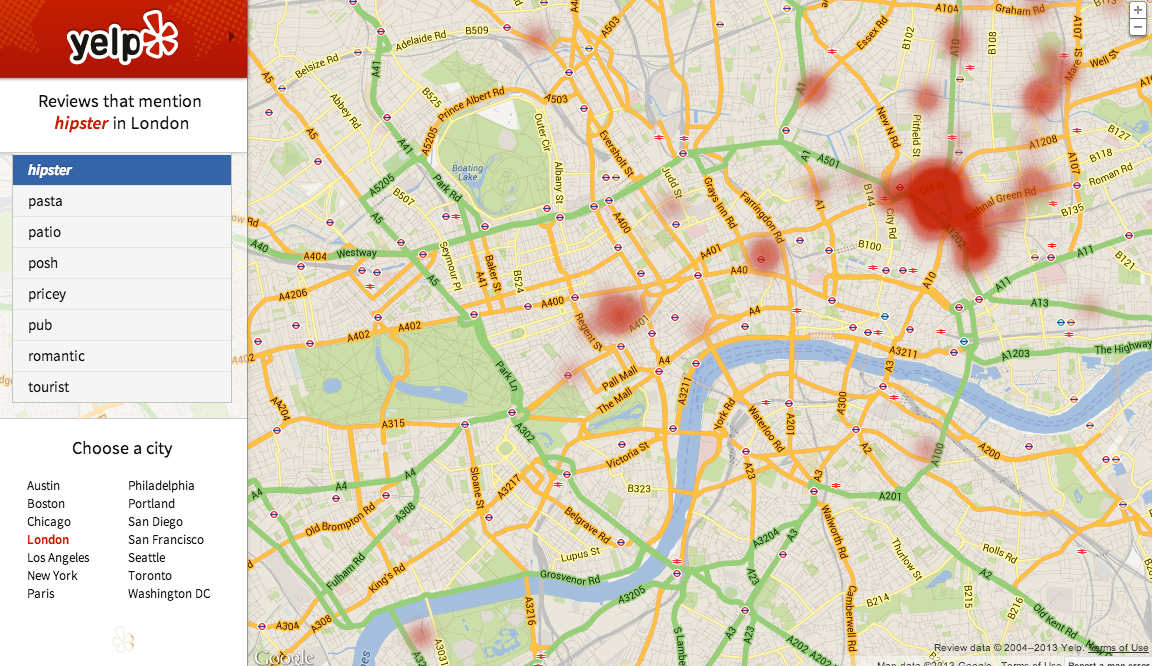 In a post added onto Yelp's blog last night, company data scientist Chris C. summed up Wordmap's virtues rather blandly: "Word choice in reviews shows intriguing underlying patterns. When you look at 'cocktails' versus 'BYOB' in Chicago, the former shows spots you can go for a classy concoction, with the latter lighting up names known for a laid-back vibe."
Sounds good. 
It's worth noting that Yelp's Wordmap, while doing a great job of showing the general vicinity of where something in particular is—if you click on "bacon" in Austin, it shows a density of red around 10th Street and N. Lamar Blvd.—but it does nothing to tell you what the actual establishment may be. 
That bodes poorly for the popular downtown lunch spot Bacon, located on 10th and N. Lamar, which is likely the destination getting Yelp's map all heated up, but you would not be able to tell from looking at the Wordmap. All you can do is drive to that general area and hope for the best.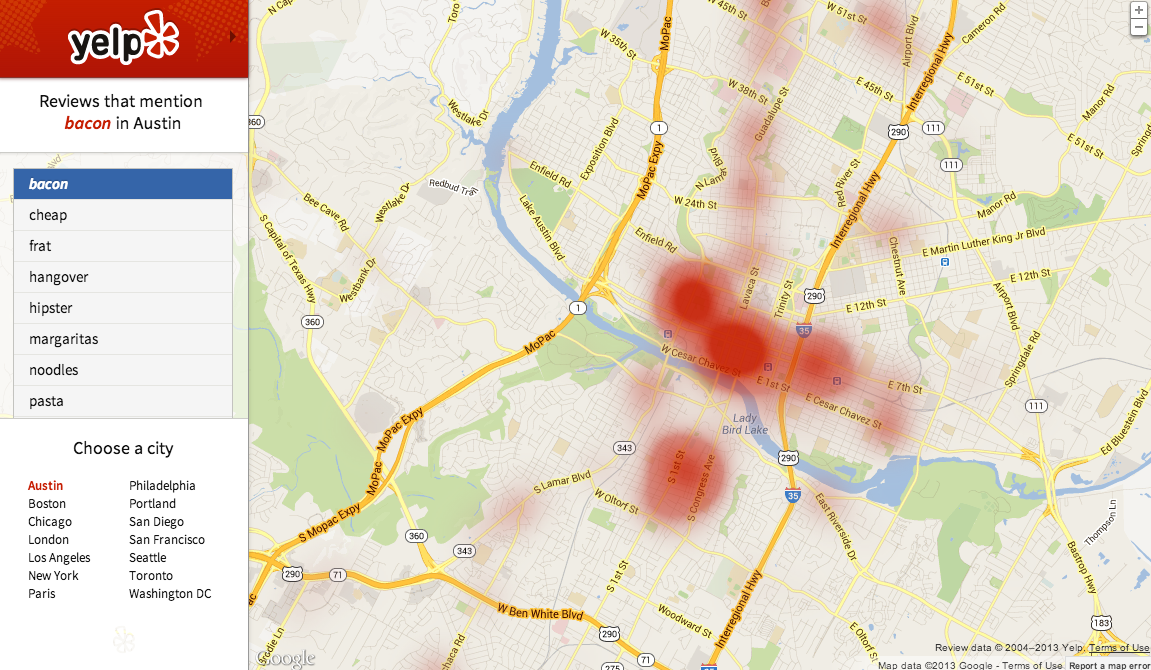 Photo via Yelp