It appears society has forgotten the warning Morgan Spurlock spread in 2004 with his movie Super Size Me because the fast-food industry has never been more profitable.
Much of this success can be attributed to the convenience of these meals and the perceived value of calories. And if one is a devotee of a particular chain, the slew of rewards repeat customers earn for frequented patronage via mobile apps can provide an incentive to keep repeat customers coming back for more.
However, the price of items that many once deemed affordable, or cheap even, keep going up, even on so-called "value" products.
Wendy's has been called out in the past for its hikes, and now TikTok user @ohdamitsjam is going viral for highlighting the new price of a favorite meal combo that he claims just doesn't make sense. That's because its very name is a blatant lie.
He says Wendy's 4 for $4, which comprises a beverage, fries, nuggets, and burger costs $5 from a Kansas location he was scoping out.
"All right Wendy's I get it. Times are tough you need to up prices," he starts in the clip. "So when you changed…the biggie bag you changed them all to six all the biggie bags are $6— then you changed the four for four to five dollars."
He continues, "Which, OK, I get it but why do you still call it a four for four? That still says four dollars. It's not four dollars anymore!"
The Daily Dot has reached out to @ohdamitsjam via TikTok comment and Wendy's via email for further information.
As of the time of publishing and according to Wendy's website, the 4 for $4 menu option is still available. The description for the promotional combo meal states that it's still $4, allegedly forever.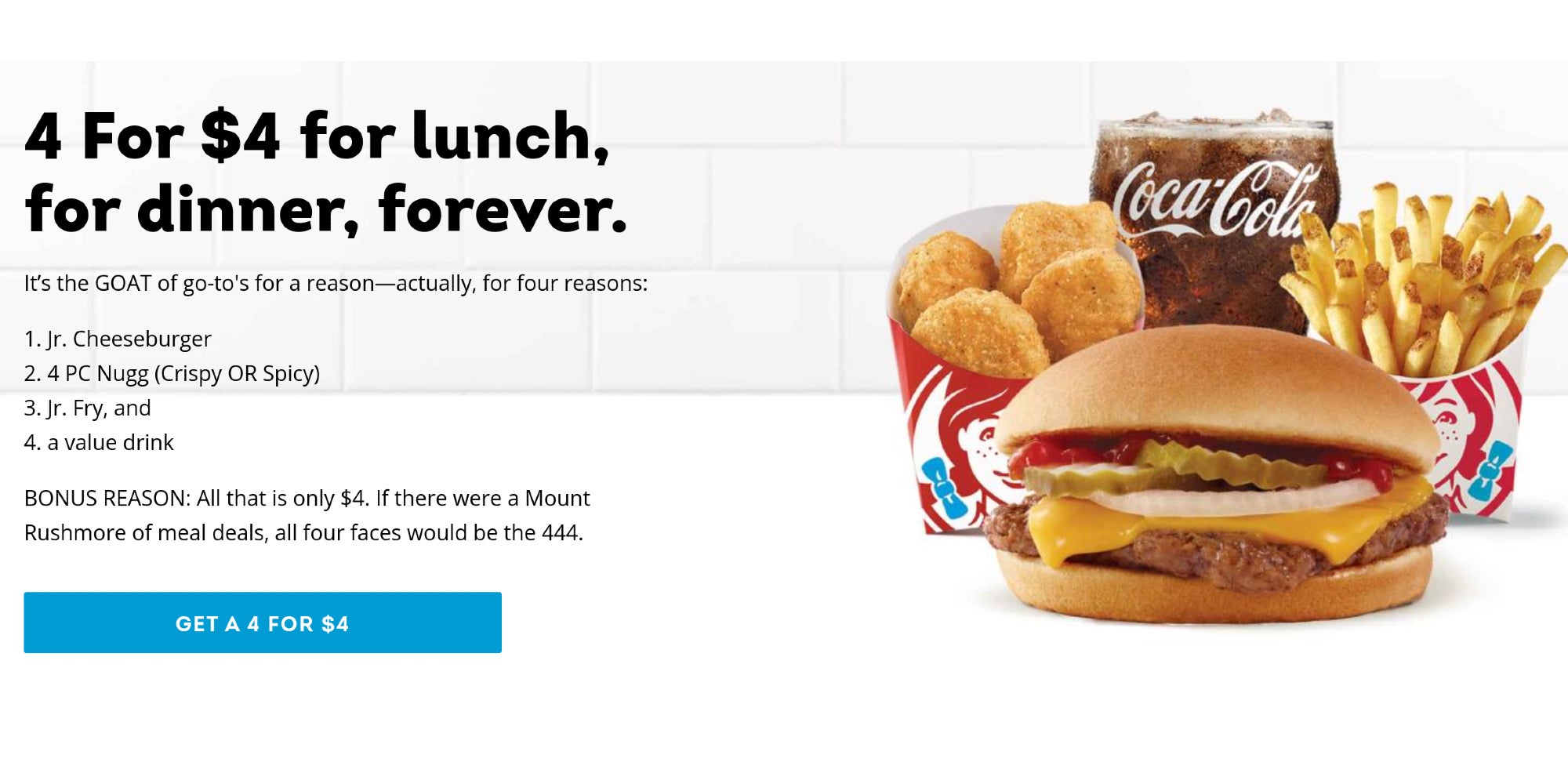 While ordering from a Northern New Jersey location, a double stack Biggie Bag also retailed for $5.00, and a Jr. Cheeseburger 4 for $4 was actually priced at $4.44. So, judging by this slight increase in this market, plus @ohdamitsjam's TikTok, it seems that the chain may be rolling out different prices contingent upon location.
Various TikTokers in the comments section stated that the prices of the Biggie Bag and the 4 for $4 were $5 and $4 respectively.
User alt.personas wrote, "In North Carolina the biggie bags are 5 dollars and the 4 for 4 is 4 dollars."
Another TikTok user penned, "Idk where you live but in missouri it's 5 and 4," to which @ohdamnitsjam replied, "Kansas, just a state away! No clue if all the Kansas ones are like that or just my local one but it was 5 and 4, and they upped it to 6 and 5."
One user assumed that @ohdamnitsjam was screenshotting the prices via DoorDash, however, he responded that it was through the official Wendy's application and that he even verified the price hike in person at a Wendy's location.
Wendy's isn't the only restaurant chain that has seen marked price increases across its menu. Chipotle has come under fire for its significant surges as well. Market Scale has attributed widespread spikes in pricing to "supply chain uncertainty and battles on wages."


We crawl the web so you don't have to.
Sign up for the Daily Dot newsletter to get the best and worst of the internet in your inbox every day.