A video has surfaced showing police in Ontario, Canada, beating and slamming a skateboarder to the pavement, reportedly during an arrest on Thursday.
Skyler Kent, who is 20 and appears to be white, was given a ticket for running a red light, according to Barrie Today. He reportedly continued to skateboard after getting the ticket, and a police car chased him and "swerved in front of him," the woman who recorded the video told Barrie Today.  
The Daily Dot previously reported on the arrest last Friday after the video surfaced, but before Kent had been identified. 
The video, which has been posted on various social media platforms, shows the officer huddled on top of Kent as he struggles and pleads to be released. "Get off of me, get off!" he screams. "Get off of me, please!"
The woman who was recording, since identified as Kelly Platt, urges Kent to "stop resisting" so that it would be "easier" for him.
"Get the fuck off of me!" he continues yelling.
"If you just stop resisting, it will go over easier," Platt says. "I know, man, it's scary. Just take it easy."
"I'm not even resisting," Kent cries out. The officer pushes him to the ground.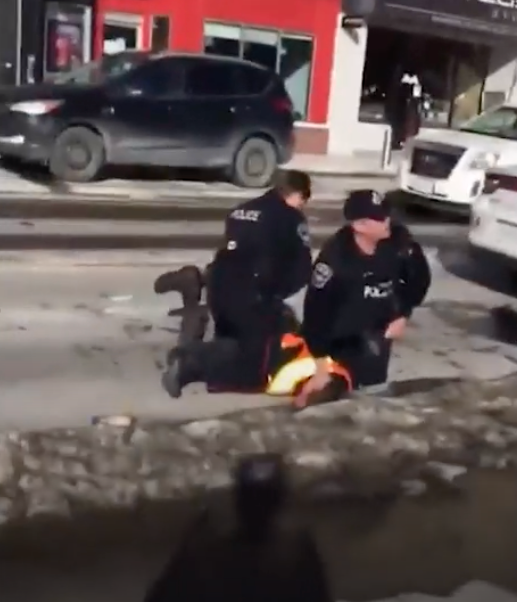 Another officer appears and leans over Kent while Platt continues to urge Kent to stop resisting. A third officer moves toward the altercation but observes from a few feet away.
"Put your hands behind your fucking back," an officer says while lying on top of Kent and holding at least one of his arms down.
The officer then points something at Kent's face and says, "You want this?" TMZ reported that the object was a Taser. "No, no sir please…" Kent says.
"Put your hands behind you," the officer says, but Kent says he can't do that with the officer on top of him.
"Put your hands behind you right now, or I'm lighting you up," the officer says. He then hits Kent on the head with the stun gun.
Platt starts screaming, and the officer turns Kent on his stomach and punches his head to the curb. At this point, the third officer joins the scuffle and helps restrain Kent.
Kent's older brother told CityNews Toronto reporter Shauna Hunt that Kent has a "goose head" and suffered a concussion, according to a clip of a live broadcast shared in a Reddit thread.
Kent told Barrie Today that while he is "not proud" of how he responded, he acknowledges that he "definitely wasn't in the wrong." Kent did not immediately respond to the Daily Dot's request for comment.
According to a statement posted by the Barrie Police Service on Friday, Kent faces charges of disturbance and assault with attempt to resist arrest. An investigation into the officer's conduct is underway, the statement read.
---
Must-reads on the Daily Dot