Tumblr unveiled a long-awaited comprehensive new search function today, complete with a new grid layout, safe-search filtering, and the much-coveted ability to search multiple tags at once.
And there was much outrage and confusion.
In theory, Tumblr's update fixes several problems at once. Perhaps the biggest asset is that now, Tumblr no longer has to censor certain NSFW-heavy tags from its mobile apps on pain of being banned by major app stores. A tag ban incensed Tumblr users in July, and Tumblr seemed anxious to find a fix. Now, the solution is to keep the tags visible, but filter them by default, allowing the desktop Tumblr users to choose whether they want to display explicit content.
The new feature displays as a lock on both the search page and the tags page, and is turned on by default—both features Tumblr failed to note in its update.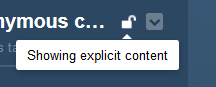 The synchronicity is probably because Tumblr's mobile app combines both features.
Additionally, both Tumblr search and Tumblr's tag pages now automatically sort posts into "top" posts and "recent" posts, instead of displaying them all at once in chronological order. The display also functions more like a Google search, allowing users to filter posts by type and thumb through image posts one at a time. 
While it's a clean and elegant interface, it's a drastic change, and Tumblr users seemed to resent it. Of all the complaints Tumblr users had about the changes, their dislike of this new grid functionality came through the loudest.  As kittiedear put it, "[T]hanks for rendering the search bar obsolete, tumblr…  you just get a jumble of shit that's vaguely related to what you wanted to look for."
Tumblr users also noted that the streamlining between the tag search and the search function is glitchy. So far, searching for certain rare tags produces less results on the search function than simply reading the tags for that item. For example, a general search for writer Frances Hardinge yields fewer results than a tag search. And the tag content may be depleted as well, as Tumblr user brevityis noticed:  "Dude. Tumblr. I know I've been tagged in more than two things since the dawn of time."
Kittiedear added, "god I hope xkit has a solution," referring to the massive third-party extension that does the work of supplying, via user-built widgets, a broad-range of site functionality that Tumblr can't or won't implement.
But many Tumblr users were overjoyed that Tumblr's search appears, so far, to only search within tagged posts rather than all user content. Stewardish was relieved:
There are many folks worried that the tag-free posts they've made about their awful job or awful school will turn up in "Search Tumblr" searches. They won't.
Yet this may be a glitch rather than a feature. The Tumblr staff post indicates that the search engine is intended to search all user content, not just the tags. Users can opt-out of having their content included in search engine results in the settings on their accounts.
The other new features Tumblr rolled out are enticing: especially fun is the ability to search multiple tags at once. To use, simply enter multiple hashtags into the search bar. (Don't forget to make sure to set the lock to match your preferences!)
Although Tumblr users have gained ground in privacy and control over content filtering, the actual amount of content they can search may be about the same as it was yesterday.
And while the search functionality will doubtless improve in the weeks to come, it seems that tighter content restrictions may be slowly but surely coming to Yahoo-era Tumblr—whether users like it or not.
Screengrab via Tumblr