Earlier this week, the Economist published an extensive report on the state of sex work in the digital age, based on an analysis of 190,000 sex worker profiles on an international escort review site.
In most respects, the findings of the Economist study were fairly obvious: The Internet has made it easier for escorts and their clients to connect with each other, and men tend to prefer women with "the stereotypical features of Western beauty," such as "long blonde hair" and "full breasts."
But the study did yield one interesting finding about the economics of sex work on the Internet. Apparently, while the Internet has made it easier for sex workers to find clients and vice versa, it hasn't made it easier for them to make a living: Over the past few years, the average hourly rate of a sex worker has taken a sharp downturn, from a little under $350 an hour to a little over $250 an hour.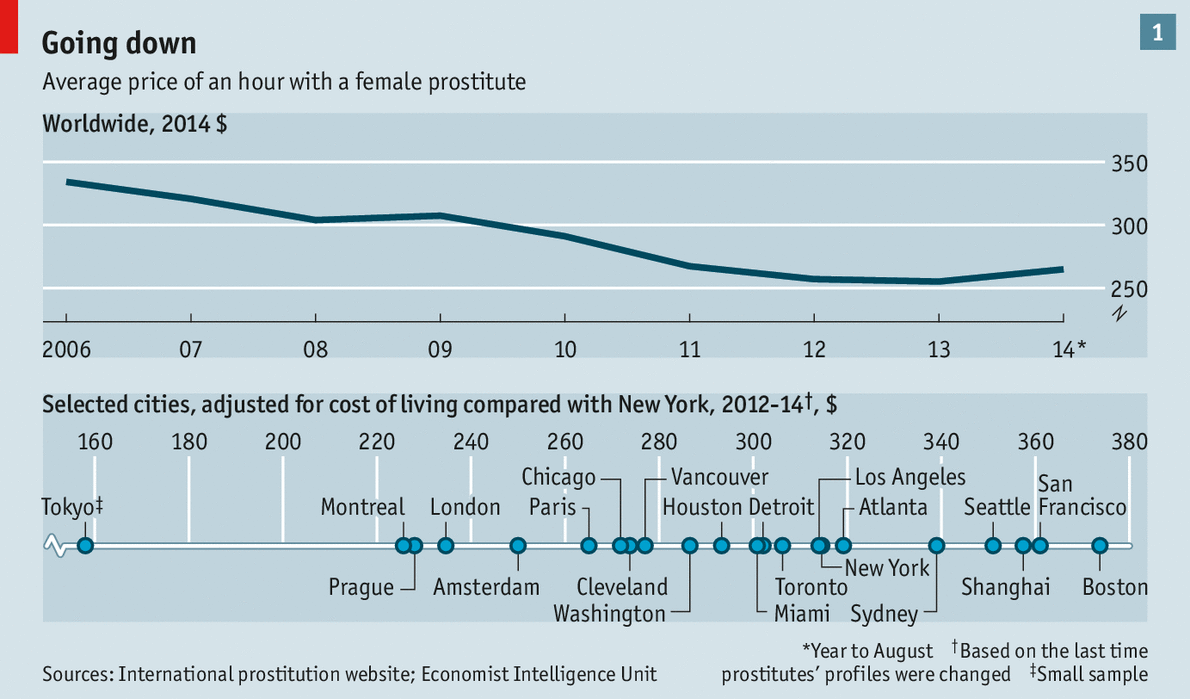 The Economist has a few theories as to why this downswing has taken place, such as the 2007-2008 recession. The piece also attributes the decline in sex workers' rates to the migration of poor female sex workers from eastern European cities to big cities like London and Paris, forcing established sex workers in these cities to drive their rates down. (It's also worth pointing out that the study collected its data from escort review boards rather than escort listings themselves, which many sex worker advocates on Twitter have pointed out are not necessarily indicative of sex workers' actual rates).
But the most interesting potential explanation for the trend is that the popularity of hookup apps and dating websites like Ashley Madison have made it easier than ever for men to find willing sex partners, thus driving down the demand for paid sex:
Free, no-strings-attached sex is far easier to find than in the past. Apps such as Tinder facilitate speedy hookups; websites such as Ashley Madison and Illicit Encounters, adulterous ones. Greater acceptance of premarital intercourse and easier divorce mean fewer frustrated single and married men turning to prostitutes.
While the Economist doesn't have much by way of evidence to support this theory, it's a compelling question nonetheless: Has the increasing availability of free sex online, by way of apps like Grindr and Tinder, cut into the demand for paid sex online? Thanks to hookup apps, is the "world's oldest profession" on the verge of disappearing entirely?
At best, that seems highly unlikely: Although Grindr and Tinder and sites like Ashley Madison have certainly made it easier to find casual sex online, they haven't necessarily entered the realm of social acceptability. While it's disappearing more rapidly than we might have anticipated, there's still a stigma attached to using a website like Ashley Madison to find sex, though not quite as much as the one attached to hiring a sex worker.
It also seems pretty ridiculous to suggest that apps like Tinder and websites like Ashley Madison have led to a decline in the numbers of "frustrated and single married men" that make up sex workers' clientele. These men will always exist, and furthermore, it's probably more beneficial for them to have extramarital sex with escorts rather than civilians, who are often more likely to engage in riskier  It's also unlikely that these men will ever opt out of having sex with escorts in favor of sleeping with civilians, who may be more likely to engage in riskier sexual health practices and certainly don't put as high a premium on discretion as professionals do.
At this point, however, the more pressing concern about sex work in the digital age is not how the Internet is making paid sex irrelevant, but how the Internet is possibly making paid sex riskier. Following the introduction of the anti-trafficking SAVE bill last July, which aims to crack down on online escort advertising, as well as the FBI seizure of the escort directory MyRedBook last June, many sex workers are concerned that these restrictions on advertising and other sex worker resources will drive sex work further underground, putting thousands of women at risk. The real question, then, is not whether the Internet is making sex work cheaper—it's whether the Internet is making sex work more dangerous.
H/T The Economist | Photo by Tax Credits/Flickr (CC BY 2.0)