A recently surfaced video shows a Domino's Pizza employee having a breakdown after realizing that he didn't receive a tip on a delivery made in the pouring rain.
TikTok user @leaks._.world, who goes by the name Malik, posted the video on Sunday. "No!" Malik yells, both hands on his head as he stands in a room surrounded by stacks of pizza boxes. 
The person recording laughs and says, "Calm down."
"I don't want to work here anymore," Malik yells.
"Five minutes, five minutes out there in the rain—and no tip?" Malik says as he looks toward someone out of frame. "No tip?" He takes a swing at a stack of boxes, and they fall to the ground.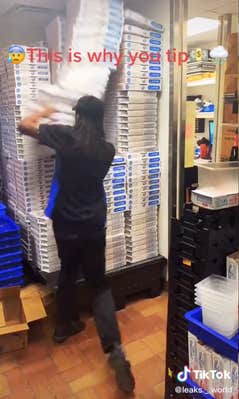 The video has been viewed more than 1 million times, with many expressing their sympathy.
"Yall don't understand that even 2-3$ helps tremendously," one user wrote in the comments. "It can make somebody's entire day."
In response, Malik revealed that not only was he not tipped; the customer didn't even appreciate his work. "If she would've gave me a dollar or even apologized for the rain that I'm soaked in I woulda been fine," he wrote.
"If you can't afford to tip you can't afford the luxury of delivery," one user quipped.
But some users shamed the delivery driver's job and argued that he "should know the consequences" in his line of work. "Tipping is optional PERIOD," wrote one user. "Don't work a tip based job, you should know the consequences, good or bad."
"So that's what happens when you don't go to college," wrote another.
Malik approached the derogatory comments positively though. He responded to one critical user: "I appreciate your support."
---
Must-reads on the Daily Dot