Opinion
Sound the alarms, the gamers are at it again. Just a little over a week after gamers review-bombed Borderlands 3's Steam review page, now they're upset over Ubisoft's decision to remove an image with a homophobic slur from The Division 2.
"It doesn't even say anything remotely homophobic," one gamer complained, referring to graffiti using the word "faggot." "Too many snowflakes today."
The controversy began earlier this week after a player spotted the slur on an enormous piece of graffiti in a game scene. The street art, which was shared in an Imgur gallery on April 8, shows a police officer eating a strawberry donut with some of the filling spilling onto his badge, which reads "FA6607," or "faggot" in leetspeak. It's clearly a reference to hardcore punk band Black Flag's equally homophobic cover for its single "Police Story," where a man has a pistol in an officer's face and screams, "Make me come, faggot!"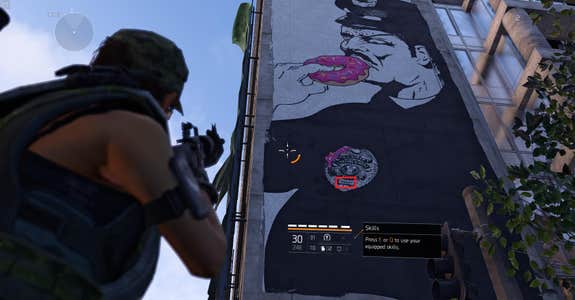 Look further, and you can see the reference in all the details. The image of a cop with his lips around a donut that spills some of its gooey filling onto his badge feels slightly homoerotic, to say the least. "Donut" is often used as a euphemism for the anus, especially when it comes to anilingus (or eating ass, if you will). Together with the "faggot" slur, the graffiti comes off as pretty homophobic. The cop isn't bad just because he's a cop. He's also doing something lewd and queer with his mouth!
Granted, it seems The Division 2's developers were trying to use the graffiti to send a different message altogether: In the game's world, people are angry with authority, and that comes out through its imagery, which calls back to hardcore punk culture's Black Flag. That's fair. But there are ways to send that message without relying on homophobic slurs to try to appear edgy or raw. "Pig" would suffice. Or maybe "bootlicker." Use your imagination if you want to be anti-cop, not anti-gay.
Not just that, but The Division 2 is an online multiplayer game. Players can cooperate together or hop into matchmaking sessions with random players. Throwing the word "faggot" into an in-game asset has the potential to spark some uncomfortable homophobic remarks from other players. Using the word irresponsibly comes off as a sly endorsement of saying "faggot" loosely and freely, a problem gaming continues to suffer from during online play. It's just irresponsible on Ubisoft's part.
Queer games journalist Natalie Flores, who has written for Paste Magazine and Polygon's Heroes Never Die, told the Daily Dot she was "surprised" by the slur. That's partly because Ubisoft recently apologized after forcing Assassin's Creed: Odyssey's sexually fluid player character into a straight romance in a DLC expansion.
"I mean, like I get it, [it's a] dystopian society where everything has gone to shit and the worst people can do what they want," Flores said. "But although it's not unrealistic, it was an explicit choice to include that slur in there on the part of the developers."
Not just that, but Flores thinks the image itself is a pretty lazy criticism of the police. It's so stereotypical that the slur on the badge stands out and overrides the scene, adding a homophobic undertone to its message. Even if that wasn't the developer's intent, it became the image's defining factor.
"I don't think it's inherently wrong or justified to have included the slur on a wall, it's nothing queer people don't see, and if the game is going for realism, fine," Flores said. "But combined with the imagery, and the decision to include it despite Ubisoft's recent controversies…it's puzzling."
When the initial Assassin's Creed controversy happened, Ubisoft teamed up with GLAAD to revise the DLC episode. And to the company's credit, Ubisoft is owning up to The Division 2's slur as well. The developer apologized for the word's inclusion and removed it through a patch on April 11, just mere days after it was originally found in an Imgur post.
"It's been brought to our attention that a piece of street art in Tom Clancy's The Division 2 contained offensive content. We removed the image from the game via a patch on Thursday, April 11," Ubisoft said in a statement to the Daily Dot. "We apologize that this image slipped through our content review processes, and we are currently reviewing them in order to avoid this kind of oversight from occurring in the future."
All that said, the controversy should be over, right? Well, for gamers, it's not. Many are arguing Ubisoft is bending over backwards, cowering to queers and prostrating before them to prevent controversy.
"Ahh right, so another non event… over sensitive FA6607's," one Twitter user wrote after PC Gamer shared its story on the event. Another tweeted, "I don't care if it offends anyone. It should stay as art is meant to mirror real life." Similar comments adorned news posts on the controversy shared on Twitter by both Eurogamer and PC Gamer. Eventually, gamer backlash spawned its own counter-criticism from those who supported the slur's removal.
"The responses to this are a reminder that straight gamer bros will find any excuse to justify bigotry in video games and the culture that surrounds them and as an attempt to push out the growing influence of people who are not like them," games journalist Kenneth Shepard tweeted.
@ all the straight nerds in the replies with no empathy: why do u fuckign care https://t.co/x99WAwH8t6

— (vote for ber)natalie (@heartimecia) April 12, 2019
My god the replies. People upset that Ubisoft took an offensive slur out of their game. As per usual, lack of empathy is astounding. https://t.co/qmG0HkeiLN

— Jordan Oloman (@JordanOloman) April 12, 2019
Sounds like "snowflakes" are getting mad that they can't have homophobia in their video games. Grow up. It's unnecessary, so it was removed. Deal with it.

— Richie (@plzuninstall) April 12, 2019
https://twitter.com/crapstacular/status/1116634419198971906
Thoughts a prayers for the gamers in this comment thread who are upet at the removal of *checks notes* a homophobic slur. https://t.co/Yjn9tNC2d9

— Seán Halpin (@ScorchioIRE) April 12, 2019
Gamers can cry censorship all they want. But if Ubisoft made the decision to remove the slur, is it really censorship? The company ultimately owns The Division 2, and it's the developer's decision to change the game as its team sees fit. That isn't a call gamers get to make. So no matter how loudly they shout "snowflakes" and "SJWs," the slur's removal is more than fair. It's just another example of a company trying to meet its marginalized customers halfway by removing offensive content.
"[I]t's definitely not surprising to see dumb gamers lose their shit over this. It's steeped in the idea of censorship, which is ironic considering that developers have the choice to remove this content as much as they had the choice to include it," Flores said. "A controversy doesn't guarantee that a company will listen, much less a major corporation, so they're making the choice to remove it. But gamers see this as Censorship and Caving In To The SJWS' Demands, which is obviously silly."