New to cannabis drinks? Well, friend, you came to the right place. I've spent the last couple of months taste-testing and researching THC drinks, CBD-infused beverages, Delta-8 THC drinks, and all other sorts of hemp beverages. And I didn't just do it for my own pleasure, but yours, too!
You see, not all cannabis drinks were created equally. To cut right to it, some of them taste like sh*t and others are more potent than you may think. Allow my lessons learned to guide you in the right direction and toward the weed drink of your dreams!
---
Types of Cannabis Drinks:
Want to stay clear-headed? Try hemp drinks or CBD drinks!
Looking for a buzz? Feel good with these THC drinks.
Or maybe something in between? You want delta-8 THC drinks.
---
What are cannabis drinks?
Infused cocktails are far from revolutionary. But when you add marijuana drinks into the mix, well, that's when we start to tread into trailblazer territory.
Despite their name, cannabis drinks and liquid marijuana shots don't always contain alcohol. Actually, most of them don't! A major selling point to weed drinks and hemp-infused beverages is that they're an alternative to alcohol. So while some local bars may be offering you a shot of CBD in your Long Island Iced Tea, the cannabis market is approaching it in a much different way.
Using popular ingredients like seltzer and teas, the 21+ market is welcoming all sorts of cannabis drinks with open arms. Some contain the psychoactive ingredient THC (so they will mess you up) while others stick to the tamer cannabinoids (like CBD, CBG, and CBN). And of course, there's an option for THC, Delta 8 THC, and CBD-infused refreshments.
FWIW, I don't know who was the first to decide that we needed to add legitimate options like CBD water and THC soda to the market. But I'm sure as hell glad that someone did! (Although, IMHO y'all should still have to experience a Phan-made weed butter lemonade in the Freezer at the Merriweather Post Pavilion or try making your own Green Dragon before being graced with such innovation).
Hemp, CBD, THC, & Delta-8 THC: What's the difference?
Cannabis sativa is the umbrella term for hemp and marijuana plants. So when discussing the "cannabis industry" we're really talking about more than just pot. Other cannabinoids like CBD and Delta-8, as well as hemp oil, all get lumped into the same industry. That said, there are different markets within the trade.
It's important to note that THC and Delta-8 THC (and CBD for that matter) infused drinks are not considered edibles. Even though you're ingesting these products, because of their formulation and how your body accesses the cannabinoids, they're technically sublingual. So what does this mean for you?
You should start to feel the effects of the products within 15 minutes of starting to drink them. That also means if you chug something like a weed cocktail, you risk flying way too close to the sun.
Go in thinking about what response you want. Do you want no buzz? Lean towards CBD. Want a mild buzz? Think Delta-8. Looking for a more traditional cannabis experience? THC is a classic for a reason.
Hemp Drinks
The hemp market is traditionally noted as the place of sale for all hemp-derived products. This includes CBD. Which begs the question: what's the difference between hemp and CBD? For simplicity's sake, it's not much. The majority of its dissimilarities boil down to how the product is sourced (as well as incorrect, local colloquialisms).
On the technical side of things, hemp products are made from or with hemp oil. Hemp plants (and their oil) are home to some cannabinoids, like CBD, but the terms hemp and CBD aren't interchangeable. Hemp oil products usually source from the seeds of the hemp plant, whereas CBD products source from the stems and leaves of a hemp plant.
This is why straight-up CBD products don't contain hemp oil. The only exception to this is the selective amount of CBD products that are formulated with a mix of both. (I exhaust this discussion in my guide to CBD topicals, so be sure to read that if you want a more detailed explanation).
Nonetheless, when it comes to advertising and branding, well, that's where things can get confusing for consumers. Hemp drinks are beverages infused with the broad-spectrum (unless otherwise stated) hemp oil of hemp plants. These types of beverages are formulated with minute amounts of CBD but higher concentrations of other cannabinoids and terpenes. True hemp products have been shown to yield a positive effect on our moods, lower blood pressure, promote heart health, as well as soothe general inflammation.
CBD Drinks
On the other hand, CBD drinks are normally infused using CBD isolate (there are exceptions to this). So unlike hemp drinks, products like CBD seltzer water lack the other cannabinoids needed to assist in the entourage effect.
This explains why CBD drinks are more relaxing and calming than anything else. Not only do they lack the psychoactive compound (THC), but they lack the other cannabinoids that heighten the cannabis experience. So if you choose to explore CBD drinks, you can expect an ever-so-slightly euphoric experience.
Add onto that the benefits of CBD, and you may never pick up an alcoholic beverage again! Although research is limited, CBD has shown it has strong potential for effectively managing anxiety, insomnia, and chronic pain.
THC (weed) drinks
And last but certainly not least, weed drinks are beverages instilled with the marijuana plant's main psychoactive compound: THC. So sipping on one will cause more than just an over-arching sense of euphoria and relief. Depending on the potency, THC beverages can really f*ck you up.
I say this as a word of caution. DO NOT CHUG THE DRINKS. They are much better enjoyed when you slowly sip on them. I speak from experience. Unless you want to text your BFF that you're alternating between dimensions and forgot how to speak, drink it slowly.
Delta-8 THC drinks
In the middle ground between THC and CBD lives the wonderfully mellow Delta-8 THC. Delta-8 is having a national moment, due to its popularity and legally questionable status. You can read more about that in our Delta-8 THC guide, but here are the basics: Delta-8 THC is a milder form of THC taken from cannabis and hemp plants.
It is legal in more states than traditional THC but has recently found itself under more scrutiny. Before you order, make sure to check your state laws. That being said, Delta-8 is a gift from above for anyone with a low tolerance.
If traditional THC is espresso, Delta-8 is a cup of coffee. You'll still get a little buzz, but small amounts help retaliation, insomnia, and even depression before you feel anything. While it is possible to get really high if you consume a lot of it, Delta-8 is a significantly milder experience across the board.
However, that doesn't mean you should just chug Delta-8 drinks. It is easy to overdo it if you ignore the dosage. Don't get cocky.
Best cannabis drinks on the market (in my humble opinion, anyway)
Cannabis-infused beverages aren't a part of a teeny tiny market. In fact, sales of infused beverages soared 40% last year. And according to experts, the market is expected to continue growing. Some projections predict the cannabis beverages market will exceed a compounded annual growth rate of ~17% by 2025.
As more of these products flood the market, how are you to know which ones are worth your coins? I'll tell ya. Listed below are a few of my favorite CBD and THC-infused drinks.
Best THC beverages
1) Best variety of weed drinks: CANN
Got high standards? Well, I'm nearly certain Cann will surpass them. These cannabis-infused THC drinks, or "social tonics" as the brand calls them, are infused with 2mg of THC and 4mg of CBD per can. Sold in packs of four, 10, 30, or 48, this is the perfect replacement for alcohol on 4/20…and every day after that.
Currently, the brand offers six flavors: Grapefruit Rosemary, Lemon Lavender, Blood Orange Cardamom, Ginger Lemongrass, Honeydew Mint, and Cranberry Sage. And since the drinks are relatively low-cal (30-35 per can), contain only natural ingredients, and don't leave you with a hangover, it's impossible to feel guilty enjoying them.
Price: $20-$24 for a 4 or 6-pack
---
2) Best tasting THC drink: Green Monké
This is the liquid THC drink that stands out from the crowd. Unlike its competitors, it isn't an adult seltzer or herbal tea. Green Monké is actually a marijuana-infused soft drink! Its creators have instilled in it the perfect mix of social soda and relaxing refreshment. It's also vegan and gluten-free, made with only 5g sugar and just 25 calories per 12oz can.
Green Monké's potency falls in between most other cannabis drinks. It's not too strong and not too weak. It's just right! Infused with 3mg of THC and 6mg of CBD, Green Monké is the perfect solution to wanting a beverage that will allow you to turn up without completely turning your mind off.
Its Tropical Citrus flavor tastes like a crossover between a piña colada and Mountain Dew. But if that's not for you, don't worry! The brand also offers two other magical flavors–Mango Guava and Orange Passionfruit. This isn't just a THC drink, it's a truly delicious treat.
Prices vary by retailer
---
3) Best liquid marijuana shot: Purejuana
Liquid marijuana may have been a popular alcoholic cocktail, but thanks to legality and Purejuana drink mixes, it can now be an actual liquid cannabis drink. I know it sounds wild, but trust me. There is no better option than to pour a sleeve of THC powder into the drink of your choice.
Here's how it works: open the liquid marijuana shot and pour it into any liquid. Let it dissolve, and then enjoy! The packets include a clear set of directions (and a range of measurements) for mixology purposes.
I didn't notice that much of a difference between dissolving the powder in a 4oz glass versus an 8oz glass, other than the 4oz cup definitely took a little longer to dissolve and hit me harder than the 8oz glass did. So if you're new to THC cocktails or have a low tolerance, I recommend mixing the powder into at least 8 ounces of liquid.
Purejuana currently offers four different liquid marijuana shot packs. What sets each of them apart is the potency. The Green pack contains 2.5mg of THC and is ideal for inexperienced users. The Yellow pack contains 5mg of THC per shot and is the suggested dose for a light user or someone looking for an alcohol alternative.
The Red pack is marketed toward experienced users as it contains 10mg of THC, less than 2mg of CBD, and about 4.6mg of THC-A per serving. And finally, With 40mg of THC, Purejuana's Black pack was designed for very heavy users. In other words, this drink will F you up. Be extra cautious while making your own THC drinks.
It's worth noting that PureJuana cautions against mixing the pre-measured THC powder shots with hot liquids. This isn't an edible, so it doesn't need to be cooked!
Price: $2.75-$22.50
---
4) Most potent cannabis drink: WUNDER Higher Vibes
Hard seltzers and White Claw summers are about to become nothing more than a memory of the deep past thanks to WUNDER. These cannabis-infused seltzers have completely changed the game. Whether you're a party person (outside of this pandemic, of course) or someone who vibes the hardest while chilling on a hammock, WUNDER is for you.
The company prides itself on creating wonderful sparkly beverages that contain the enhanced benefits of cannabinoids. WUNDER currently offers two levels of potency in a variety of flavors. The original WUNDER is low-dose, containing 2 mg of delta-9 THC, 2 mg of delta-8, and 4 mg of CBD. It's available in Blood Orange Bitters, Grapefruit Hibiscus, and Lemon Ginger.
The more potent variety, WUNDER Higher Vibes, contains 10 mg delta-9 THC, 10 mg of delta-8, and less than 2 mg of CBD. Given its strength, newbies should stay away from this one. Higher Vibes is reserved for the more experienced cannabis consumer. But nonetheless, it's still delicious! This variety is available in Lemon Ginger, Blood Orange Bitters, and Watermelon Basil.
I had the opportunity to try both WUNDER's original seltzer and Higher Vibes. Frankly, I was pleasantly surprised by how good both of them taste. There's no hempy flavor or weird aftertaste, which I can't say about certain CBD seltzers. It just tastes like seltzer!
Even as someone who is very experienced with cannabis products (I like to call myself a professional cannabis connoisseur), Higher Vibes took me for a ride and I felt the effects almost immediately after I started sipping.
The high is similar to an edible, it just hits you way quicker. Don't power through more than one of these THC drinks. Don't say I didn't warn you!
Price varies by retailer
---
6) Best sugar-free THC drinks: LEVIA
Reigning supreme in Massachusetts, LEVIA seltzers are relatively new to the space but they're making a big splash. Since February of 2021, LEVIA has expanded to nearly a hundred retailers. Giving its carbonated competition, CANN, a run for its money. After hundreds of thousands of sales of its product, consumers agree (in Massachusetts at least) that LEVIA is their number one choice in cannabis drinks.
Designed by a team of industry experts, LEVIA seltzers provide a fast and predictable effect from 5mg of THC. This makes it more potent than most run-of-the-mill cannabis drinks. So remember to sip it slowly! The 12-ounce cans have zero calories and absolutely no sugar. So there's no stomachache or guilt from said stomachache (I know I'm not the only one with an intolerance to sugar!).
Currently, the brand offers three varieties: Achieve, Celebrate, and Dream.
Achieve is a vibrant raspberry and lime-flavored sparkling water. It's energized with the LEVIA Sativa blend. It's a "get-things-done rocket booster." Whether hiking a mountain or a mountain of laundry, Achieve will help you check off your entire to-do list while feeling great.
Celebrate will keep the smiles coming with a lemon-lime flavor hybrid blend. It's the perfect balance between chilled and chatty!
Dream is a jamberry-flavored Indica THC drink for a peaceful, easy feeling. Relaxing on the couch, nighttime rituals, massage and spa days, or simply wanting to take the edge off at any given time call for a Dream seltzer.
Price: Varies by retailer
---
5) Best buildable marijuana drink: Good Stuff Beverage Co.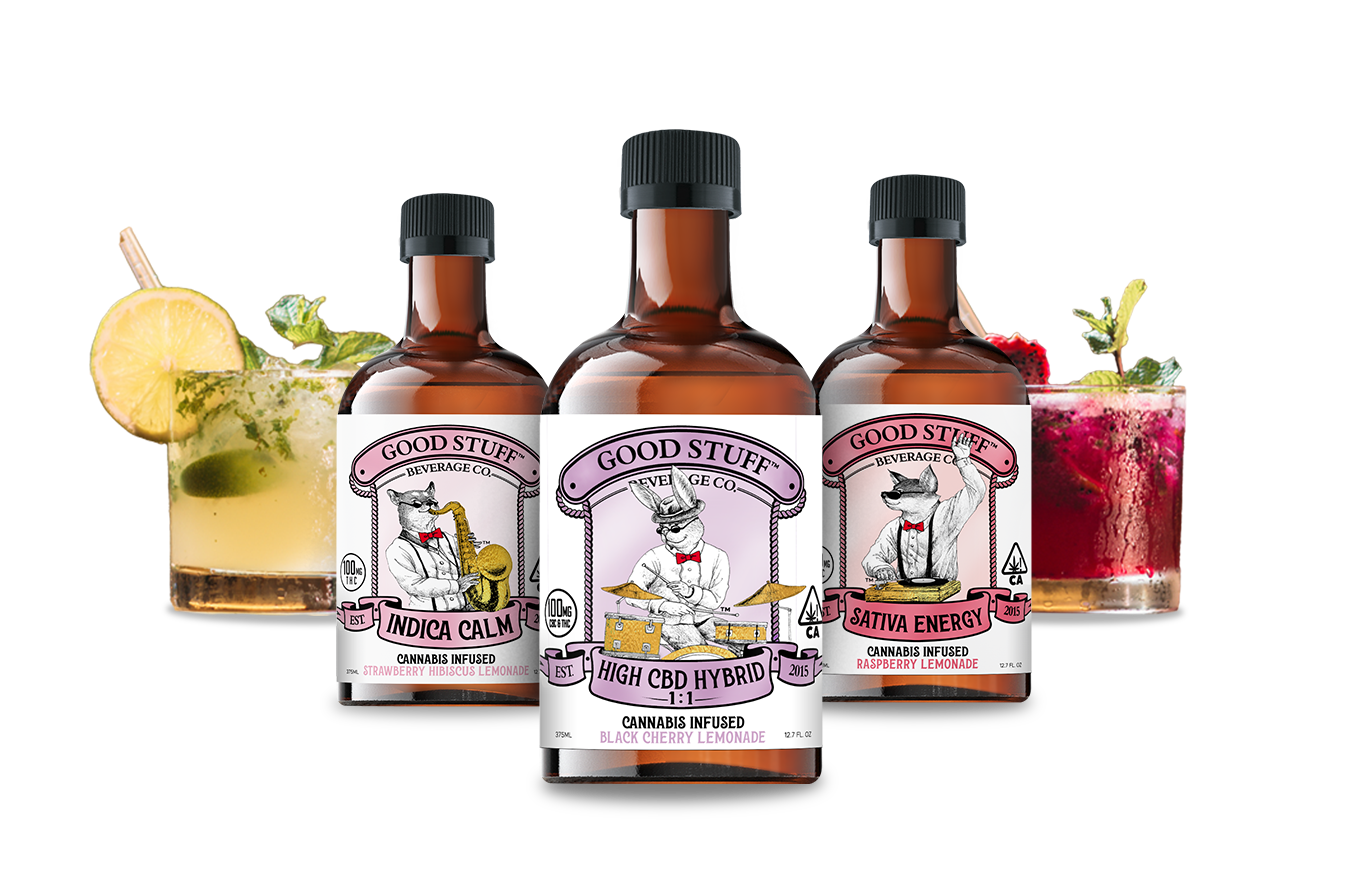 I know what you're thinking, "how can an entire beverage bottle be considered a liquid marijuana shot?!" Well, friends, don't let the bottle fool you. These THC-infused lemonades and iced tea drinks are seriously potent.
One serving size is equivalent to .8 fluid ounces or one cap full of liquid Each cap full doses 3.33mg of THC, hence why I call it a liquid marijuana shot. While it may seem a little odd to only take a cap full of liquid cannabis given the size of the bottle (8oz), treat it as you would a bottle of anything else.
You wouldn't polish off a bottle of tequila on your own (unless your goal is regret) and you definitely don't down an entire ketchup bottle in one sitting. Keep that same energy for THC drinks. Take one shot and wait for a half-hour, then take another if you want. (For reference, it only took me three cap fulls before I started singing the TikTok audio "I'm getting RIP'd tonight!")
Crafted with 100mg of THC and real fruit, Good Stuff Beverage Co. really is putting out only the good stuff. So far I've tried two out of three of the beverages–the original Natural Health Lemonade and the Strawberry Hibiscus flavor.
I imagine this is what Childish Gambino meant when he said "It feels like summer" because…WOW!! You seriously would never know that there's cannabis in these! Each shot is naturally sweetened and reminiscent of the fresh-squeezed refreshments sold at the Strawberry Festival.
For those new to cannabis (or THC cocktails), I recommend starting with any variety from Good Stuff Beverage Co. over anything else on this list. I say that not only because this stuff tastes absolutely fantastic, but because of its buildable nature. If you're new to THC drinks this is a great starting place.
Price: Varies by retailer
---
6) Most potent sugar-free THC drink (that's still delicious): THC Living Lemonades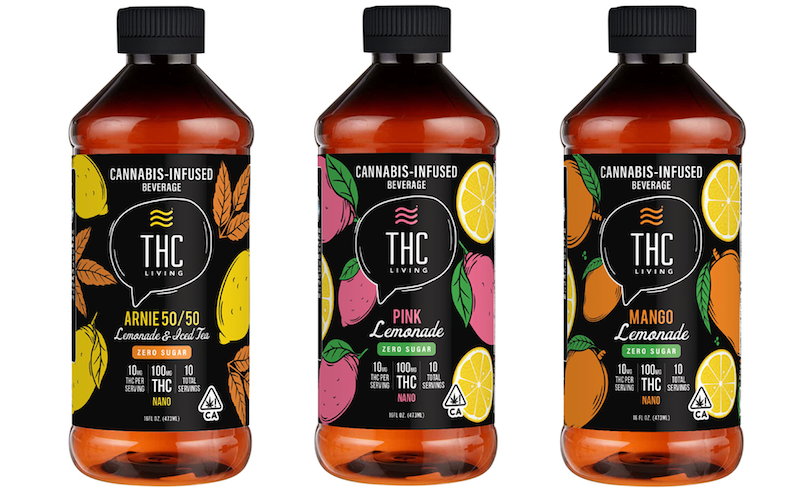 Sometimes you want a THC drink that's going to send you to the moon without taking your waistline with it. The masterminds at THC Living have just released a line of lemonades that do just that, while also tasting like heaven.
Coming in three flavors — Arnie 50/50, Mango Lemonade, and Pink Lemonade — THC Living packs 100mg of THC into each 16oz bottle. Even better, it's easy to measure out a dose. Each bottle is 10 servings or around 1.6oz per serving. Accordingly use a standard shot glass, 1.5oz, to measure your dose.
However, if you want to true lift-off, THC Living's lemonades are ready to take you there. This is one of the smoothest high-powered THC experiences we've experienced. Our max dose during testing was 50mg, or half a bottle, at once. While we couldn't get up off the couch, there was no anxiety, stress, or lost time.
Most importantly, these drinks are sugar-free and carbohydrate-free. Why did we wait until the last lines to mention that? Because these are great products on their own. Not being packed with sugar is just another reason to hunt them down. Just make sure to shake well before pouring.
---
7) Best THC drink for a summer's day: BOLDT cannabis tea
BOLDT makes three delectable flavors of iced tea that boast the perfect amount of sweetness. Few things in the world taste better than iced tea on a hot summer's day, and these convenient cans pack up well for any outdoor occasion.
Each can has 10mg of THC with a particularly quick onset time—in as little as 20 minutes. These are really yummy, and it's easy to clear a can pretty quickly. Their tea may be stacked with cannabinoids, but they don't have that "weed" taste, just refreshing black tea in regular, peach, or blueberry-pomegranate flavor.
BOLDT is great for beginners and regular drinkers alike. If you're easily affected by THC, you can easily enjoy the beverage over time thanks to the can's resealable top. The brewers use tea leaves grown in Georgia, and you can practically taste the sunshine.
Best Cannabidiol (CBD) drinks
1) Best CBD water (noncarbonated): CBD Living
CBD Living is home to the mind-boggling and well-received CBD water. And no, I don't mean seltzer or carbonated water. I mean the flat kind. Ya know, the could-be-from-a-bottle or could-be-from-the-sink type of beverage.
It's pretty inventive (and certified Kosher). And according to the hundreds of reviewers, I'm not the only one that is impressed by the company's proprietary nano-Hemp technology!
Price: $3.99 for a single bottle, $84 for a case of 24 bottles*
*Subscribe and save options are available
---
2) Best CBD drink for your afternoon pick-me-up: Willie's Remedy
Nothing knocks the chill out of you better than a cup of tea. So why not take it to the next step with the added benefit of full-spectrum CBD? Brought to you by the one and only Willie Nelson, Willie's Remedy pyramid bag and loose-leaf teas are great for casual CBD users as well as those well-versed.
There's no hempy flavor–it just tastes like high-quality tea! My personal favorites are the Hemp-infused Hibiscus and the Hemp-infused Green teas. And if you're wondering whether or not this is safe to bring to the office, it totally is! The only CBD branding is on the tin itself (and not the teabags).
Not a fan of tea? Be sure to check out Willie's CBD-infused coffee! It's got all the caffeine of a cup of joe with the added chill of CBD.
Price: $17 for 1.5 oz of loose-leaf tea, $25 for 16-ct of pyramid tea, $25 for an 8-oz bag of ground or whole bean coffee
---
3) Best CBD seltzer water: Quatreau
Quatreau CBD seltzer water is by far one of my favorite brands of cannabis drinks. Perfect for the evening nightcap or picnic treat, these sparkling CBD waters are your one-way ticket to relaxation.
Developed using 20mg of CBD isolate, these are on the higher end of the CBD potency scale. These beverages don't contain any added sugars or THC, either. It's just superior quality CBD that's giving these cans their power.
Available in four uniquely fruity flavors (Lime Ginger, Blueberry Açai, Passionfruit Guava, and Cucumber Mint), Quatreau CBD offers something for everyone. These seltzers do have a slightly hemp-y aftertaste but it's nothing too strong. Trust me, I wouldn't recommend it if it tasted like dirt!
Price: $14.99 for a 4-pack, $47.88 for a 12-pack
---
4) Best cannabidiol drinks for people on the go: B GREAT Shots
CBD and hemp drinks are usually thought of as beverages to help us relax and unwind. So what if I told you that there was a company that was not only making shots to help you loosen up but ones that will also help you focus? Well, it's true! B GREAT has two lines of liquid CBD shots that will help you achieve whatever it is you need.
The FOCUS CBD shot contains 15mg of CBD sourced from full-spectrum hemp, a variety of B vitamins, caffeine, and other supplements to help you stay on your A-game. There's no jittery feeling or nauseating flavor either. It just tastes like fruit punch!
The RELAX shot has 20mg of CBD sourced from full-spectrum hemp. In addition to lavender water, it also includes melatonin, Ginkgo Biloba, and other natural supplements that help you relax, unwind, and even sleep like a baby.
Price: $72 for a 12-pack $144 for a 24-pack day and night bundle
---
5) Best adaptogenic CBD drink blend: Sweet Reason
Sweet Reason CBD-infused drinks are not only gorgeous, but they also leave you feeling fantastic. The presentation of the bottles plus the contents is an immediate win/win. Sweet Reason uses a blend of hemp and CBD, calming herbs, and adaptogens to really amplify the unwinding experience. It's the perfect beverage to clear your throat of a hot dab or even just sip on before bed.
Sweet Reason beverages are currently available in three flavors—Peach Jasmine, Plum Blush, and Citrus Spice—and taste similar to tea.
Price: $38.99 for a 6-pack
---
6) Best CBD drink for mock-tails and mixers: TRIP
This is the leader in best-selling CBD drinks in the UK and I can see why. Despite its rather hempy flavor, TRIP provides some seriously calming and relaxing benefits. Just one can is enough to unwind you from even the most stressful of days! We can thank the added CBD, chamomile, ginseng, lemon balm, and L-theanine for that.
Currently, the brand offers three different seltzer-style CBD beverages for you to enjoy. Elderflower Mint, Peach Ginger, and Lemon Basil are all up for grabs. Personally, I enjoy the Peach Ginger and Lemon Basil flavors the most–they're even better when you add your own fresh botanicals! Some people enjoy TRIP alone, and more power to them. But if you're like me and don't want to taste any hemp flavor at all, I do suggest using these as a cocktail mixer or mocktail base. Consider TRIP your cheat sheet to make high-quality CBD-infused beverages with little effort. Got lemonade? Add a TRIP. Gin and juice? Why not add TRIP? Your options are endless!
Price: $25 for a 6-pack, $66 for a 24-pack
---
Best Delta-8 THC drinks
1) Most effective Delta-8 drink: Delta-8 Living Lemonades
Delta-8 Living is part of the same company that makes THC Living's incredible lemonades. You shouldn't be surprised then to find their Delta-8 lemonades are just as remarkable as their THC counterparts. Each 16oz bottle of lemonade contains 100mg of Delta-8, or 10 doses, and comes in Pink, Mango, and Arnie 50/50 flavors.
Where Delta-8 Living's lemonades really shine is how effective they are. These are potent drinks. Utilizing a special combination of water-soluble and self-emulsifying technology Delta-8 Living's lemonade bypasses your body's first-pass metabolization. That means you get more active Delta-8 in each dose.
While Delta-8 THC is not as strong as normal THC, in these doses it can be. Be careful when you are getting started. A little goes a long way and 50mg of Delta-8 still feels like consuming a strong THC drink.
In our tests, our max dosage was 50mg. While it wasn't as strong as a 50mg THC experience, it was close to a 25mg THC experience. Dosage is important to consider because these drinks are also delicious and sugar-free. That's right. No calories, great taste, and a powerfully stackable Delta-8 experience. These are highly recommended.
Price: $19.99
---
2) Best Delta-8 drink for beginners: Delta-8 Living Shots
Not everyone wants to invest in a full-powered, full-price product to test out Delta-8 drinks. For those of you who are curious, but not 100mg of Delta-8 curious, we present Delta-8 Living Shots. Each 2oz bottle contains 30mg of Delta-8 THC in a small, travel-friendly size.
At 2oz you can easily throw this with the liquids in your carry-on bag while traveling, stash it in a pocket, or just leave it in the fridge. To consume, simply shake the bottle, and drink about half. Remember you can always consume more, you can't walk back the effect once it starts.
These little drinks are incredibly effective and tasty, and come in three flavors; Cherry, Grape, and Mixed Berry. However, they do not taste as good as the lemonades that Delta-8 Living produces. That being said, we found these worked better for insomnia than their lemonade siblings.
Price: $11.99
---
Best hemp-infused beverages
1) Best all-natural hemp drinks: UNITY
Plant-based people know just how hard it is to find a solid vegan protein bar or all-natural beverage that isn't loaded with sugar. Unity has proposed a solution so good that I believe it should make the cut for all gatherings–large and small!
Unity's line of wellness beverages isn't to be overlooked. Filled with feel-good ingredients like ashwagandha for anxiety and immune support, Rhodiola Rosea for anxiety and fatigue, and Ginkgo Biloba for cognitive health and focus, these 14oz bottles are relief in a glass.
They also lack all the ingredients you don't want to sip, like an absurd amount of sugar, THC, and artificial flavors and preservatives. The drinks are currently available in six flavors: Strawberry Lemonade, Blueberry Lavender, Blackberry Tea, Ginger Lemonade, Elderflower Rose, and Blood Orange Hibiscus. There's something for everyone!
Price: $41.94 for a 6-pack
---
2) Best variety of hemp drink flavors: VYBES
On social? You've seen an ad for VYBES. Let me be the first to tell you that this brand is the real deal. And if I'm being honest, VYBES is easily one of my favorite CBD drinks. The company has been around for a few years now, so it has a huge assortment of flavors for you to choose from. (In case you're wondering, my personal favorites are the Ginger Lemonade and Blackberry Hibiscus).
Currently, the brand offers two drink-style options: flat or sparkling. The flat flavors belong to the MIND + BODY FUNCTION line that contains hemp derivatives and they taste more like fruity tea. Whereas the MIND + BODY ELIXIRS are bubbly adaptogenic beverages made with juice and no traces of hemp or CBD.
All of the VYBES MIND + BODY FUNCTION flavors contain 25mg of hemp extract and are vegan and cruelty-free. VYBES even distributes its products in recyclable glass containers that never feature plastic. Even the lid is aluminum! (That said, do open each bottle with caution. Since the lid is aluminum and not plastic, it's easy to cut yourself on its sharp edge). Clearly, VYBES has all the right priorities.
Price: $35 for a 6-pack, $72 for a 12-pack*
*Subscribe and save options are available
---
3) Best hemp-infused seltzer: Kaló
Hemp drinks definitely have a bad rep for tasting, well, sort of hempy. Especially the seltzer water-based beverages. This is why I am so excited to share Kaló with you all, it's one of the only hemp seltzers that actually tastes good! It's not overly sweet or artificially flavored, either. It's almost as bubbly as Polar Seltzer, too. So if you like spicy water, you're destined to love Kaló. (For more than just its incredibly calming effects, anyway).
Currently, the brand offers two variety packs (as well as four packs of single flavors). The OG variety pack includes Peach Pomegranate, Lemon Lavender, Raspberry Lime, and Strawberry Watermelon. The new (2nd edition) variety pack features Black Cherry, Blood Orange Mango, Ruby Red Grapefruit, and Ginger Lemonade. Personally, my favorite flavor is the Ginger Lemonade. But you can't go wrong with any of them!
Price: $20-$40 per four or eight pack
---
The Daily Dot may receive a payment in connection with purchases of products or services featured in this article. Click here to learn more.
Related articles: