After much speculation, YouTuber Tana Mongeau officially joined OnlyFans. Within hours of making an account, she crashed the platform, according to Life & Style.
Just last week, Mongeau teased creating an OnlyFans account with some cryptic tweets. But on Sunday, she tweeted, "TANA UNCENSORED IS FINALLY HERE AND THAT'S ALL IMA SAY." Mongeau also told fans to watch out for a lot more content to be added to the site.
After just three hours with an account, the former MTV reality TV star attempted to do a live broadcast with her best friend, Ashly Schwan.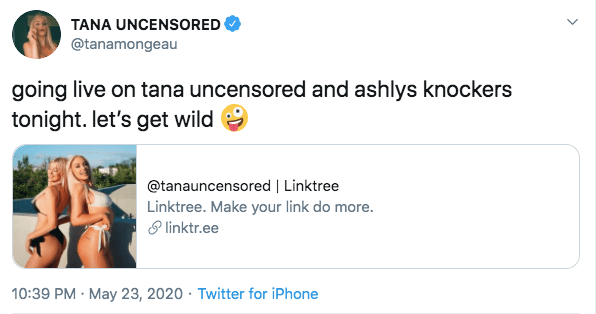 But 20 minutes after the initial tweet, she announced that the website "broke." "I CAN'T EVEN GO LIVE [RIGHT NOW], WE'RE ON THE F*CKING PHONE WITH THEM!!!! BREAKING RECORDS," she said. "Hold up but just know the first live will be iconic."
OnlyFans is a subscription-based service, where creators can post X-rated content behind a paywall.
Mongeau teased the possibility of making an account back in April, with a YouTube video, saying, "I [really] do need a place for uncensored content," She again teased the idea in mid-May, telling her friends that she was working on a project with Schwan. "If you know, you know," she said. "But just know it's good."
During quarantine, OnlyFans has become more and more popular. Beyoncé mentioned it in a verse on the "Savage" remix with Megan thee Stallion, which recently reached No. 1 on the Billboard Hot 100. Blac Chyna, Safaree Samuels, Casanova, The-Dream, Caroline Calloway, and Trisha Paytas are all prominent entertainment figures to post their adult content on the site. 
READ MORE:
H/T Life & Style