New Mexican journalist Jason Farmer tweeted the word "scalps" in reference to the Shiprock Chieftains, a high school basketball team made up of Native American players. His word choice sent the Native community into an uproar.
Farmer, a sports editor for the Hobbs News-Sun, posted the now-deleted tweet last Thursday while reporting the score of a game between the Chieftains and another high school team, the Hobbs Eagles.
"#EaglesHoops Scalps #Chieftains, 95 to 39," Farmer tweeted.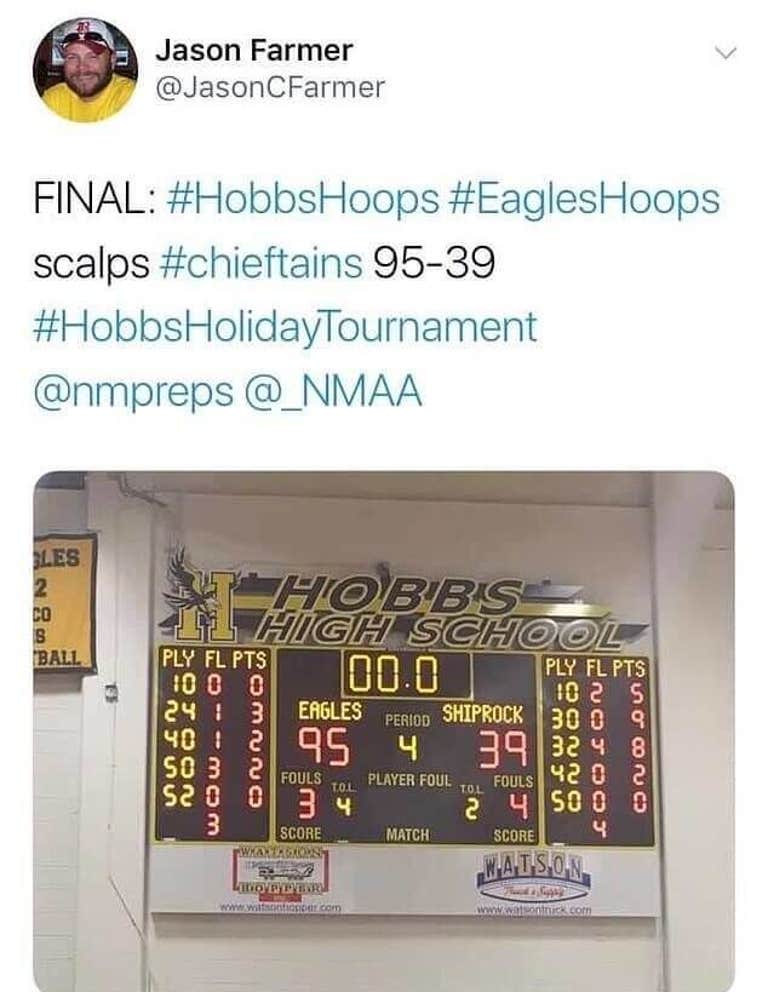 The indigenous community took immediate offense to Farmer's tweet due to the gruesome history of white settlers using the scalps of slain Native Americans as trophies.
@JasonCFarmer Thanks for bringing racism into high school sports. You would think as being a vet, you'd have more respect as a fan and lead by example. This bothers me because the high school team "Chieftains" is 100% Native American students. pic.twitter.com/qToWfjnnDK

— JESSiCA FOX (@TsJESSiCA_FOX) December 27, 2019
@JasonCFarmer @navajotimes lol erased your scalp tweet. Bro your at the gathering of nation basketball tournament a lot of teams from the 4 corners are there. A lot of my Navajo people. Watch what you say. #navajosports #nativepride #navajo #navajonation #fourcorners pic.twitter.com/GpKtAsLOLY

— Uriah Lee (@uriahlee) December 27, 2019
Farmer initially defended his word choice in response to someone quote tweeting his post. He claimed he was merely "having fun" with the team mascot name, dismissing his language as a "play on words."
#havingfunwithteammascots. #playonwords.

— Jason Farmer (@JasonCFarmer) December 27, 2019
His argument didn't seem to convince anyone.
If its such an innocent comment, go up to those #Shiprock players and tell them they were "scalped", to their faces.

— BarbaraKohn (@rezbarchetta) December 27, 2019
However, the backlash against Farmer's tweet rose to new heights when the president and vice president of the Navajo Nation—Johnathon Nez and Myron Lizer, respectively—weighed in.
"Native American people continue to fight discrimination and racism to this day, and the comment from Mr. Farmer only adds to the lack of respect for our Navajo people," Nez said in a statement.
To douse the fire, Farmer quickly took to Twitter to rescind his comments and issue an apology.
"Yesterday I wrote a tweet that I have now learned to be very inappropriate & completely insensitive to the Native America community," he wrote. "I am so sorry for my actions. The offensive tweet was not within the standards of journalism or even common decency."
I apologize for my offensive actions. The below photo is my written apology pic.twitter.com/NelnM9vJbK

— Jason Farmer (@JasonCFarmer) December 27, 2019
According to the Daily Mail, editor of Hobbs News Todd Bailey also issued a statement distancing the paper from the incident.
"Mr. Farmer's tweet is not reflective of our journalism standards and values," Bailey told a local radio station. "We are conducting a personal review of what happened, and we apologize that this unfortunate incident occurred."
READ MORE: