What is it with all the milkshake hacks lately? Last year, Instagram users found mysterious smoothie photos linked to spam sites delivered to their accounts. Now, rival imaging network Snapchat is coming under smoothie attack.
For the past few days, Snapchat users have been seeing instances of the fruity drinks festooning their accounts, sent to them by unwary friends with no idea their profiles have undergone a fruit infusion.
Photo by Molly McHugh
The snapchats all encourage the recipient to visit sites with frooty names like Snapfroot and Frootsnap.  Alas, there is no vat of mango juice waiting for you if you visit the links, but there is a redirect to an AllRecipes page for a Very Berry Milkshake recipe.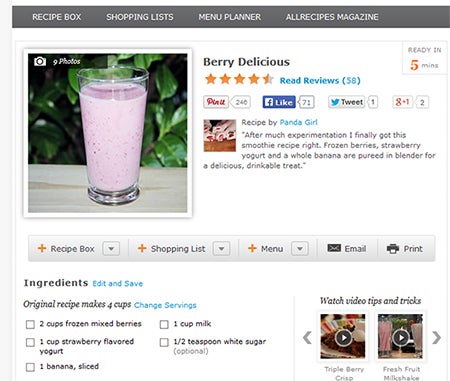 Screengrab via AllRecipes
The hackers have appended a referral link to drive traffic to the berry recipe—which, in fairness to the hackers, does have a 4.5-star approval rating from 58 reviewers. Since the recipe is about seven years old, we're guessing they probably hacked "Panda Girl"'s account, too, and are trying to rack up the proceeds from All Recipes' referral program.
Still, as far as hacks go, here are worse scams than being sent a free berry milkshake recipe. Why smoothies? Is it because smoothies are so creamy and berry-licious? Is it because milkshakes bring all the referral revenue to the yard? Is it because it's really cold outside and Frozen is doing really well at the box office?
Can you even really begrudge hackers whose goals are as simple as "send Snapchat users fruity drinks, then show them how to make them on their own?"  If you teach a man to smoothie, will he not smoothie for a lifetime?
A Snapchat spokesman told Wired that the hacks appear to be pure strongarming—that is, the hackers aren't using nefarious malware to break into user accounts, but rather, doing it the old-fashioned way: guessing the passwords.
So, if you have thus far escaped the smoothie invasion, now would be a good time to change your password.
Unless you're feeling really thirsty.
Photo via of_guido/Flickr (CC by SA 2.0)