Congratulations, you've made it to the end of this immensely awful week—or depending on how far back you go, a series of soul-crushing weeks, filled with story after wretched story of people recuperating from earthquakes, floods and fires, and the government response to these disasters.
Weeks of culture wars regarding police brutality, professional athletes, gun control, Confederate statues, white supremacy, and the United States flag.
And most poignantly, weeks of dozens of sexual assault allegations made against a myriad of Hollywood industry men, from film producer Harvey Weinstein to his accused enablers such as Ben Affleck, and other prominent celebrities; and the whisper network fallout that followed women affected by these stories.
Mustering the energy to actively engage with headline after discouraging headline on the Weinstein allegations is far from easy, particularly when these stories drudge up uncomfortable or traumatic memories. Sometimes you just need a break from this toxic reality to check back in with yourself and reassess your own well-being. And while practicing self-care isn't as easy as following feel-good guidelines, taking a moment to step away from the news and to spend your energy on something else is a start.
So here are a few fun, distracting corners of the internet, collected as a palate-cleanser to round out this god-awful beast of a week. No, scrolling through a swath of puppies and watching a clip of Britney Spears won't erase the burden of existing in a society of systemic privileges that make the existence of men like Weinstein possible. But, it might at least turn the noise down a few notches.
Here's a 5-year-old listening to her father's voice in a Build-A-Bear:
https://twitter.com/Mnveee/status/918237252890787841
A jiggling Corgi butt made of latte foam:
Posted this on my story and it was highly requested to be put on my main so here you go!

Posted by Periperipeng on Friday, October 6, 2017
A very serendipitous live news shot of a small kitten pretending to be a cougar:
omg this is everything pic.twitter.com/NxIaZzzzks

— David Mack (@davidmackau) October 13, 2017
Literally an entire Amazon page dedicated to the dogs of Amazon:
https://twitter.com/iammollymchugh/status/915708100530790400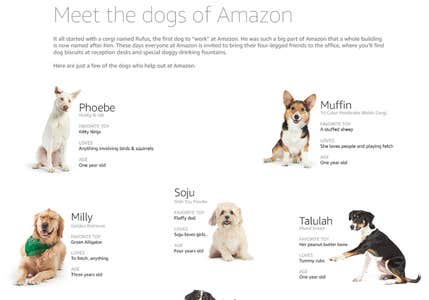 An amazingly big, squishy Totoro GIF: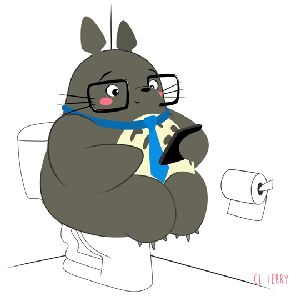 Yep, there is an entire post of these. Fill up on Totoro to your heart's content.
Here's Britney Spears painting what is sure to be the most famous piece of art of our time:
https://twitter.com/britneyspears/status/918913739788836864
Or, better yet, here's an illustration of a Porg dressed like Bob Ross:
#PorgADay 2/67 "Porg Ross" from my daily Porg art project pic.twitter.com/oJxgrMFZak

— MIKE DENISON (@mikd33) October 11, 2017
And, saving the best for last, here's an entire Facebook page dedicated to the photos of dogs that UPS drivers encounter on their daily deliveries:
https://twitter.com/torclean/status/916902001421758464
https://www.facebook.com/UPSDOGS/photos/a.510105182413084.1073741829.493723690717900/1453142491442677/?type=3
https://www.facebook.com/UPSDOGS/photos/a.494104860679783.1073741826.493723690717900/1452483854841874/?type=3
https://www.facebook.com/UPSDOGS/photos/a.510105182413084.1073741829.493723690717900/1450521925038067/?type=3
If you are a victim of sexual assault or want more information on sexual assault, contact the Rape, Abuse & Incest National Network at 1-800-656-HOPE (4673).