For decades, her likeness was depicted in the "Rosie the Riveter" poster that inspired generations of women that "they can do it"—but it wasn't until 2015 that she was correctly identified. Less than three years later, Naomi Parker Fraley, the real "Rosie," has died. She was 96.
According to the New York Times, Fraley died on Saturday, Jan. 20, the weekend of the second Women's March, in Longview, Washington. Her death was confirmed by her daughter-in-law, Marnie Blankenship, and she is survived by her son, four stepsons, two stepdaughters, two sisters, and many grandchildren and great-grandchildren.
Born in Tulsa, Oklahoma, on Aug. 26, 1921, Fraley and her family moved constantly as part of her father's job as a mining engineer. After the attack on Pearl Harbor, Fraley, then 20, and her sister Ada, then 18, worked at the Naval Air Stations in Alameda, California, near San Francisco. There, the sisters worked in the machine shop, where they drilled, patched airplane wings, and riveted.
Working at her lathe, Fraley's photo was taken by an Acme photographer, wearing a mechanic's coveralls, her hair gathered up in a polka-dotted bandana. The picture was published widely throughout 1942, often without an identifying caption. Then in February 1943, Westinghouse distributed the now-iconic poster created by J. Howard Miller of a woman flexing her bicep saying, "We Can Do It!" across factories, which were used to prevent employee absenteeism and strikes. The image was later unearthed in the early 1980s and given the name "Rosie the Riveter."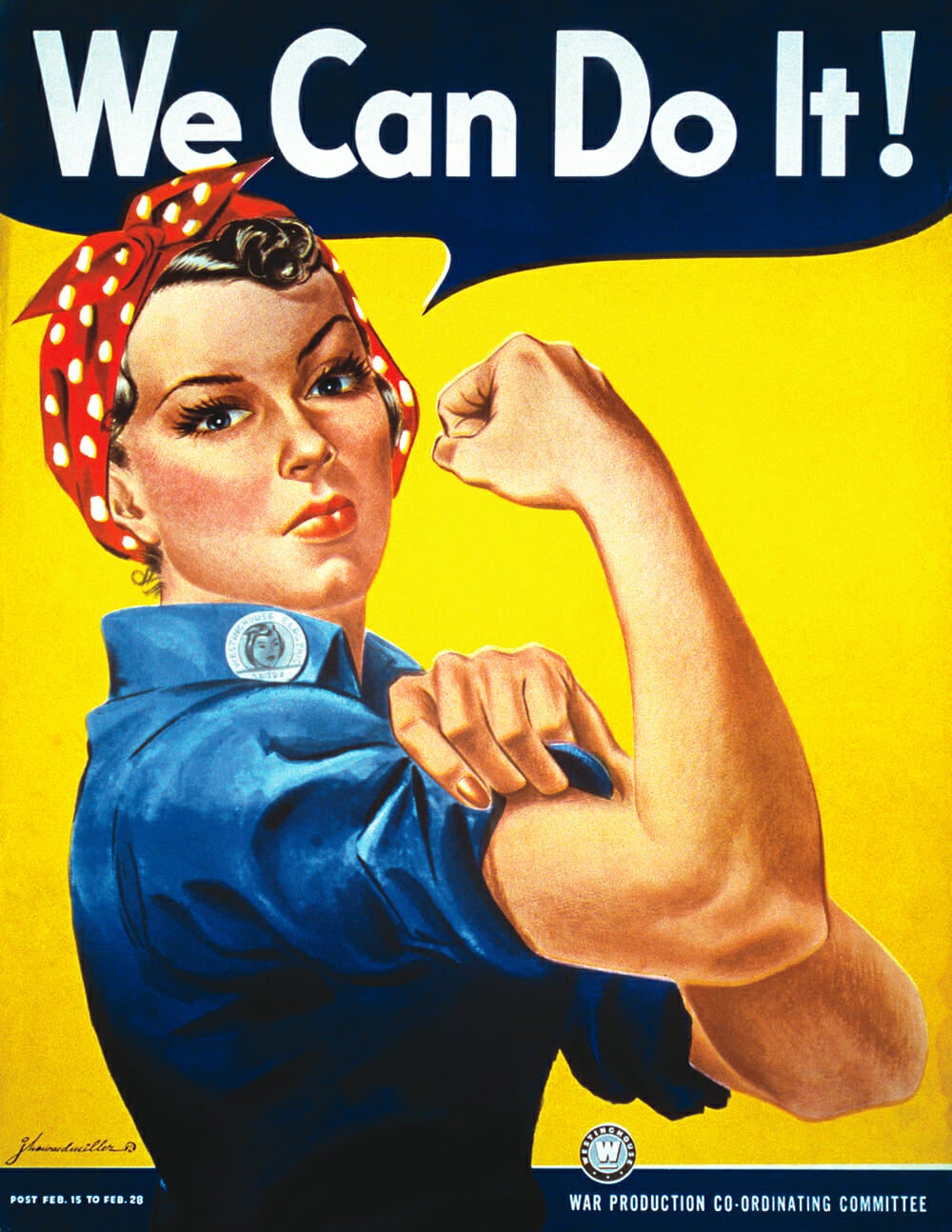 Fraley had previously seen the photograph of herself working, and had clipped the picture out of a newspaper to keep. She hadn't seen the "Rosie" poster, however, until March 1994, but did think Rosie resembled the photo of herself at her lathe.
However, by the end of the 1990s, the media began identifying another woman, Geraldine Doyle, as the poster's inspiration. Doyle, who briefly worked as a metal presser in 1942, had seen a reprint of the photo of Fraley working in 1984, thought it resembled her younger self, and assumed she had been photographed. In 2011, Fraley found the photo of herself at the lathe at the Rosie the Riveter/World War II Home Front National Historical Park in Richmond, California, captioned with Doyle's name.
"I couldn't believe it," Fraley told the Oakland Tribune in 2016. "I knew it was actually me in the photo."
Dr. James J. Kimble, an associate professor of communication and the arts at Seton Hall University in New Jersey, wasn't so convinced, and set off on a six-year-long journey in 2010 to verify the media's continual claims of Doyle's likeness in the iconic poster.
Through his research, he found an original (perhaps sexist) caption from a vintage-photo dealer that showed the photo was taken in Alameda on March 24, 1942: "Pretty Naomi Parker looks like she might catch her nose in the turret lathe she is operating." And though it's unclear if Miller's Westinghouse poster was influenced by Fraley's photograph, both the timing and distribution range of the photo, as well as the resemblance between Fraley and Rosie, make Fraley "a good candidate," Kimble told the Times.
"Victory!" Fraley had told the World-Herald in 2016 about how she felt being known as the Rosie the Riveter. "Victory! Victory!"