Rich Kids of Instagram, a popular Tumblr that collects Instagram images from the young, rich, and oblivious, started as many great things do: after a few bottles of wine.
"I think the content speaks to that," the mysterious creator of RKOI told Daily Dot. Though the blog started as a pinot-soaked joke, the curation of images that simultaneously make you want to puke and/or own a pet tiger have inspired a book.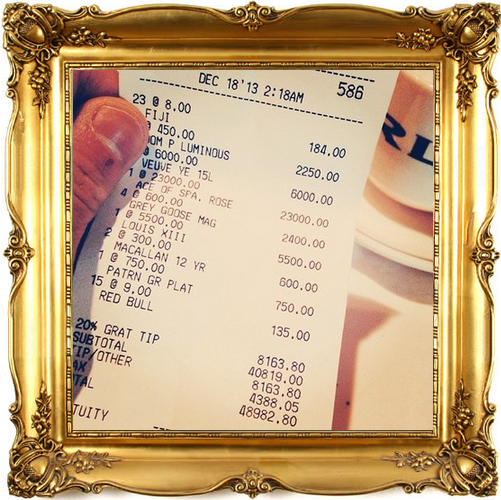 The Rich Kids of Instagram book, coming in July 2014, won't be another one of those blog-to-book projects that simply expands on what the blog already offers in a glossy coffetable offering. No, it's a straight-up novel. Or rather, "a dishy and hilarious tale about the intersecting lives of the world's most extravagant, uber-rich teenagers," according to the publisher's description. So basically a bunch of fictional baby Scott Disicks running amok.
The anonymous creator was approached last spring with the idea of turning the blog into a book. They thought creating a fictional narrative would serve the concept best, and started working on novelization. YA author Maya Sloan did the actual writing—and she's currently helping Kylie and Kendall Jenner of the Tribe Kardashian with their first book project, so she seems to be a burgeoning go-to writer for capturing lushly vacant lifestyles.
With Sloan on board, it's not clear whether the project will be more of a frothy escapist tale or continue along the more explicitly satirical tone of the Tumblr, but either way, it probably won't be boring—and it will likely be better than the reality TV show E! developed based on (but not affiliated with) the Tumblr.
Rich Kids of Instagram's creator hinted at other projects in the works but wouldn't elaborate. They were generally more mysterious than one would think necessary for proprietor of a novelty blog.
The decision to turn RKOI into a fictionalized story might actually disappoint some of the frequent targets of the blog—the anonymous creator says most of their featured rich kids have a positive experience with the site. "They continue to submit pictures and want to be on the site," he explains.
For Tumblr fans who think a 288-page tome about entitled teens whose watches cost more than a college education sounds like a good time, the book is available to pre-order. Or you could just read the original Gossip Girl series.
[Photo via princeofitaly/Instagram]