Until this week, fashion designer Rick Owens was mostly known for creating gothic, grunge-inspired clothes that wouldn't look out of place in a post-apocalyptic wasteland. But thanks to his Spring 2014 show at Paris Fashion Week, he's now famous for introducing one of the most diverse and rebellious runway shows in recent memory.
Even if you make every effort to ignore the mainstream fashion industry, you'll still have a fairly accurate mental image of what "models" are supposed to look like: tall, thin, expressionless… and usually white. This Thursday, Rick Owens broke the mold by employing a mostly African American cast of college step-dancers (a combination of cheerleading and military drill) to "walk" his new collection down the runway.
Compared to the size zero, predominantly white models of most womenswear shows, it was a shocking display of diversity. Not to mention a lot livelier than your run-of-the-mill fashion show where models calmly walk in a line from one end of the room to the other.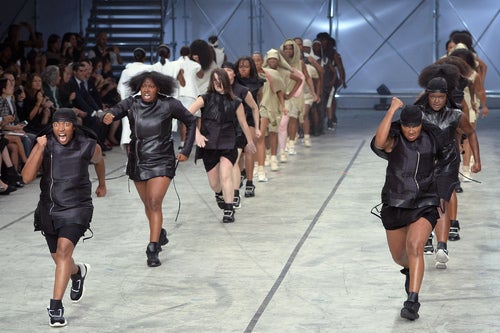 Image via wetheurban / Tumblr.
The designer's own comment on the show was relatively low-key: "We're rejecting conventional beauty, creating our own beauty."
But online, people were reacting with joy and excitement. For many, this was the first time they'd seen such active representation of plus-size and non-white models in mainstream fashion. As Tumblr blogger beyazandblack put it: "WE ARE BORED OF SEEING MODELS WALK DOWN A WHITE PLATFORM."
Yes, the models were all plus size and racially diverse, but they were also all competitive college athletes, a direct challenge to the mainstream fashion myth that "fitness" is synonymous with "size zero".
As Tumblr user banji-realness explained: "One more thing I really liked about the RO show was that it actually situated the athletic trend in a context of athletic bodies in motion."
I could watch the Rick Owens SS'14 show from Paris Fashion Week over, and over, and over again.

— Jodi Taylor (@jodtaylor) September 27, 2013
However, while most of the reactions were very positive, there has been some criticism that the Rick Owens models may have played into racial stereotypes:
So people are saying Rick Owens show was a display of the Angry Black Woman…

— Neearr (@Neearr) September 27, 2013
it's like no one wanting to see us unless we're performing in certain ways. i guess that's what's bothering me about it. #RickOwens

— Nichole (@tnwhiskeywoman) September 27, 2013
If Rick Owen did exploit an aspect of African American culture for his own publicity purposes, it worked. This is still going to be the most talked-about show of Paris Fashion Week, and for good reason.
Every season inspires a new round of discussions about the issue of body diversity in the fashion industry: eating disorders, underage models, and the implicit racism of the many runway shows that only employ white models. But aside from body diversity, the other main characteristic of runway models is their complete lack of expression. Aside from a handful of exceptions, models are largely encouraged to give an appearance of complete, vacant blankness when walking the runway, and Rick Owens' non-professional models rebelled against this as well.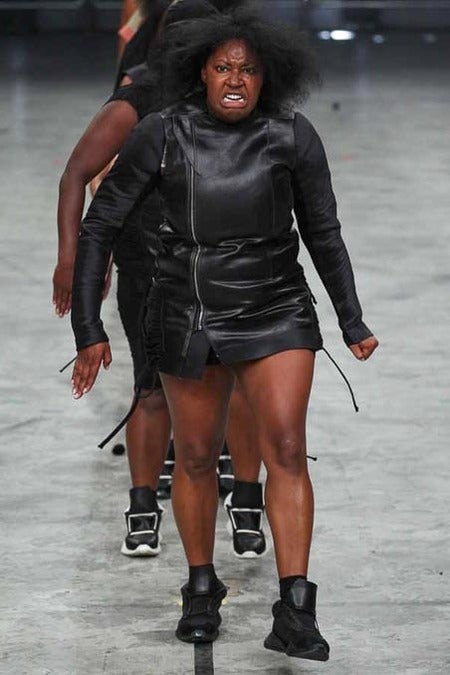 Image via wetheurban / Tumblr
This show didn't just ignore fashion industry expectations regarding race and body type, it broke all the rules of runway modeling.
From the perspective of a designer trying to get people to pay attention to their work, it makes sense to hire models who look as blandly similar (and therefore easy to ignore) as possible. In a way, Rick Owens' show has actually proved this theory: everyone is talking about the models rather than the clothes.
Image via virare / Tumblr.