Across the United States, women are making 20 percent less than men on average; women's median pay is $40,019, while the median pay for men is $50,318. But in seven places—six municipalities and one county—women are coming up on top, causing a "reverse" gender wage gap in which men are instead earning less.
According to Pew Charitable Trusts' research publication Stateline, these seven communities are experiencing such a phenomenon: Chamblee, Georgia; Lake Worth, Florida; Plainfield and Trenton, New Jersey; Inglewood, California; the village of Hempstead, on Long Island, New York; and Prince George's County, Maryland, which is a suburb of Washington, D.C.
These findings came out of a Stateline review of census data, analyzing the earnings of 2,700 locations across the country with more than 10,000 workers. Most of these spaces are diverse suburbs of large metro areas, are majority-minority, and have low-income neighborhoods.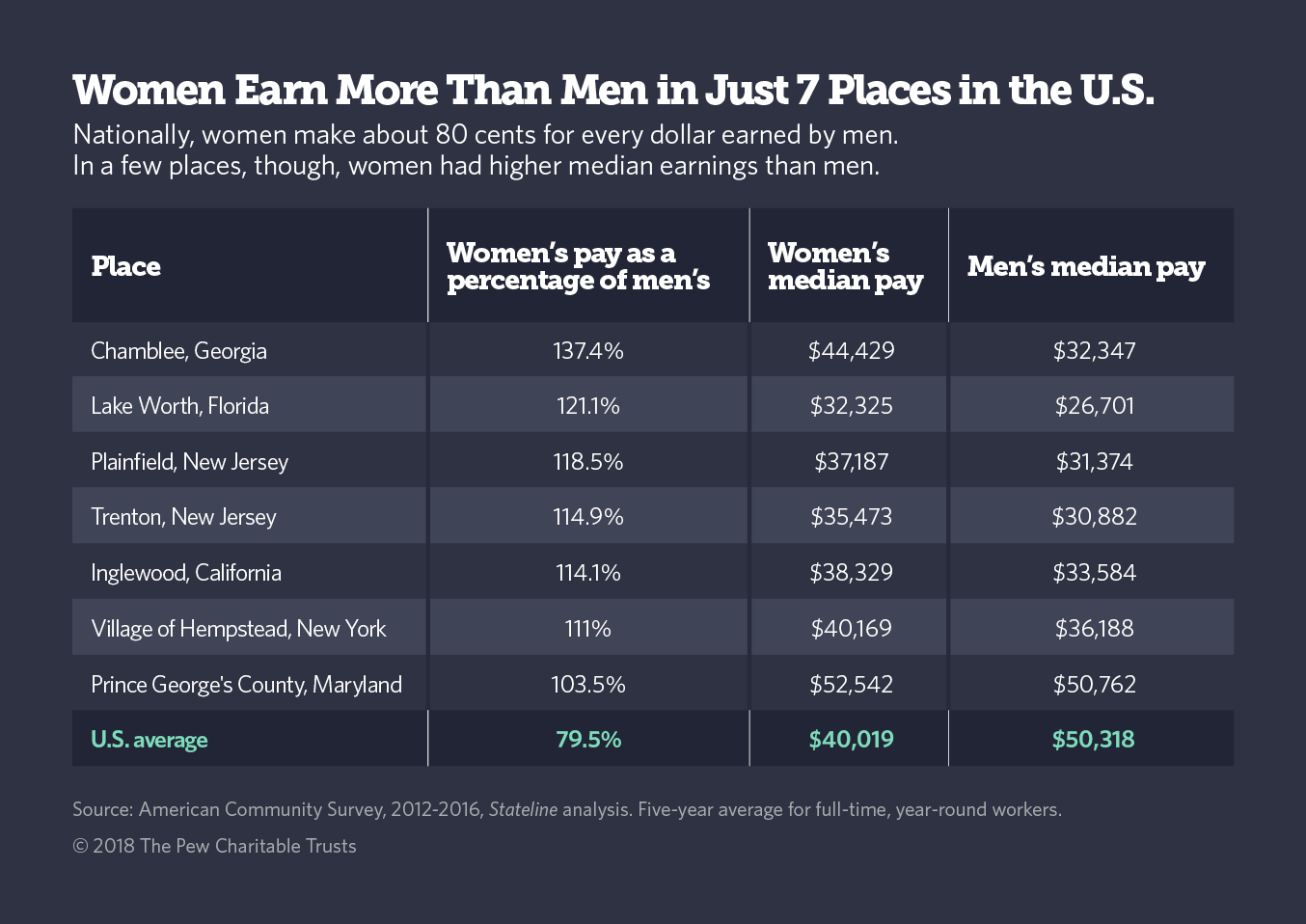 The reasons for this reverse gap vary, and are "complex and uncertain," the publication reported. Pay might be higher for young women who work in these larger cities but have found affordable housing in these suburbs. Additionally, single male laborers, many being undocumented immigrants, can bring down the median wage among male workers.
For example, in Chamblee, an area known for its significant immigrant population, women earn 37.4 percent more than men, and a majority of them work in management, where the "typical" pay is about $57,000. Most men in Chamblee, however, work in service, construction, factories, or moving and shipping, and earn $20,000 to $25,000 annually.
For predominantly-Black suburbs, such as Prince George's County, Trenton, and Inglewood, economists theorize that the gender gap exists because Black women have a higher education than men.
Additionally, Statewide found it harder to explain why all seven places are mostly made up of minority populations. For Tonia Wellons, a vice president working living in Prince George's County, she felt that the racial diversity of her community possibly encourages other kinds of equity.
"The few places with no gap or reverse gap do tend to be urban and majority-minority," Kevin Miller, senior researcher at American Association of University Women, told the publication. "What's happening there is that white men, the group with the most disproportionately high salaries, are more absent from those areas."