This holiday season, Reddit hosted the largest Secret Santa in history, with more than 117,000 participants in total from 161 different countries. Even Bill Gates and Arnold Schwarzenegger got in on the action.
It had been more than three years since I had participated in the gift exchange. (The first time around, I got a beautiful book of Polaroid photographs.) This time around, I got something even better than expected.
Reddit's Secret Santa has ballooned in popularity in part because it's so easy to get involved. Now in its fifth year, RedditGifts, the facilitating site, has mastered the process, creating a system that's as innocuous as drawing a name out of a company pool.
But that's only part of the equation. Despite their frequent portrayal in the media, especially after the Boston bombings and the violentacrez scandal, redditors tend to be a pretty thoughtful bunch. They foster deeply immersive conversations and are dedicated, almost to a fault, the relentless pursuit of news. They're also capable of inspiring acts of generosity, like when they helped fund a wall to protect a children's home in Kenya from attackers.
The gifts tend to be surprisingly thoughtful, free of the sort of trolling you'd expect. In 2011, one redditor received a hand-painted portrait of Super Mario from a poor art student. Then there was the Snoo ornament and a brand new MacBook Air worth more than $1,000 that Rose Cahalan received last year. Those are the sorts of gestures that embody the Christmas spirit.  
I signed up using my Reddit ID and answered a couple of questions, such as "What's my favorite color?" and "If I could travel somewhere right now, where would I go?" I wrote about my affinity for Polaroid photography, GIF animations, and journalism. I even mentioned my turtle and cat. I was stoked.
My information was then sent to a random redditor. I received the name and address of my "giftee" (the person I needed to send a gift to) on Dec. 2. Along with his address, I learned that he was also big fan of photography. Having seen all the fun my wedding guests had with the disposable cameras my wife and I left on their tables, I decided to send him a leather photo album and two Fujifilm Quicksnap cameras.
Christmas came and went quicker than it had ever done before for me this year. My friends and family blessed me with some incredible gifts: a new digital camera, tickets to the Kentucky Derby, a pair of headphones.
But there's something an unknown gift from a mystery sender that relentlessly piques my interest. As I made the 12-hour drive home to New York from Kentucky in late December, I found myself thinking about it constantly, wondering what it could be.
When I pulled my car into my apartment complex at 4am, the first thing I did was check the mail. Inside was a small white package. And in that was this T-shirt: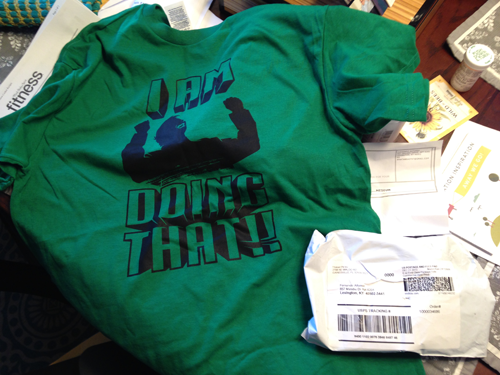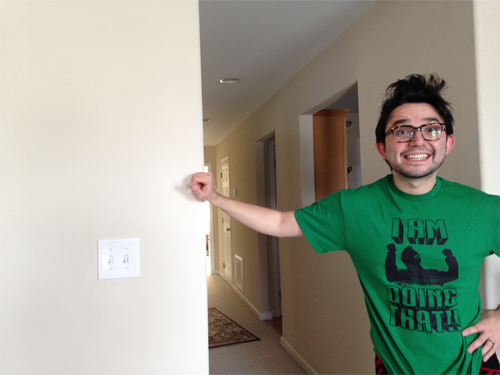 "Who the heck is that from?" my wife asked incredulously, as I fished through the packaging for any sort of message. I found nothing.  Maybe this redditor wanted to protect his or her anonymity. Or maybe he or she just forgot. Either way, the T-shirt was the funniest gift I received this year. I wear it all the time.
I'm far from the only who had such an experience this year. RedditGifts had 117,958 participants across 161 different countries. Redditors spent more than $2.8 million combined on gifts, with the average being about $25. The most expensive gift reported cost $3,728.
I'm already looking forward to participating again next year. There's something about the creativity and spontaneity involved that makes it one of the best traditions on the Internet. And given just how popular Reddit's become in recent years, especially in the celebrity crowd, you never know who's going to draw your name.
Photo via Fernando Alfonso III