The team behind LGBT gaming convention GaymerX is getting one step closer to realizing its goal of increasing queer representation in video games. The group's indie game studio, MidBoss Games, group announced this week a Kickstarter campaign to fund its first game.
Read Only Memories will be a single-player cyberpunk adventure game in the style of '90s classics like Snatcher and The Secret of Monkey Island. It follows the story of a journalist as the character explores Neo-San Francisco in 2064.
"We wanted to make a futuristic setting where the social stigmas of LGBTQ would be mostly a thing of the past, and they could be represented normally, just like everyone else." John James, lead designer and artist for Read Only Memories told the Daily Dot.
"We also really wanted to make an adventure game, and I believe this direction will allow us to explore these characters in a deeper way."
Read Only Memories will feature queer characters in prominent roles, something not seen often in mainstream games. When LGBT characters do appear in mainstream games, companies often face an onslaught of negative reviews and homophobic comments. Bioware, for instance, saw this kind of feedback when trying to incorporate same-sex romances in their games Mass Effect 3 and Star Wars: The Old Republic.
"We want to continue to be as inclusive as possible with our games and steer away from the typical tropes that plague most past and modern games today," James said.
We believe that if we can include LGBTQ characters in our games in a way that's not shoehorned in, we can create more realistic character development and dialogues for them.
Not only will queer characters be prominent in Read Only Memories, but the player will be allowed to choose how they want to be referred to in the game. The protagonist will not be limited to just the "he" and "she" gender labels.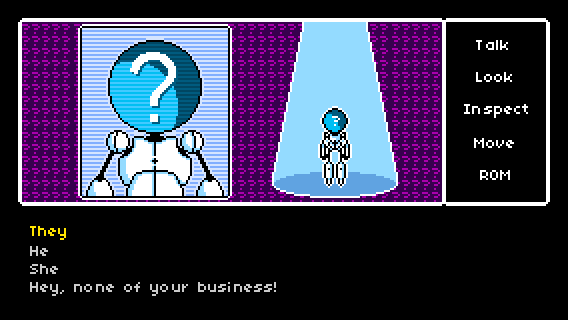 Right now Read Only Memories will be made available on Mac, PC, iOS, Android and OUYA systems, with the hope of expanding to platforms like XBOX One, Playstation 4, and Steam if the campaign reaches its stretch goals. The initial Kickstarter campaign goal is $62,064, with OUYA matching donations dollar-for-dollar up to this amount as part of their Free the Games Fund. The campaign will be open until Dec. 12.
The GaymerX team has had success with Kickstarter campaigns in the past. They funded their first convention, which was held this summer, in 2012 and earlier this year funded a documentary, Gaming in Color, to explore the LGBT gaming community and shed light on the challenges they face.
Gamers can get their first look at Read Only Memories' gameplay on Monday at noon PT during a Google Hangout held by the GaymerX team. The games' developers will also be on hand for a live Q&A.
A playable version of the game will be available at GaymerX2 in July 2014.
Images via Read Only Memories/Kickstarter