University of North Carolina Wilmington professor Mike Adams, who was preparing to retire amid backlash for his racist views, was found dead in his home on Thursday in New Hanover, North Carolina, according to multiple sources. He was 55.
Adams was scheduled to retire on Aug. 1, according to NBC. On Thursday, he was found dead in his own home after a friend called for a wellness check.
New Hanover County Sheriff's Office said there was no evidence of foul play. 
Adams came under fire for Islamophobic, homophobic, sexist and anti-Black rhetoric in the past but only recently faced action for his remarks. 
In May, he complained about North Carolina Gov. Roy Cooper's call for people to wear masks in an effort to fight coronavirus, equating it to slavery. 
"This evening I ate pizza and drank beer with six guys at a six seat table top," Adams wrote in a May 29 tweet. "I almost felt like a free man who was not living in the slave state of North Carolina. Massa Cooper, let my people go!"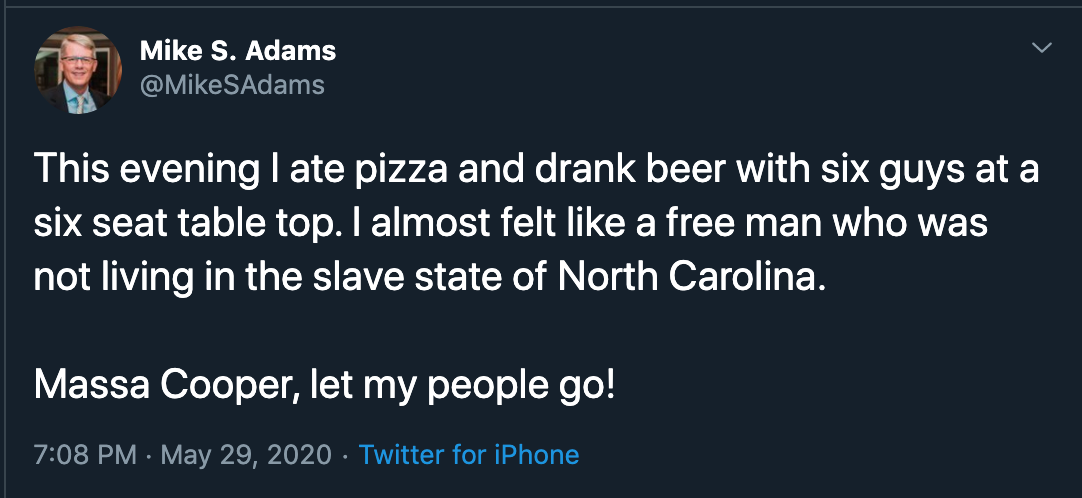 A day before, he mocked women's studies, calling for the major to be shut down instead of universities.

On May 29, as the latest wave of Black Lives Matter protests were spreading across the country, he posted a tweet calling rioters "thugs."
His remarks were nothing new, however. "I propose that we combine women's studies, African American studies, and gay and lesbian studies into one major called 'Resentment Studies,'" he wrote in August. "Obviously, tuition would be free."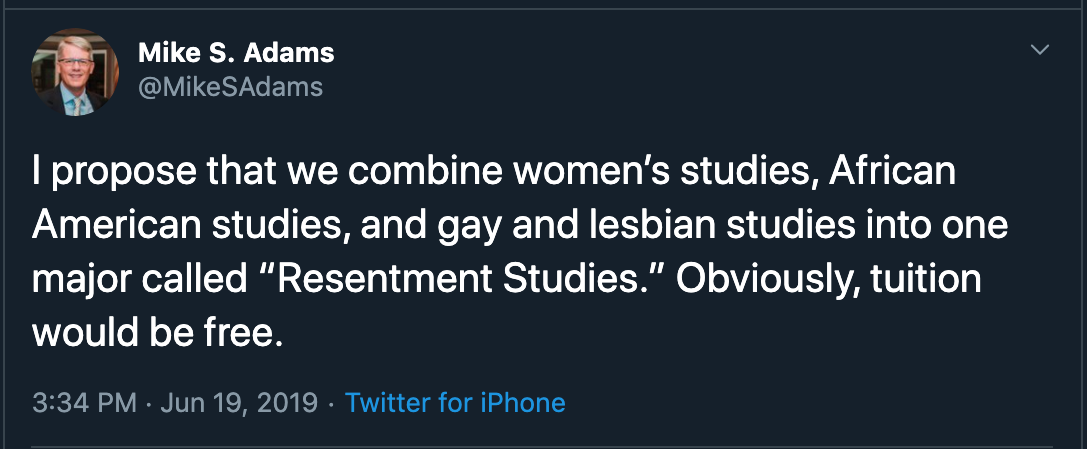 In 2013, he said in a tweet that gay couples "do not deserve equal benefits because they do not equally benefit society."
He also allegedly harassed many of his students, sometimes insinuating threats of physical harm.
According to NBC, he once shared a video where a student was protesting against an anti-abortion group visiting campus and wrote, "The mortality rate among people who disagree with me is right at 100%. So just nod and go with the flow. Or face the consequences."
He insinuated potential gun violence in another tweet demanding a limit on the number of Muslim immigrants in the country. 
"I'll agree to limit my magazines to ten when the government limits Muslim immigration to ten," he wrote in a 2015 post.
He also boasted about blocking a Queer Muslim student who wrote to him, though the content of the email was not published.
Prior to this, he once equated gay rights to rape and said a gay couple that was violently attacked made themselves "susceptible to violence" because of who they are, according to the Daily Beast. 
One of the victims reportedly went off social media after hearing this, according to a friend's testimony to the Daily Beast. 
In 2016, a Change.org petition that demanded Adams' resignation garnered more than 5,600 supporters. 
Despite the repeated accusations of hate speech, UNCW administration maintained that Adams' views were personal and therefore not "within the requested scope of [his] duties with the university."
"However, they are expressions protected by the First Amendment to the United States Constitution," the university said in a statement to the Daily Beast in 2017.
But on June 5, as Black Lives Matter protests spread around the country, UNCW expressed its "disgust" at his viewpoints while still defending them as protected by the First Amendment. 
"We stand firmly against these and all other expressions of hatred," said part of the statement. "We cannot and will not ignore them. The university is reviewing all options in terms of addressing the matter."
On June 29, the university announced Adams retirement would be effective Aug. 1. 
Adams was a tenured sociology and criminology professor at the university. Following the university's actions, he sued and reached a settlement of $504,702 for loss of salary and retirement benefits. 
Adams' most recent Facebook activity was on July 15. He reportedly lived alone.
READ MORE:
H/T Global News