Bodycam footage of Minnesota officers recently surfaced showing them sticking a police dog on a naked man, who is allegedly a sexual assault suspect, in St. Paul, Minnesota, before one officer shot him.
Officers on Saturday were responding to an assault situation where the man, since identified as 31-year-old Joseph Javonte Washington, was allegedly assaulting his ex-girlfriend and broke into a home, according to St. Paul Pioneer Press. 
According to bodycam footage published by Pioneer Press, officers are seen chasing Washington near a dumpster. 
"Get out of the dumpster and get on the ground!" one officer says, demanding that Washington "climb out."  
Screams can then be heard in the background, and the officer shouts, "Don't run!"
More screams can be heard, and the camera pans to show Washington on the ground as a dog pulls at his leg.
At least three shots are fired, and Washington is heard repeatedly screaming, "Get the fuck off me!"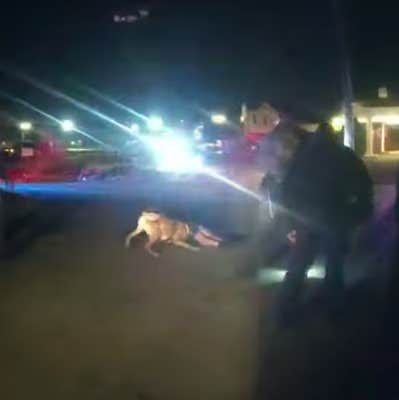 At least three officers are seen standing around while the K-9 continues to pull at Washington's leg. Then, the almost 45-seconds video ends. 
According to the Pioneer Press, Washington on Tuesday was slapped with three charges: first-degree criminal sexual conduct, kidnapping, and second-degree assault. 
The officer who shot Washington has been identified as Anthony Dean. Dean has reportedly been with the department for six years. The police dog was reportedly deployed by Officer Colleen Rooney. 
On Tuesday, Police Chief Todd Axtell fired Dean, according to the Pioneer Press, which confirmed the information with law enforcement personnel.
Axtell expressed his regret over the incident and said the video was "difficult" to watch because it shows the lives that were "altered." He said that Dean's actions were not necessary. 
The Minnesota Attorney General and Washington County Attorney's Office are set to investigate the incident.
---
Must-reads on the Daily Dot