An 18-year-old woman has accused TikTok star Ondreaz Lopez of sexually abusing a 14-year-old girl and shared clips of an alleged conversation with the girl's mother.
TikTok user @sainttbaby, who had no previous videos, began posting a series of clips regarding the accusations on Tuesday. (The account has since gone private, though the videos have been uploaded to YouTube.)
TikTok videos allege to show Ondreaz Lopez speaking to the minor's mother on the phone
The first video reveals a conversation where a woman is speaking with a man, allegedly Lopez. The man acknowledges that the person in question is a minor and that he can go to jail.
A follow-up video (also no longer public) identified the woman as the girl's mother. The video begins with the mother asking, "She's 14? And you are how old?" The man replies that he's 23.
"You now what can happen to you?" the woman asks. "I do," the man says calmly. "You can end up in jail," the woman says. "I do realize that," the man says.
The woman then demands a meeting with the man and says she will bring her daughter and her sister. The two speakers decide to meet later in the day.
No faces are visible in the video, and the Daily Dot was not able to independently verify their identities. The Daily Dot has reached out to Lopez for comment.
Fans of Ondreaz Lopez react to the allegations against him
Online, people condemned the TikToker and recalled recent, similar allegations against his brother, Tony Lopez.
Some people raised doubts about the authenticity of the allegations, claiming it "doesn't even sound like" Ondreaz Lopez and that the TikTok user has multiple accounts so should not be trusted.
The accuser, @sainttbaby, responded to these claims on TikTok and said she wouldn't risk getting sued by posting false information. She said the 14-year-old victim is a friend of hers.
A lawsuit against Lopez's brother also allegedly involves a minor
Earlier this month, TMZ reported that Tony Lopez was being sued by two minors who accused him of sexual battery and using his fame to groom underage girls.
One of the girls, 16, claimed that Tony Lopez "lured" her away and raped her despite her telling him she was underage. He has since denied the allegations.
After allegations against Ondreaz Lopez surfaced, many expressed the frustration and sadness that the "unproblematic" brother was accused of being an abuser, as well.
"NO I THOUGHT HE WAS THE GOOD BROTHER," one person commented.
On Lopez's TikTok account, where he has more than 22 million followers, his posts were flooded with angry comments following the accusations. On a video of the brothers posted on his account, people called them "groomers."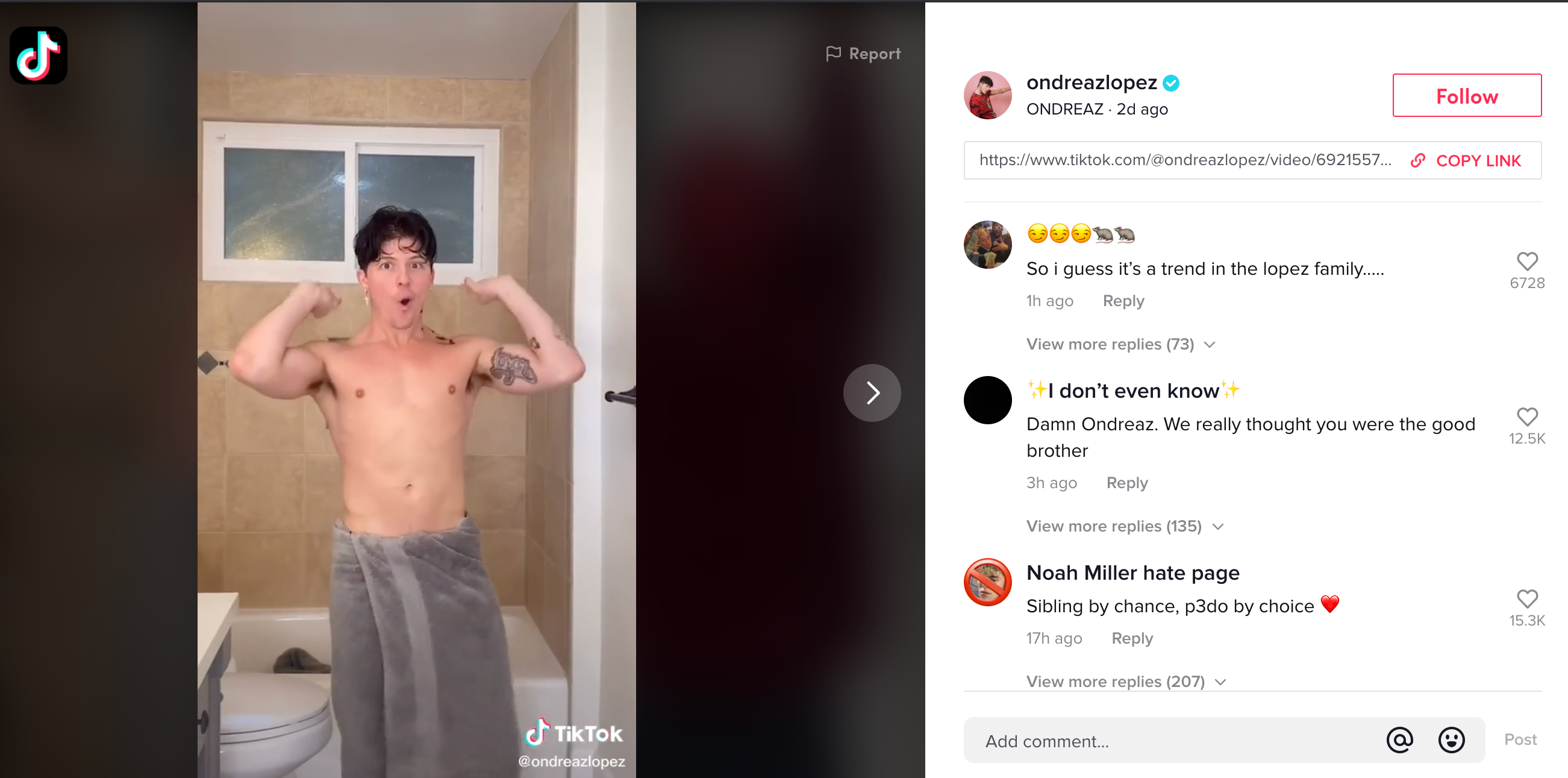 Hannah Stocking, Ondrea Lopez's girlfriend, has distanced herself from him on social media
The woman who made the accusation on TikTok also showed a screenshot of an Instagram message she allegedly sent to Hannah Stocking, Ondrea Lopez's girlfriend. "Just thought you should know," a part of the message says. "And they gave us alcohol when they knew we were under 21."
In the screenshot, there's no indication that Stocking responded, but she uploaded then deleted a photo of herself crying on her Instagram Story late Tuesday night. She has since deleted her Instagram posts with Lopez. The Daily Dot has reached out to Stocking.
Ondrea Lopez's spokesperson responded to the accusations
Update 10:17pm CT, Feb. 1: A spokesperson for Ondreaz Lopez told the Daily Dot in an emailed statement that the claims against Lopez were meant to "entrap him."
"This is nothing but a scam and an attempted shakedown … Ondreaz has done absolutely nothing wrong and has not been sued by anyone," the spokesperson said. "People should look at the facts before jumping to conclusions—and provably untrue claims must not be allowed to destroy someone's career and reputation."
Update 2:16pm CT, April. 4: This article has been updated to reflect that the TikTok videos from @sainttbaby are now private, and that Stocking has deleted her Instagram posts with Lopez.
---
Must-reads on the Daily Dot
H/T Sportskeeda