Twitter is freaking out over a picture of Nike's plus-size mannequin, and the responses are both positive and negative.
It all started June 6 with Twitter user @Rninety6 suggesting that Nike was showing plus-size customers that they would look "awful" in athletic wear. The original tweet blew up with 2,200 retweets and 13,000 likes, and @Rninety6 continued to body-shame even as people objected, saying things like, "Don't expect me to pretend it's a beautiful healthy body that should be promoted."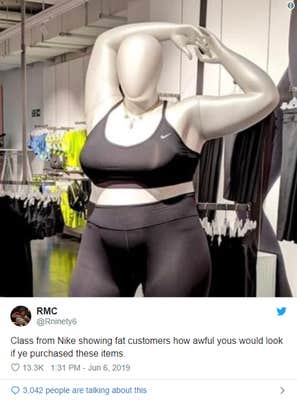 And then the rest of Twitter went off on @Rninety6 in response. Most people commented on how people have to go to the gym to lose weight, so insulting them in the process makes no sense.
Telling overweight people exercise bc 'there's no excuse' then also telling overweight people that they look horrendous in gym clothes https://t.co/9XY8XZFwRy

— MADELEINE (@Frenchd0gblues) June 9, 2019
More feisty Twitter users turned the insult around on @Rninety6, who did not respond to requests for comment. User @lilgothpeach commented a meme that said, "A man with an unwashed ass has an opinion again." Others continued the trend.
June 10, 2019
@Rninety6 also asked commenters, "Would do you need skin tight clothing to exercise?"
Some people responded with logic. User @Nifteebiskit explained that workout clothes are inherently tight to keep them from getting caught in gym equipment.
https://twitter.com/Nifteebiskit/status/1137879225946558465
Others said they were happy to see representation of all body types in the athletic wear industry.
i remember when i was overweight, i was so disappointed and sad that there was no nice workout gear in my size – the only place w nice stuff in my size was kmart, which is suuuuper cheap and aimed at low income people. i'm so happy nike is offering these options!

— joonbug cutie⁷ (@namusass) June 10, 2019
imagine thinking overweight people don't have the right to feeling sexy in workout clothes… it's above me honestly

— sarah ☀️ (@sararararah___) June 9, 2019
Over the last several years, more people have been advocating for body positivity and simply shutting down people who fat-shame others. And it looks like people are better for it.
READ MORE: 
Got five minutes? We'd love to hear from you. Help shape our journalism and be entered to win an Amazon gift card by filling out our 2019 reader survey.