The New York Review of Books catalog (NYRB) has long been a haven for the male literary world—which is odd, considering the company they keep. In the world of online literary reviews, numerous discussions and statistical analyses in recent years have focused on the issue of equality in publishing, from reviews to lists to book covers to systemic misogyny. 
Of particular interest is the statistical representation of women in noted review journals like NYRB, which has historically been low—so low that one action group, VIDA: Women in Literary Arts, has started keeping "The Count," which looks annually at the number of female authors and reviewers in major media outlets and review publications.
Yet, as the Village Voice noted yesterday, the NYRB has so far failed to get the memo that inclusivity matters to, well, most of publishing at this point. 
For context, here are VIDA's rundowns of the NYRB's overall annual output of reviewers for 2011 and 2012.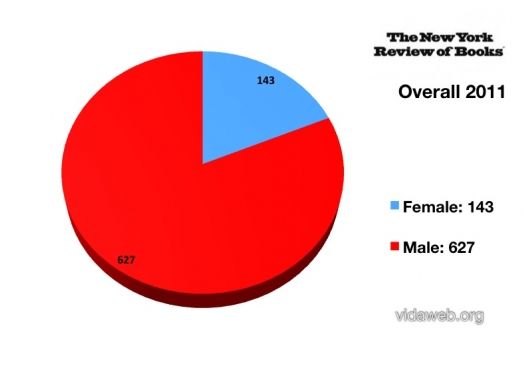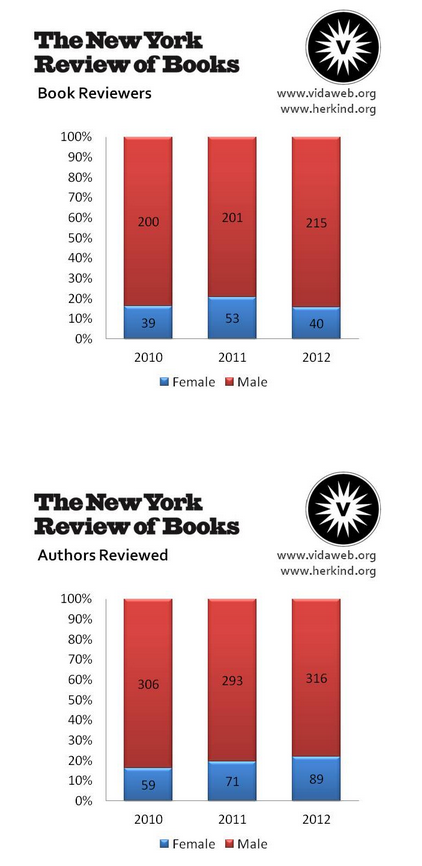 Last week, the NYRB drove that home even further by publishing a particularly skewed issue of their review, which had only two female contributors and nearly 30 male contributors. When VIDA wrote them in protest, the NYRB senior editor Robert Silvers responded to their letter with one of his own.
VIDA's founder, Erin Belieu, wrote a stern letter to the editor chastising the NYRB for its blatant gender bias, which VIDA viewed as a willful disregard for "the cultural conversation happening around you."
"[R]esponsibility for your distinction as one of the worst offenders included in VIDA's Count rests with your editorial policies," VIDA wrote. "At present, it appears that NYRoB believes women have little to add to our country's literary conversation."
Silvers responded by allegedly sending the same form letter to everyone who wrote in. 
In response to recent comments about contributions by women to the New York Review, I want to say that we certainly hope to publish more women writers. But I wonder if our critics have fairly considered the many reviews, essays, and poems by women that have appeared in the Review and on the Review's blog. A list of their contributions just during our last year of publication follows. No one who has read the work of these writers could say that the New York Review dismisses the work of women writers generally, or that the New York Review "believes women have little to add to our country's literary conversation."
The rest of Silvers's letter is, as promised, a list of women who have appeared in the NYRB. The list provided appears to not only ignore VIDA's primary criticism about discussion, but to dismiss the fact that VIDA's "Count" project (which only notes the publication's main content, not any side content on the website's blog), consists entirely of noting how many, and which, women writers are featured in major review outlets.
"The implication kind of seems to be that the ladies at VIDA don't know how to count," the Voice pointed out.
Women in publishing on the Internet were likewise unimpressed.
So Bob Silvers responds to VIDA's justifiable complaints about gender disparity in NYRB with…token counting? Geez. https://t.co/CPmk6ZZGb7

— Sarah Weinman (@sarahw) August 22, 2013
The New York Review of Books: Still practising cultural femicide: https://t.co/t7GdHPER9K via @bimadew

— Louise Pennington (@LeStewpot) August 22, 2013
@deadwhiteguys So basically, "Calm down, ladies. Can't you see there is no problem here?"

— Chrisbookarama (@chrisbookarama) August 22, 2013
Though VIDA is not the only website keeping count of the number of women being represented in the online review blogosphere, its annual survey, begun in 2009, is perhaps the most widely recognized.  Any indifference apparent in the NYRB response to VIDA and its supporters will doubtless be widely recognized as well.
"Our outreach to Mr. Silvers is hopeful," wrote VIDA representative Amy King on the Voice website, "and while on the surface [Silvers's] reply seems non-committal, we hold out … that he might begin to take steps, however quietly or publicly, to redress the gender imbalances in his publication."
Preferably before the 2013 survey comes out.
Photo via gpforeducation/Flickr