Four months after Twitter temporarily suspended the account of Martin Shkreli, the pharmaceutical executive and noted social media troll said this week that his account won't be returning.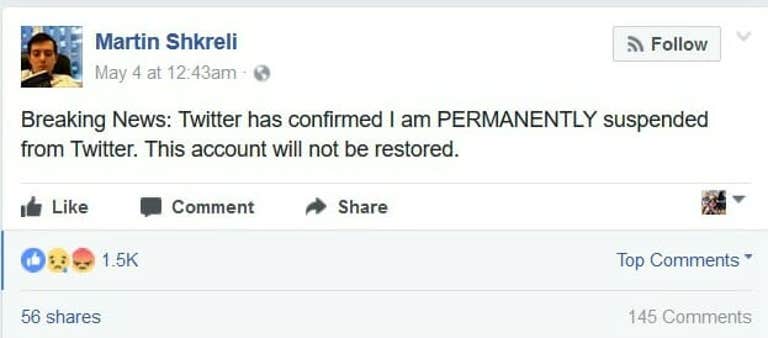 Not only that, but Shkreli said he's tried creating other Twitter accounts, one called @TrashyTheCat and the other called @ShkreliMartin11, that almost immediately were suspended by the social media network.
https://www.facebook.com/martinshkr/posts/10101468972838615
A Twitter spokesperson declined comment to the Daily Dot on Friday, saying, "We do not comment on individual accounts for privacy and security reasons," and Shkreli did not respond to a Facebook message left Friday afternoon.
In the last few days, Shkreli has promoted another account (@ban_republicans) on his Facebook page, and he says he's not affiliated with it. As of press time, @ban_republicans, which has close to 700 followers, is still active.
Shkreli hasn't been heard from on Twitter since he was suspended for harassing Teen Vogue writer Lauren Duca. After writing a widely-read piece called "Donald Trump is Gaslighting America" and getting into an antagonistic interview with Fox News host Tucker Carlson, Duca was invited by Shkreli to Donald Trump's inauguration.
She rejected him thusly (and quite publicly).
I would rather eat my own organs pic.twitter.com/IgeCRZqk8w

— Lauren Duca (@laurenduca) January 5, 2017
Then, Shkreli appeared to Photoshop himself into Duca's Twitter profile, replacing the face of Duca's husband with his own mug.
How is this allowed @jack pic.twitter.com/Wof8MlYHTL

— Lauren Duca (@laurenduca) January 8, 2017
A few hours after that image appeared, Twitter suspended him, telling the Daily Dot at the time, "The Twitter Rules prohibit targeted harassment, and we will take action on accounts violating those policies."
Shkreli—who first became known to the public when his pharmaceutical company drastically raised the price on an AIDS drug from $13.50 to $750 per pill—was arrested in 2015 and charged with securities fraud. He's out on a $5 million bond, and his trial is scheduled to begin in June.
H/T Mashable