High-profile DC journalist Martin Di Caro has been accused by multiple journalists of inappropriate sexual behavior. Bloomberg Radio, where Di Caro works as a contractor, has suspended the host following the allegations.
Following a thread by journalist Ashley Dejean, others came forward to share their own stories of how Di Caro sent them inappropriate messages and "aggressively" pursued them.
"Martin Di Caro has engaged in behavior and made comments and that have made many young women in the journalism industry uncomfortable," Dejean tweeted on Wednesday.
"When I was 21 and an intern at WAMU, Martin would send me messages late at night," they wrote in a follow-up tweet, adding a screenshot of a conversation between them and Di Caro, which, according to Dejean, took place at 11:30pm. In the texts, he wrote that "every woman I've dated this year was in her 20s … oldest 26."
"He was 37 at the time. I was still in college," Dejean tweeted.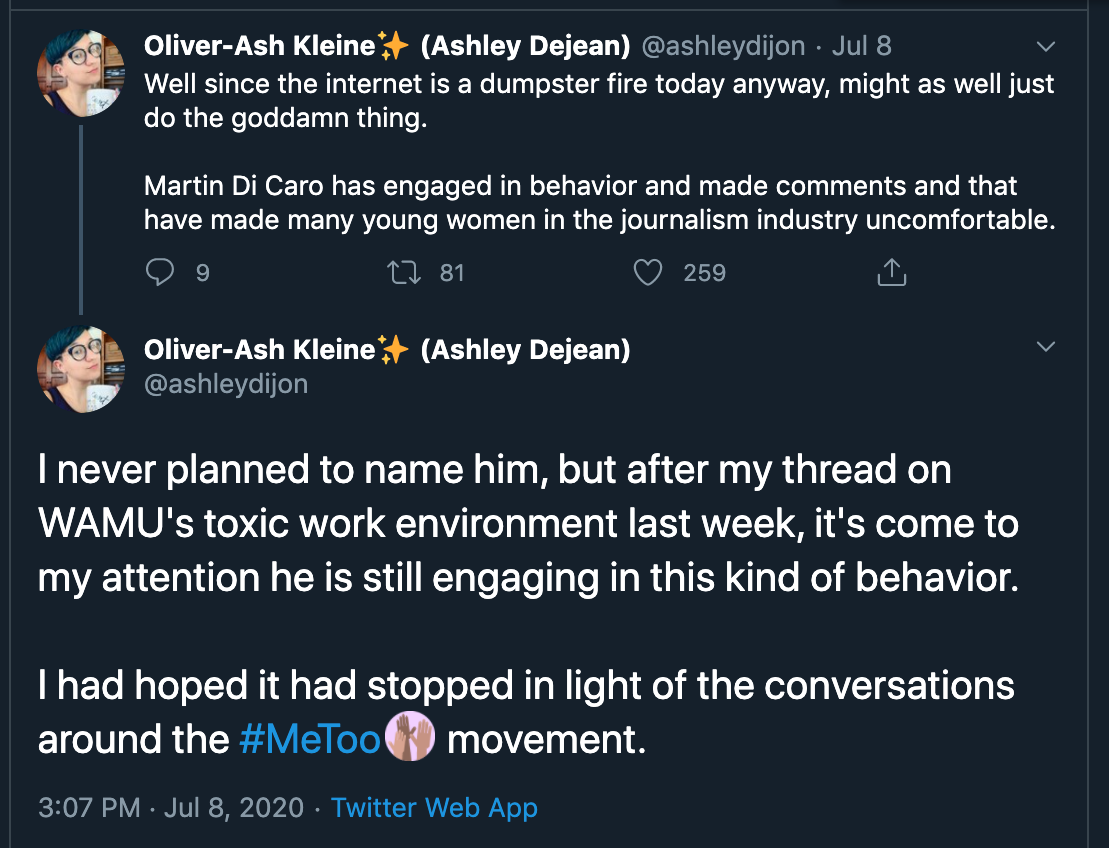 The Daily Dot has reached out to Dejean.
Journalist Bridget Reed Morawski shared Dejean's tweet and added that she, too, was subjected to Di Caro's inappropriate behavior. Morawski said she was discouraged from reporting the issue because it was common knowledge that he "flirts with everyone."
"Some of the messages he sent were just a bit too friendly for someone who didn't know me offline," she wrote, sharing a screenshot of a conversation with Di Caro in which he asked her why a "gorgeous woman" like herself would be in a long-distance relationship.
"While I wasn't sure if he had the sort of personality where he might go ahead and actively sabotage my career if I was rude to him or called him out publicly, I was concerned that he might quietly suggest that I wasn't right for a job or project if someone asked if he knew me," Morawski told the Daily Dot on Thursday.
Morawski said she met Di Caro while they were working at separate radio stations. She was working at WMAL, and he was working at WAMU. It was only after she left WMAL and was working as a news aide at a newspaper that he sent her those messages.
She said she didn't consider it as an option to report his behavior to WAMU's human resources because she had no professional connection there. Her former WMAL editor also discouraged her from mentioning it to Di Caro's partner.
"So I dropped it, because I didn't want to create a bad impression among potential colleagues in a city I had recently moved to," she said. "So it was a combination of trusting my former editor about whether it was worth mentioning it to his wife and not wanting to impact my career."
Morawski wasn't alone in her fear that reporting him could be potentially career-altering.
Writer and editor Kate Flynn also shared Dejean's thread and alleged that Di Caro "would often dangle the possibility of professional connections and opportunities in front of young women's faces and make them feel like he was a valuable person for them to know."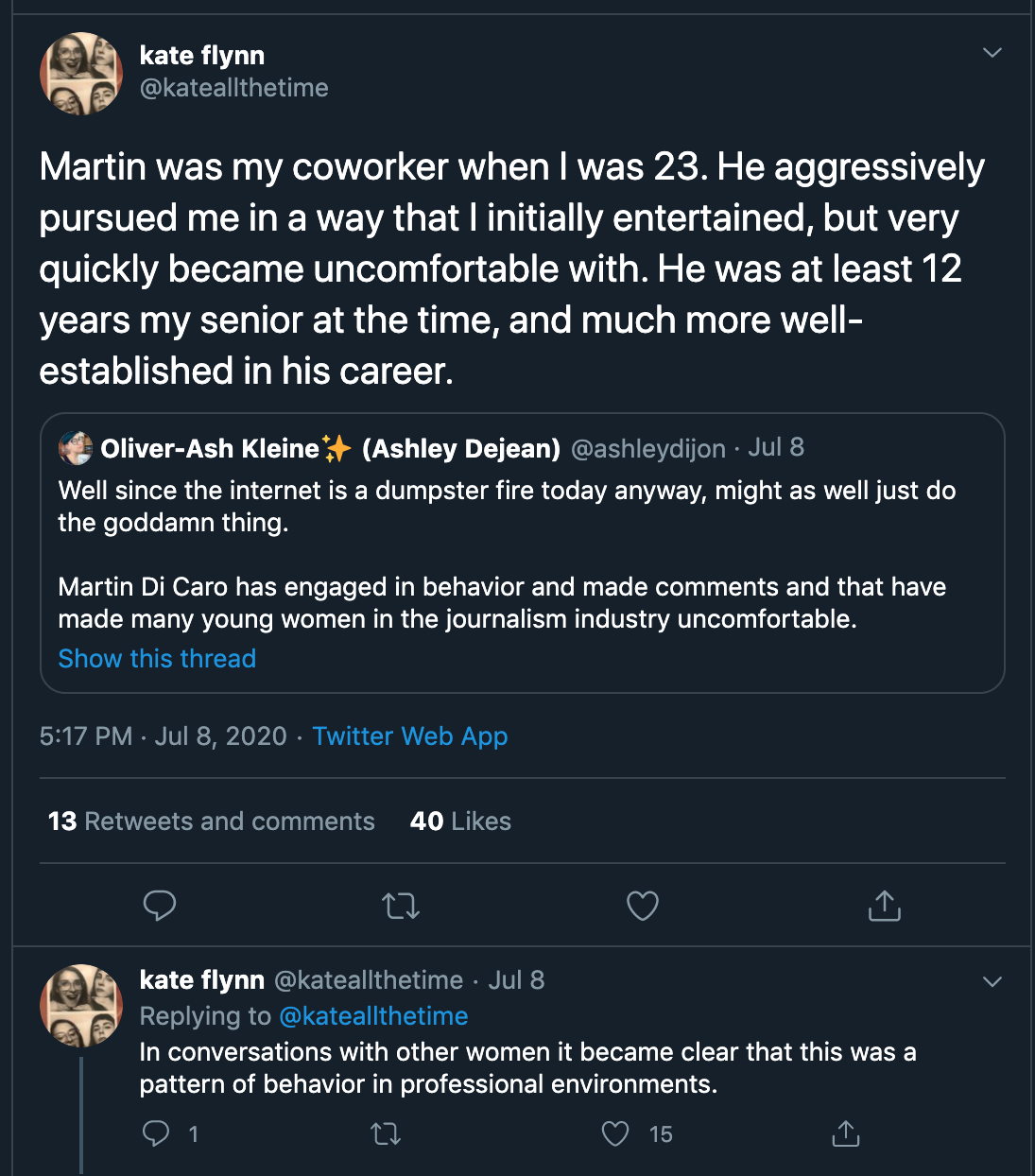 Journalist Sloane Airey shared a similar experience. She said Di Caro messaged her so frequently that she "had to make him agree" that their relationship was strictly platonic.
In addition to concerns regarding her career, Airey was afraid Di Caro's behavior would be dismissed as a non-issue
"I never told anyone that bc it's so common and we got along well afterwards, right?" she wrote, a doubt many victims of harassment or abuse may experience when it comes to reporting an abuser. "But it's not ok or fair."
The incidents reportedly took place during his time at American University Radio (WAMU), where he worked on the transportation beat from 2012 to 2018.
Bloomberg Radio announced on Thursday that it suspended its contract with Di Caro "pending further investigation."
However, Morawski doesn't want to see him get fired, saying she hopes for a different path to justice—one that involves educating the accused.
"I do not hope that he is fired. That's because I firmly believe in social redemption through actual education and good works, unless there was physical harm committed," she told the Daily Dot. "I think that there should be some sort of required education on his part to help break the cycle of shittiness that he perpetuated."
But that doesn't mean he should be allowed to get away with making a performative statement online and then burying the issue, she added.
She believes it's up to the institutions he's part of, like Bloomberg, to help "break the cycle."
"But I think that firing someone just means that they become someone else's problem later on — either as a new employee in journalism or in another industry, or as a financial dependent on his wife or family, etc. — instead of being properly handled by the institutions that allowed such behavior to fester in the first place," she said.
The Daily Dot has reached out to Martin Di Caro.
This story has been updated.
Disclosure: Ashley Dejean has previously written for the Daily Dot.
If you need support, The National Sexual Assault Hotline is available 24/7 at 1-800-656-4673. You will be connected with a trained staff member in your area. Or visit RAINN.org to chat online with a support specialist at any time.
READ MORE: