Leslie David Baker is best-known for playing the character of Stanley Hudson, Michael Scott's favorite "sassy" and "urban" character on The Office. Last week, Baker faced racist threats on social media after starting a Kickstarter campaign for a spinoff of the hit TV series.
In The Office finale, Stanley Hudson's story ends with him retiring in Florida. The proposed spinoff, titled "Uncle Stan: Coming Out of Retirement," centers around Baker's character coming out of his retirement to help his nephew Lucky with a flower/motorcycle shop in Los Angeles, the Root reported last month.  
While the Kickstarter campaign earned $336,450, surpassing the target of $300,000, racist trolls flooded Baker with repeated uses of the N-word and photos of Black people being lynched.
Baker posted screenshots of the messages last week, saying they were proof that racism is still alive.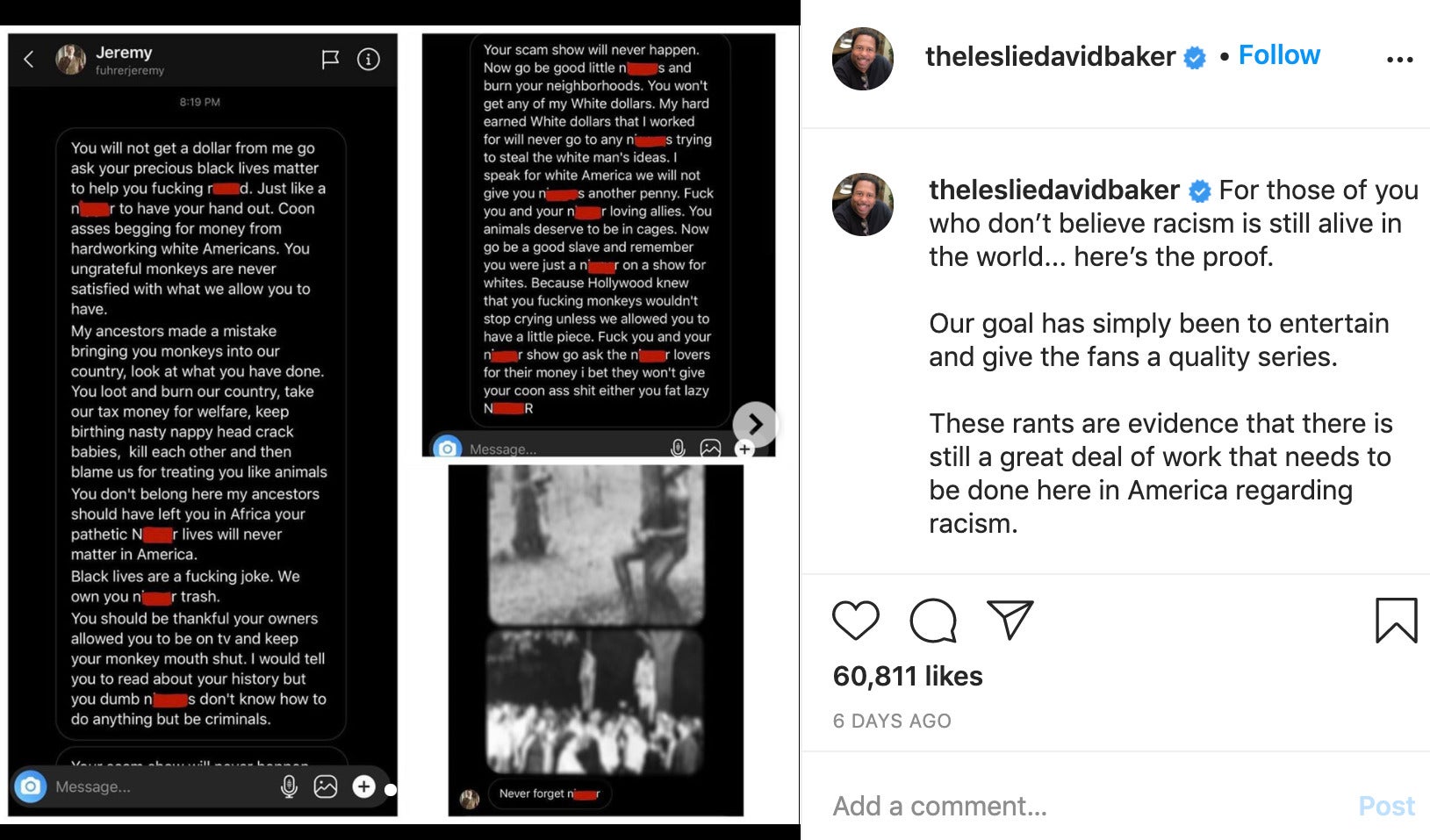 One Instagram user, @fuhrerjeremy, called Baker the N-word and a "retard."
"My ancestors made a mistake bringing you monkeys into our country, look at what you have done," said a part of the user's message. "Black lives are a fucking joke. We own you [N-word] trash."
In the screenshots, Baker covered the N-word with red ink. The Daily Dot counted at least 12 uses of the N-word in the message. The user also sent black-and-white photos of Black people being lynched and tied to trees. 
The account was no longer available on Instagram when the Daily Dot ran a search on Monday.
Another screenshot showed comments by Kornél Farkes, who wrote that "liberal retards from reddit collected all the money for the show, and they are gonna be all about it , if it's ever gonna start."
In a response to another's user's response, Farkas alleged Baker would "disappear" with the money and "no ones gonna be mad cuz black people are immune this year."
"Our goal has simply been to entertain and give the fans a quality series," Baker wrote in the caption of the screenshots. "These rants are evidence that there is still a great deal of work that needs to be done here in America regarding racism."
Angela Kinsey—who played the role of prudish, cat-loving Angela on The Office—commented on Baker's Instagram post expressing her support. 
"Leslie, I am so sorry," Kinsey wrote two days after Baker uploaded the post. "That is horrible and makes me sad. I love you so much. You bring so much joy to so many. I can't wait to see the Uncle Stan show!"
Other co-stars, including Rainn Wilson, Jenna Fischer, and Kate Flannery have reportedly expressed their support for Baker through public or private messages, according to the Root. 
The Kickstarter project, which advertises merchandise and memes for Stanley Hudson and Uncle Stan, was intended to tap into fan participation and technology while building on what the crew has "learned within the entertainment/production industry," according to a part of the description.
---
Must-reads on the Daily Dot
H/T the Root