A woman dubbed a "Karen" says she has been asked to remove her funds from Wells Fargo after she filmed a Facebook live stream inside a bank and tried to get an employee to remove his Black Lives Matter mask.
Victoria Redstall, whose Facebook profile says she works with Rep. Mike Garcia (R-Calif.), posted a video two weeks ago on Facebook in which she carried out a nearly 4-minute tirade at a Wells Fargo branch. Garcia's campaign spokesperson Lance Trover told the Daily Dot that Redstall briefly performed a small service on contract before March, but is no longer associated with it.
The video begins with her speaking into the camera about a discrepancy with a check that she was trying to get sorted with the bank. Her mask is lowered to her chin throughout most of the ordeal.
She then leans in and whispers, "I've got something worse. The guy with Black Lives Matter thing is here, and I'm gonna film it."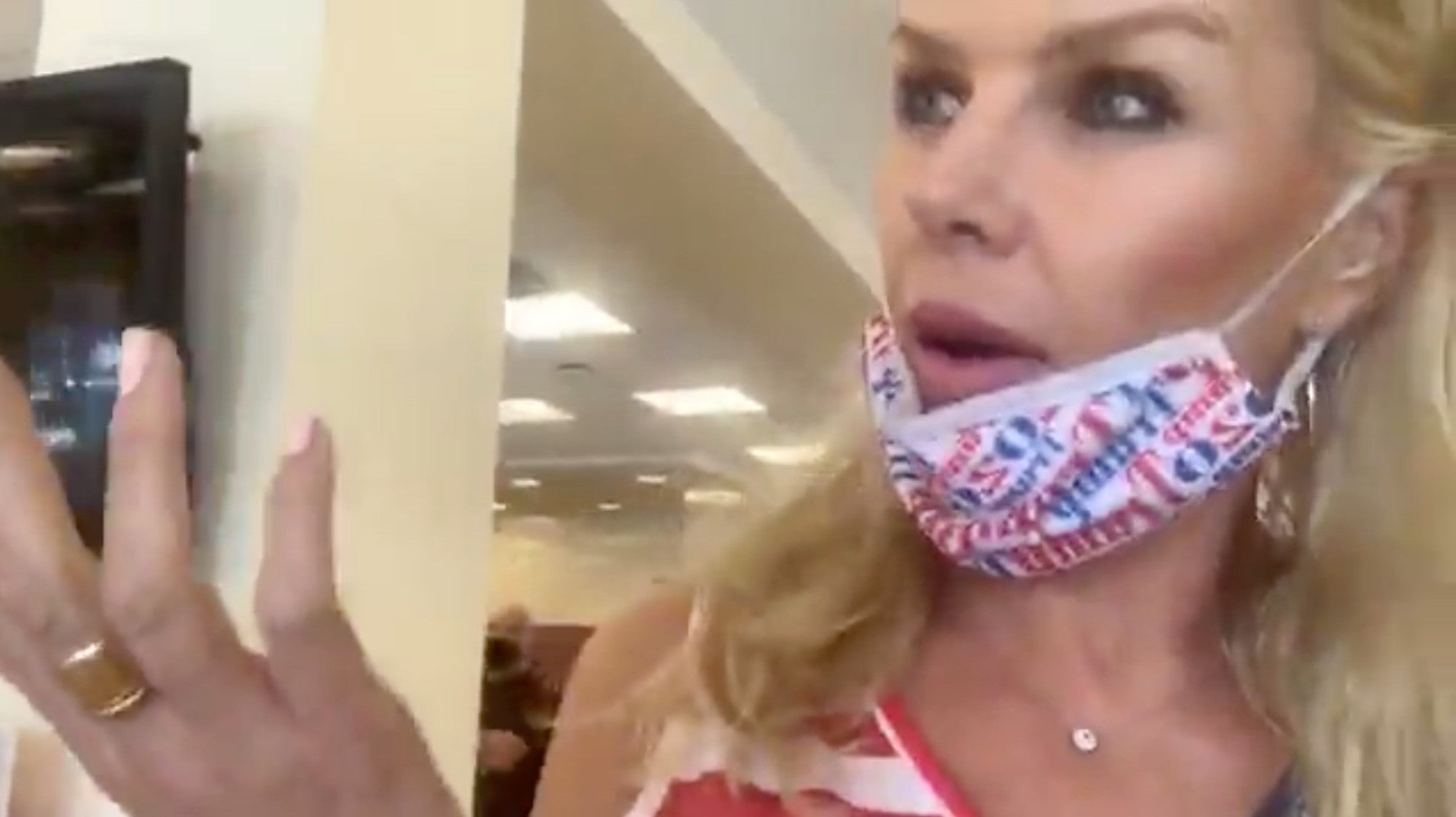 From the video, it appears that she had previously complained to bank manager about an employee wearing a mask emblazoned with "Black Lives Matter."
"Everyone who watches my Facebook knows that that's very very bad that Wells Fargo would have somebody at their bank with a Black Lives Matter mask," she says."
She then walks to where the employee is sitting and demands to see his mask.
The employee, a Black man, appears confused before Redstall continues, "This is Wells Fargo bank and I want to see your mask 'cause you're not meant to wear it in Wells Fargo."
A woman, who is later identified as the manager at the bank, intervenes and tells Redstall she can't record inside the bank.
Redstall lowers her camera but keeps recording.
"But he's wearing a Black Lives Matter, he's wearing a very dangerous organization," she says.
The manager continues to ask her to stop recording. Redstall keeps filming as she walks back to the booth where she was initially dealing with her check.
"I am shaking," she says, adding that she "came in here to protect people from getting cashier's checks."
She goes on to say that "everyone knows" she'd been here three weeks ago, and that she wouldn't be allowed to wear a Trump mask inside the bank. She momentarily lifts her mask up to her nose, seemingly in an attempt to show her mask, but the text on the blue and red mask is unclear.
"That man represents Wells Fargo, this bank who i've been with for twenty years since I came to America," she continues. In a later Facebook post, she said she's lived in the country for 26 years.
In the video, she restates that she wouldn't be allowed to wear a Trump mask and that a man "representing Wells Fargo" shouldn't be wearing Antifa or Black Lives Matter masks.
Throughout the video, she's accompanied by an older woman who at this point pulls down her mask to smile at the camera.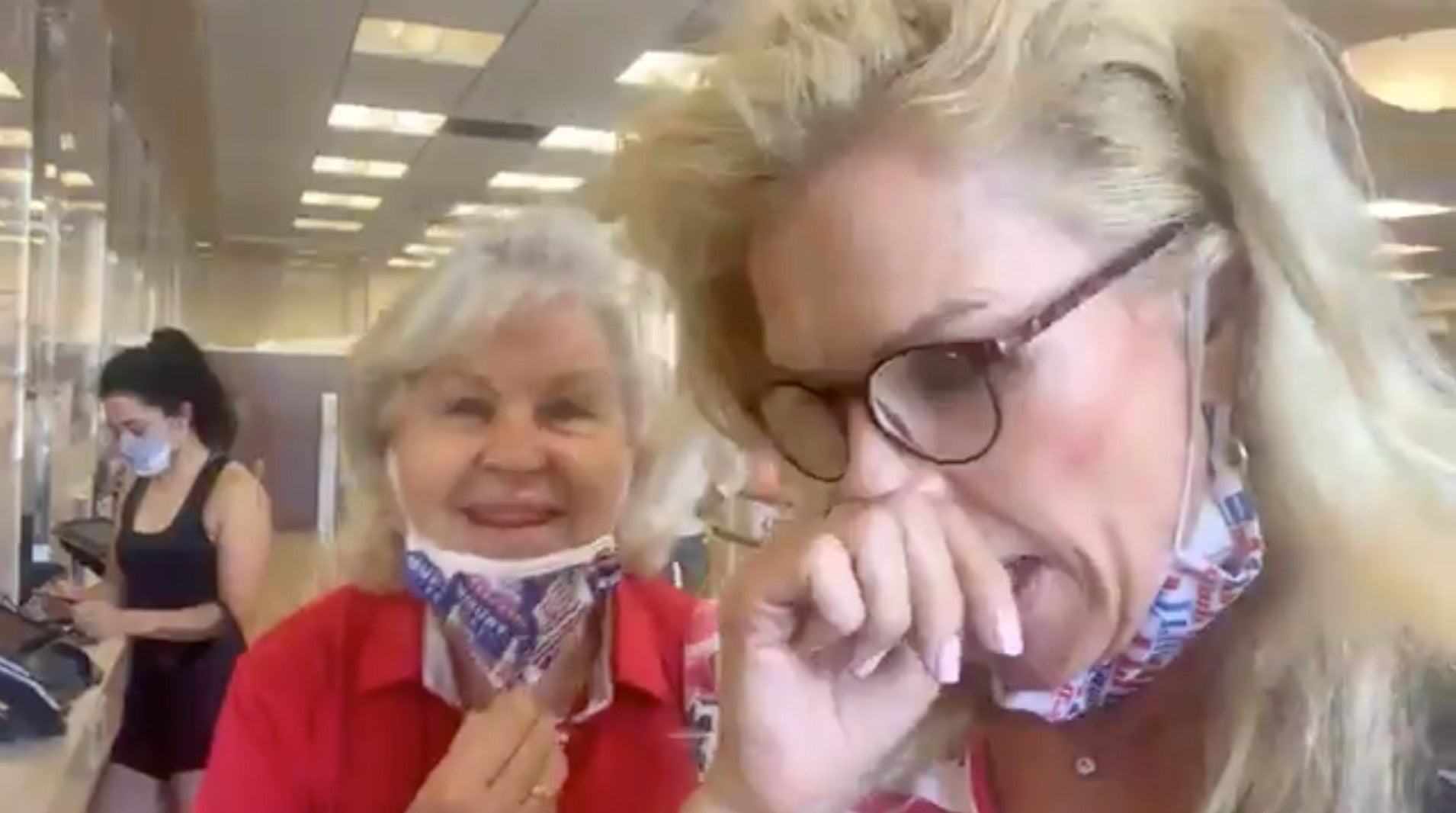 The bank manager reappears in the background and interrupts Redstall to remind her that she has to wear her mask and that Redstall can't be recording inside the bank.
Redstall tells the woman that she spoke with her a month ago and "respectfully" told her that "nobody should be representing Wells Fargo with a gang that is completely destroying America."
"You said, 'Yes I will make sure of that,'" Redstall says.
"That's not what I said," the manager corrects her. "I said: Thank you for your feedback."
"Again I can't allow you to record in here," the manager continues. "So I need you to turn off your recording, or I'm gonna have to ask you to leave."
In a follow-up post written on Aug. 24, Redstall said she received a phone call by someone from the bank and asked to remove her funds from the bank as she poses a "threat."
"Something is very wrong with America right now!" she wrote in the post. She also claimed she was doing a Facebook live "OUTSIDE of the bank," but in the video, it's clear she's inside the building.
While there are reportedly no industry-wide rules about videotaping inside a bank, it remains a security concern for many, according to the American Bankers Association journal.
Redstall is also a field correspondent for Eric Early, a Republican congressional candidate.
"We can confirm that the incident in question took place at one of our branches in the Los Angeles County area. At any Wells Fargo branch, video recording is not permitted," a Wells Fargo spokesperson told the Daily Dot.
Update 7:27am CT, Sept. 1: This story has been updated with statements from Wells Fargo and Garcia's campaign.
---
Must-reads on the Daily Dot