Jazz Jennings is, in many ways, the typical teen. The 15-year-old just started high school this year, which she describes as "fun and boring at the same time." Her days are filled with studying, soccer practice, friends, and anxieties about dating. She loves social media and playing brain teaser games online. Her favorite is 2048, a number-matching tile game.
But Jazz has also been in the spotlight since she was just 6 years old. Her parents, Jeanette and Greg, had decided the year before to allow Jazz to openly identify as female—though she was identified as male at birth—making her one of the youngest documented cases of a transgender child.
In the decade since, Jazz has become a beacon for trans youth everywhere. For the past two years, she's been included on Time's Most Influential Teens list. With a reality show about her family (I Am Jazz) airing on TLC, a 2011 full-length documentary on the Oprah Winfrey Network (also titled I Am Jazz), and a presence across every social media network, Jazz has the kind of reach and visibility that seems both inspirational and daunting.
It's a tremendous responsibility for a kid—to represent a hopeful outcome for gender nonconforming youth everywhere who may lack the familial support she's been provided. Jazz's outreach serves to educate and provide a template for normalcy in a society that still treats transgender people as outsiders. (In late November, a Wisconsin school canceled a reading of Jazz's illustrated autobiography, I Am Jazz, after being threatened with a lawsuit.)
Jazz has become a beacon for trans youth everywhere.
That's why it can be easy to forget that most days she's still in school. Her media interviews, TV shoots, and live appearances are usually scheduled for weekends and holidays. Jeanette explained on the phone that Jazz gets "literally hundreds" of emails a day: from fans, journalists, and desperately isolated LGBT youth seeking her help. As a mom, Jeanette has to protect her daughter's time and energy, but she's also in the unique position of fielding suicidal distress notes. (Those usually get forwarded to the Trevor Project, a crisis intervention organization; the rest sometimes get a response explaining that Jazz is in school and will try to respond later.)
Jazz Jennings describes her life as reminiscent of Hannah Montana: "Having the best of both worlds is great," she told the Daily Dot Nov. 11, on the Veterans Day holiday. "There's moments where I just sit back and watch TV. But it's also great to know that you're impacting the lives of these kids, being this advocate."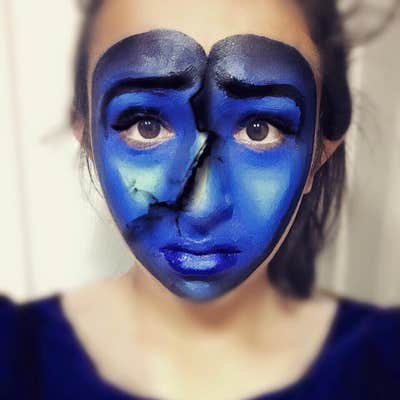 These days are pretty great for Jazz: She has close school friends who she says are always there for her. And every year, after the annual Philadelphia Trans Health Conference, Jazz gets to see her other friends—the transgender children who travel from all over the country and attend the annual youth pool party she throws in conjunction with the conference.
"It's a great bonding time," Jazz said. "We keep in touch during the year as well. There's also camps. I went to Camp Aranu'tiq for two years. I have some really close trans friends. They're pretty spread out."
Camp Aranu'tiq and the Philadelphia Trans Health Conference are just two of the many, and increasing, places where transgender youth can meet other kids just like them. On the website for Trans Student Educational Resources, dozens of camps for LGBTQ kids are listed—including camps specifically for trans and gender-variant kids, LGBTQ youth of color, and LGBTQ youth athletes.
Jazz Jennings describes her life as reminiscent of Hannah Montana: "There's moments where I just sit back and watch TV. But it's also great to know that you're impacting the lives of these kids, being this advocate."
But life for Jazz wasn't always so full of mirroring friendships and understanding community. In the 2011 documentary, Jazz sat on her bed and told the camera crew: "I don't have any friends at school. Some people just don't understand. They think what I'm doing, and what my parents are doing, is wrong. And they think, me as a person, I'm wrong."
Jazz was only 11 years old at the time.
Through watching Jazz grow up on camera, we've witnessed the isolation and rejection that transgender kids have to endure. Jazz has been lucky to have an unceasingly supportive, stable, and positive family that includes her at every level, but life brings endless challenges even for a child with Jazz's privileges.
One of Jazz's most high-profile obstacles came when she was only 8. She was banned from continuing to play on her girls' soccer team. Jazz had trained with and become a part of the team—and she was allowed to continue training—but she had to sit on the sidelines during every game. In the 2011 documentary, her father Greg could barely hold back tears as he read aloud the pained email he wrote to the administration begging them not to break his daughter's heart. After a two-year lawsuit brought by the LGBT powerhouse nonprofit National Center for Lesbian Rights, the U.S. Soccer Federation conceded that Jazz should be allowed to play.
Jazz went through a rough period with soccer after the lawsuit—"I would start overthinking and would struggle on the field. It was a difficult time"—but today, she plays varsity soccer in high school and has sharp words for anyone who mistakes being transgender with having some kind of unfair athletic advantage.
"If I score all the goals on my team, that's not related to me being transgender," said Jazz, pointing out that she is one of the smaller members on her team. "When you play soccer, you have to go out there and try your hardest. As long as you go out and put your all into the game, you're a great team asset. I definitely don't hold myself back at all."
At 15, dating is the next logical anxiety to loom on the horizon—but even that doesn't seem to faze Jazz much. As she puts it: "I'm not in a rush."
What she is excited about is making videos for her YouTube channel, where she can communicate directly with her friends and fans without the mediation of a production team. She even edits her own videos using iMovie, although she makes sure to add, "I'm not that advanced."
"With my own videos, I definitely have more control over what I want to put out there and what I want to say," Jazz said. "With the TV show, I'm not the editor. There's always things that I wanted to put in there. My dad has the final say in everything on YouTube, but I can be more expressive."
Given that Jazz has grown up on camera and is so comfortable with media, it would be a natural next step for her to study film or journalism in college. But like most young teens, she provides a cornucopia of possible futures when asked what she wants to be when she grows up.
"I see myself maybe being, like, a movie producer or screenwriter, or a novelist, or a scientist or mathematician," Jazz said. "I'm weird, I like science and math but also like English as well. But I also see myself maybe being some kind of artist, maybe a computer animator. Or maybe a computer scientist, coding and stuff like that."
That's quite a varied list. It's especially exhaustive considering that Jazz pretty much already has a career outside of school. On Dec. 6, she received the Youth Innovator Award Jazz at the TrevorLIVE fundraiser, and she was scheduled to be honored by the program for trans youth at Children's Hospital Los Angeles. In between, Jazz will attend school everyday, respond to the hundreds of emails she gets, and continue to mentor other trans youth around the country.
Jazz's position as icon, as the face of a movement for the rights of LGBT youth, is so second-nature to her at this point that she blanks when asked about online resources for trans kids. Her mom explained that there are many organizations that she guides people to online—Trans Youth Equality Foundation, TransYouth Family Allies, and Gender Spectrum among them—but that Jazz herself transitioned so young that she doesn't really utilize the websites.
Maybe it's because Jazz herself is a resource for families seeking advice about trans kids, but she seems unconcerned with things like Facebook support groups. In conversation, she comes off as remarkably unobsessed with the Internet for a 15-year-old; if anything, she has to angle for time offline. And when Jazz thinks about her future, about all those fantasy careers and grown-up opportunities, there's one thing that never leaves the picture.
"I have no idea what I want to do for a career," says Jazz, "But in terms of my advocacy work, I'm definitely going to continue."
Illustration by Tiffany Pai