Yesterday was International Men's Day, a celebration of all things masculine. Or so some men thought. (It's really a day to shine a light on positive role models and mental health.)
And men responded in the same admirable fashion that they've carried themselves throughout all of 2018: By throwing a petulant fit at a social media giant over an extremely petty matter they believed proved their gender is being discriminated against.
Welcome to "How come women got a Google Doodle on International Women's Day but Men did not get a Google Doodle on international Men's Day?" Day.
Like all grievances of the patriarchy, this particular complaint percolated over on r/The_Donald, the online bastion of far-right conservatives and men's rights activists.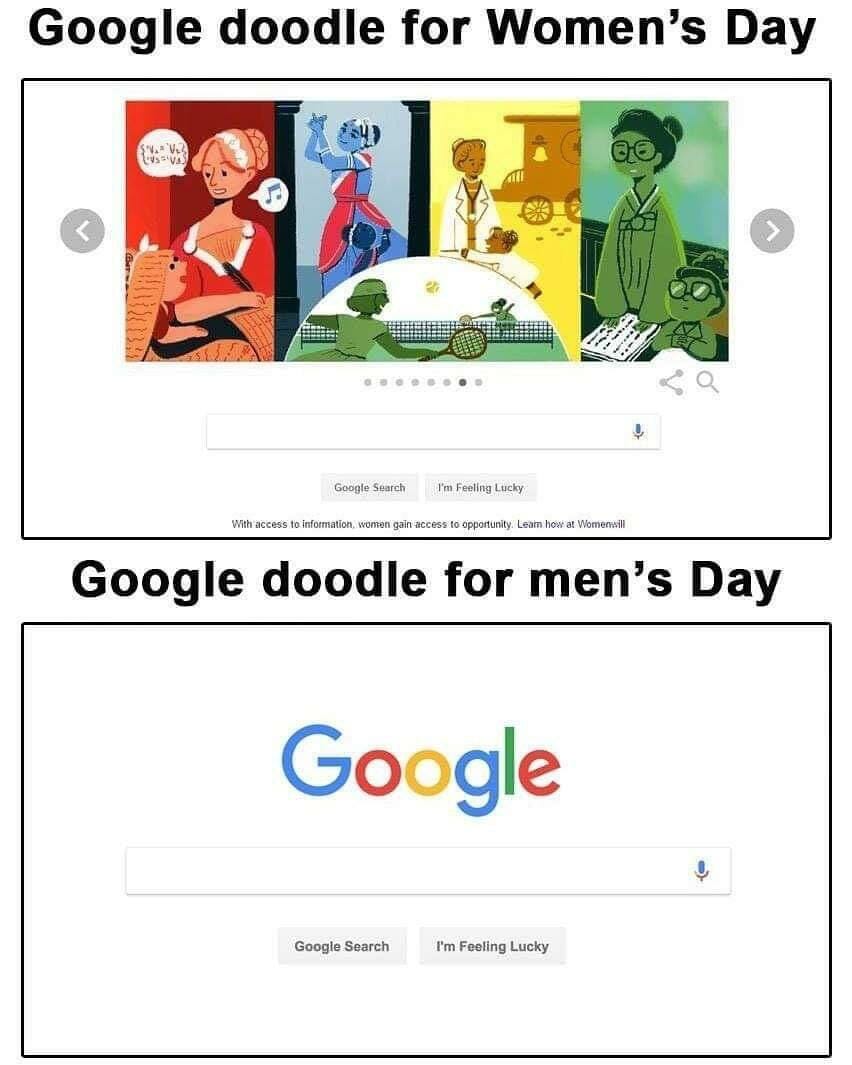 In the comments, a hypothetical scenario at Google was imagined.
GoogCuck1: "Hey, Feminist 1, should we have a doodle for International men's day?"

Feminist 1: "Are you cereal??! LITERALLY EVERY DAY IS MANZ DAY! REEEE GO GET ME MORE BLUE HAIR DYE!"

Feminist 2: "I CANT EVEN. WHO WOULD EVEN SUGGEST THAT. YOU ARE LITERALLY HITLER."

GoogCuck1: "Yeah, you guys are right. Let's just leave it without a doodle – it's symbolic of the patriarchy!"

Feminist 2: "Yeah! That'll show op' Drumphy!!"
(Please ignore the contradictions implicit in that hypothetical, where the actions of Google employees are so inconsequential they wouldn't necessitate even addressing, let alone an outpouring of outrage from men, which… whatever.)
The conversation spilled over to Twitter, where guys were upset about the lack of respect men have been shown by the search giant's occasionally animated logo.
https://twitter.com/ParadiseFound19/status/1064534366930518017
Happy International Men's Day.
No Google Doodle, No Facebook notification, but it exists.

— Allan Culé (@Culerly) November 19, 2018
Some even filed official complaints with the company over it.
https://twitter.com/Scathsealgaire/status/1064745355613368325
But this wasn't just an eruption over how men have been marginalized this year in the wake of movements like Me Too.
This has been a grievance men have had for quite some time.
https://twitter.com/JamesTaylor1114/status/1064704663591636992
It was even the focus of a Quora question, which was answered by a former software designer, who said that because it wasn't a holiday recognized by the UN, they didn't feel the need to celebrate it.
That excuse is somewhat lacking, as Google Doodles celebrate all sorts of events that aren't official UN-designated holidays. And there are benefits to recognizing and supporting a Men's Day, but when the people who are lobbying for it are the ones promoting the most toxic aspects of the gender, you can see why Google isn't gonna do a drawing of a group of stick figure dudes holding up "Rape culture doesn't exist" signs.
But see you again next year for this exact same debate.