A new report by Queerty suggests that Facebook is cracking down on drag queens and other LGBTQ Facebook accounts with a draconian real name policy that's just as misguided as the now-reversed stance of Facebook's awkward cousin, Google+.
Being homophobic/transphobic and not quite getting it aren't the same thing—but they're not unrelated, either. Facebook's intentions aren't malicious, of course, but ignorance can do damage too. In recent months, Facebook has made heartening efforts to express its solidarity and support of the queer community. In June, it gave us those gay pride stickers, which were the next best thing to Pusheen.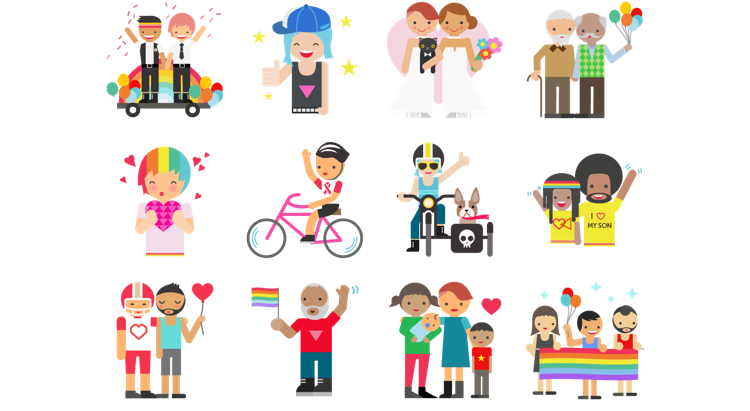 In February, Facebook made a huge stride forward by inviting its users to choose their own gender identity and select preferred pronouns. As Autostraddle reported:
Now, users can select from about 50 different gender identities and select the gender-neutral pronoun "they/them/their." The latter lets Facebook refer to you with your preferred pronouns across the site, i.e. "Write on Kaitlyn's wall for their birthday" versus "Write on Kaitlyn's wall for her birthday." (This option has been available on and off via various hacks and workarounds, but not as a native feature to Facebook.)
Many members of the LGBTQ community opt to choose a different set of pronouns, or to eschew gendered pronouns altogether insofar as the English language makes that possible. Chosen names are as potent as pronouns in the trans* community, and the choice to accommodate these nuances of queer identities was an important and savvy stride for Facebook.
But in the last 10 days or so, anecdotal reports have bubbled up that Facebook has taking a big step backward. On my own Facebook account, I noticed a few local friends in Portland, Ore. complaining that Facebook had shut down their profiles, which the social network claimed were in violation of its name policy. These two accounts were both linked to local DJs who run two of Portland's queer dance parties, one called Laid Out and another called Twerk. In a community where safe, inclusive, queer spaces are vital, these monthly events are inextricably linked to their hosts, just as much as a living, breathing member of a community like the six Jennifers on your News Feed that you went to high school with.
The same goes for members of the drag community who are also reeling from Facebook's crackdown. Forcing a drag king or queen to abandon a taken name—not merely a "stage name" but a complex signifier far more intertwined with a deep sense of self, gender presentation, and identity—is incredibly problematic.
Presumably, Facebook wants to shoehorn these personal identities into Pages, like the ones brands and celebrities use. But for queer users more interested in keeping up with friends and building community than collecting followers, it's an extremely poor fit.
Facebook is making an implicit judgment call here, operating off of the hunch that an account in question is not the "true" identity of the user, which is an inappropriate position to begin with. Drilling down into Facebook's name policy reveals a lot more that's troublesome at best and dangerous at worst for members of the LGBTQ community. Here's the full policy:
"Facebook is a community where people use their real identities. We require everyone to provide their real names, so you always know who you're connecting with. This helps keep our community safe.
Names can't include:
Symbols, numbers, unusual capitalization, repeating characters or punctuation
Characters from multiple languages
Titles of any kind (ex: professional, religious)
Words, phrases or nicknames in place of a middle name
Offensive or suggestive words of any kind"
"Other things to keep in mind:
The name you use should be your real name as it would be listed on your credit card, driver's license or student ID
Nicknames can be used as a first or middle name if they're a variation of your real first or last name (like Bob instead of Robert)
You can also list another name on your account (ex: maiden name, nickname or professional name) by adding an alternate name to your profile
Profiles are for individual use only
Pretending to be anything or anyone isn't allowed"
There are some really troubling undertones in all of this. For one, the notion that Facebook gets to police what is and is not a "real identity" and even goes so far as to suggest that a real name is only one reflected by legal documents. For members of the trans* and queer community, changing a name and gender legally can be a lengthy, transphobic process, one so invasive in some states that according to the ACLU it can require proof that "he or she has undergone medical procedures that show an intention to live permanently in the gender associated with the name desired." Understandably, many transgender folks don't enter into the process of legally petitioning for a name change at all. 
Further, to suggest that the "real name" policy protects all users is misguided. Many queer folks change their names and pronouns at the risk of their emotional and physical well being. Personally, I took my mother's maiden name years ago partly so that an abusive, homophobic figure in my life couldn't find me online. For myself and many other members of the queer community, choosing our names—our real real names—makes us safer, stronger, and more ourselves.
I see Facebook's blunt logic here, but it's tumbling down a slippery slope. Policing names within the LGBTQ community is an incredibly loaded action, perhaps even more so than Facebook realizes. Among social networks, it's not the worst offender by a longshot, but given its status and ubiquity, the world's first billion-member social network sets a powerful example.
Meanwhile, it feels like every time I turn around, those pesky straight people are changing their last names—a practice apparently long condoned by social networks, the law, and advertisers with a vested interest in monetizing our contiguous movements through the Web at large.
I can hardly keep up.
Photo via Randen Pederson/Flickr (CC BY 2.0) | Remix by Rob Price